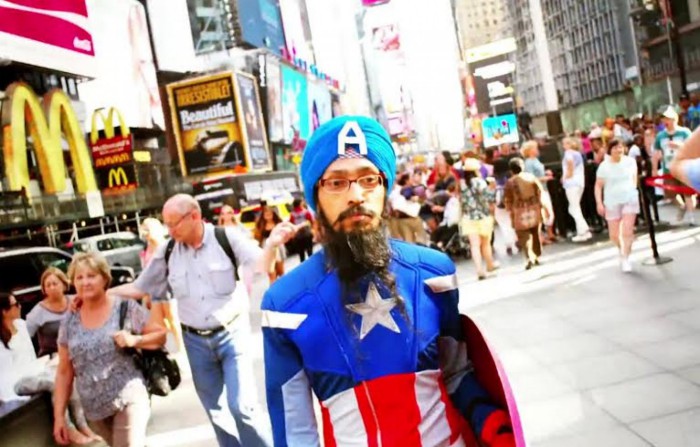 "Sikh Captain America" Vishavjit Singh in New York, from the short film "Red White and Beard." (Courtesy of Vishavjit Singh/SikhLens Productions 2014)

November 12, 2016: IN JULY, Vishavjit Singh, a Washington-born cartoonist in his daily existence, donned the costume of his public alter ego, Sikh Captain America, and headed to Cleveland for the Republican National Convention. There, he says, he saw the mood of Donald Trump's America up close.
"It was clear to me I was not going to change any minds," Singh tells The Washington Post's Comic Riffs of his Spandex-clad activism. "The feeling I left with was of a very passionate, vengeful voter base. That is a feeling I have not been able to shake off — and now we have this man as our next president."
Singh, who is in his mid-40s, began actively fighting bigotry after the 9/11 attacks. Today, he sometimes walks the streets in the star-spangled attire of Captain America, and some passersby are struck by the fact that the man in the iconic super-suit also sports a beard and a turban.
In a year in which President-elect Donald Trump's rhetoric has aimed to paint many minority groups as "the other," Singh says he is witnessing a shift in daily discourse.
"I have seen and personally felt a rise in bigotry directed towards Sikhs, Muslims, Latinos since the beginning of Trump's presidential campaign," says Singh, noting that he is still processing "the gravity" of Trump's win. "We are seeing incidents being reported hours after this election, where those perceived as the 'other' are being targeted. This 'other' encompasses Muslims, LGBTQ, Sikhs, Latinos, blacks — essentially majority of people of color."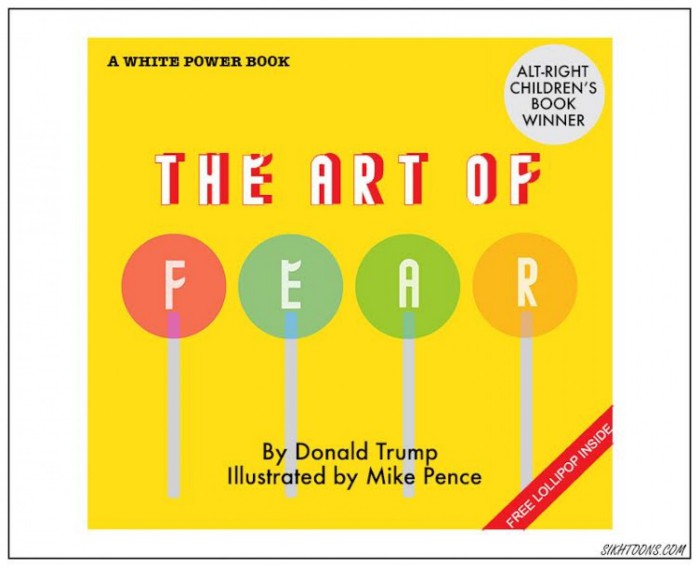 Vishavjit Singh's new cartoon responds to this week's election. (Courtesy of Vishavjit Singh 2016)

Singh speaks at campuses across the nation, and he shares stories of how his costumed appearance can be a magnet for open bigotry. Now, he says, Trump's words have pulled back a national veil on such hate.
"Donald Trump ran this campaign with a marketing strategy to focus on the fear and anxieties of many Americans," Singh says. He adds: "He insulted a broad swath of Americans as part of this strategy."
"Some Americans have taken this turn of events as a tacit approval to say and act in ways that express deep-rooted racism, bigotry and jingoism," adds Singh, who lives in New York. "Donald Trump's entire voter base is not racist, but it has clearly provided a petri dish of an environment in which racism and misogyny have festered."
At the center of this conflict, the activist cartoonist says, is who gets to define what America is, and how. And that question is at the heart of his contribution to "CTRL+ALT: A Culture Lab on Imagined Futures," an exhibit this weekend by New York's Smithsonian Asian Pacific American Center that explores the future of our "narratives, nations, neighborhoods, nature and selves."
"This is, in many ways, so timely as a response to the long divisive presidential campaign and its final result," Singh says.
"As a cartoonist, I was invited to present my artistic take on this project. I created a front page of the Daily Bugle newspaper from the fictional world of Marvel, with a new origin story of Captain America."
The character, created by Joe Simon and Jack Kirby during the World War II era in response to Hitler, represents America, Singh says, and so it can readily reflect the nation's diversity.
"I present one of these Captain Americas who is a son of South Asian immigrants targeted for [his] turbaned and bearded looks," he says. "He eventually becomes one of the most lethal hackers on the planet, with the companionship of an African American woman. Together they create an upheaval around the globe that to many represents darkness, with all the dirt and corruption being exposed."
As Singh writes and draws work that plays with how we perceive other people, he sees danger in what Trump promotes in that regard.
"He has opened a Pandora's box of acting out our raw, stereotypical snap judgments towards fellow citizens of this country," Singh says. "What it means to be an American has taken a vigilante persona. We are being vetted down by fellow Americans. This is what scares and motivates me the most at this hour."
As a result, the artist-activist says, a Captain America who just happens to be a Sikh, a woman, LGBTQ, Latino or Muslim is needed more than ever.
"Superheroes are all around us, offering selfless service to humanity. Their stories are what we need to extract, to emulate in our own lives and create a new generation of comics to fuel our imaginations," he says. "I hope to be part of this creative process."


---

Writer/artist/visual storyteller Michael Cavna is creator of the "Comic Riffs" column and graphic-novel reviewer for The Post's Book World. He relishes sharp-eyed satire in most any form. Follow @comicriffs


---