In 2016, on April 11, the Canadian Sikhs held an Akhand Paath for Vaisakhi on Parliament Hill in Ottawa, which was attended by Prime Minister Justin Trudeau, and he was presented a Siri Sahib from his seventeen Sikh elected MPs.  At that time, Dr. Harjot Kaur performed the kirtan as the Prime Minister entered the Diwan on Parliament Hill and did the Ardas for the program. It was ground breaking that a Sardarni performed such a critical part of the gurdwara ceremony with the presidents of Gurdwaras across Canada present and especially for a woman to perform the Ardas.

This was the first time that Dr. Harjot Kaur had met Prime Minister Justin Trudeau.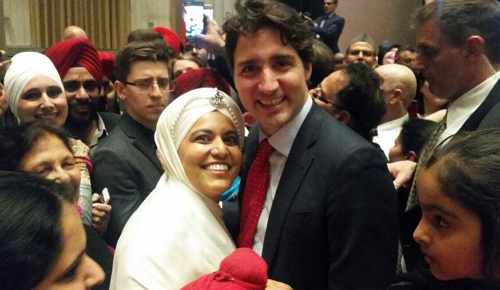 Recently the Canadian Prime Minister, along with his family and Sikh MPs, paid a visit to the Harimander Sahib, AKA Golden Temple in Amritsar. Dr. Harjot Kaur helped with arranging for Miri Piri Academy's participation and presence on the Parkarma for the visit. She was standing with Miri Piri Academy and as the Prime Minister was passing, he recognized her from almost 2 years earlier and stopped, so she did approach him and spoke of prayers for him to be blessed as with righteousness, courage and wisdom to be a great leader as he walked on the Parkarma and bowed before the Siri Guru Granth Sahib in the Harimander Sahib. This was clearly Guru Ji's hand at work since Bibi Harjot Kaur was able to cross three security barriers from the SGPC, Canadian Security, and Punjab's security given to Justin Trudeau. The meeting between the two at the Parikarma was not part of the program nor was there any planning on it. 

He understood this heartfelt prayer and the depth of the sentiment was registered on his face. "What an honor to be so well received at such a beautiful and meaningful place. We are filled with grace and humility" - Justin Trudeau – SGPC visitors guestbook.
This was only her second meeting with Prime Minister Trudeau. 
During his visit to India, the Prime Minister has visited several different religious and cultural sites.  "It shows his commitment and respect for diversity and pluralism" says Dr. Harjot Kaur and "it is a source of pride that such a world leader visited the Harimander Sahib with humility and respect."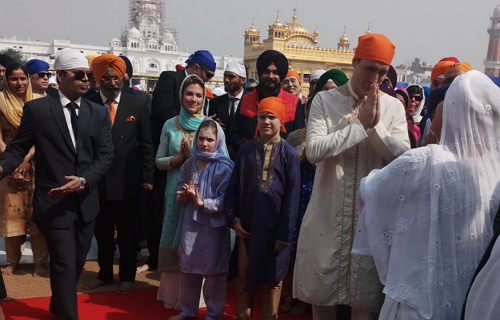 Dr. Harjot Kaur is the current Chair of the International Khalsa Council and sits as a Trustee on the Siri Singh Sahib Corporation which is the Super board that oversees all of Siri Singh Sahib Yogi ji's Legacy Non Profit corporations and businesses.  She is currently a practicing Family physician in Calgary, Alberta and is the Chair of Alberta Health Services Spiritual Care Advisory Committee, an interfaith committee that deals with patients' spiritual care needs in acute care settings in the Calgary zone, as well as the Chair of Calgary Foothills Primary Care Network.