Saint Louis, MO September 22- NBC Investigative Reporter PJ (Prabjot Kaur) Randhawa joins the very short list of Manitobans to take home a Mid-America regional Emmy award. Randhawa was awarded the honor in the Health & Science category for her groundbreaking investigation on prescription medications errors.
Randhawa dedicated the award to her parents, Sukhdev and Kuljinder Randhawa, who passed away on the same day, twelve years apart. "Everything good I achieve in life, like receiving this award, is for my parents who raised me to be an advocate for the voiceless," said Randhawa.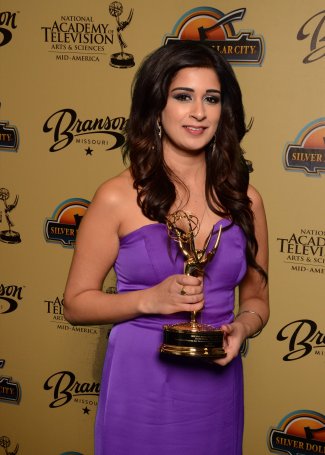 Randhawa's investigation revealed how many large chain pharmacies are putting profit over safety, by requiring pharmacists fill more prescriptions per hour. The end result, Randhawa uncovered, is that a surprising number of people go home with the wrong medication- which can be fatal. As part of her report, Randhawa questioned the head of the Missouri Pharmacy Board and discovered they are taking no action to monitor these corporate pressures, or ensure the safety of the public. 
"I feel an obligation to uncover instances where corporations put profit over public safety. As a Sikh, and a Journalist, I believe it is my duty to uncover practices that can hurt or take advantage of the public. My strong belief system, rooted in the teachings of Sikhism, reinforces my personal drive to shed light into the darkest aspects of society. I want people who read or watch my stories to come away with information that can benefit their families and enrich the quality of their lives," said Randhawa. 
A native of Winnipeg, MB Canada Randhawa is a graduate of DePaul University's prestigious Journalism program, where she earned her master's degree in 2011. She has since worked in almost every corner of the country. Randhawa began her career as a Morning News Anchor at the ABC TV affiliate in Rapid City, South Dakota. In 2013, she became an Investigative Reporter for the NBC TV in Columbia, South Carolina. During that time, she received the 2013 World Sikh Award for her political reporting. She also received the 2014 School Bell Award for her reporting on education issues. Her investigations were routinely seen in five cities across three states. 
Since 2015, Randhawa has been an Investigative Reporter at KSDK NBC in St. Louis, Missouri. She is a four-time Emmy Award Nominee, and in 2018 was also nominated for a Missouri Broadcasters Award.