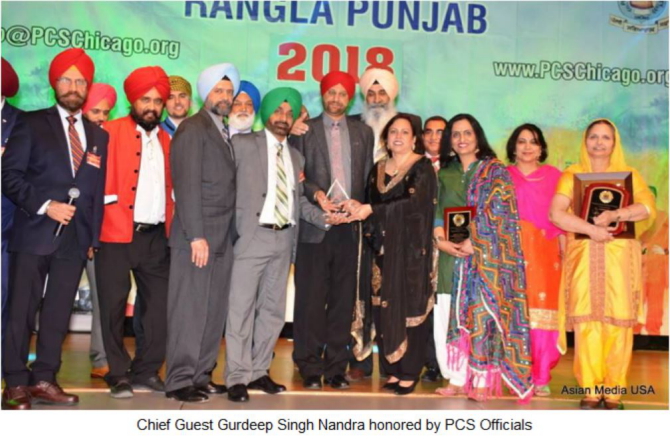 CHICAGO: One of the most awaited cultural programs of the year, "Rangla Punjab 2018" organized by the Punjabi Cultural Society of Chicago (PCS), was celebrated with great success. The local community, primarily those born and raised here, came together to celebrate the Punjabi festival of Vaisakhi. The event electrified the audience for nearly five hours at Meadows Clubs in Rolling Meadows, a Northwest suburb of Chicago. More than 1,000 people were in attendance at this sold out event, with about 250 participants, more than 35 acts, and 50 organizers.
This memorable, family-oriented show encompassed a record-breaking number of vibrant, energetic, authentic Punjabi folk dances and cultural performances. Participating teams hailed from all around Chicagoland and the neighboring states of Wisconsin and Indiana, and they featured children as young as the age of five, all the way up to adults. Many of the young participants were taught by volunteer coordinators, who were once young "Rangla Punjab" participants themselves. This event serves as a platform for the youth to develop their cultural identity through performance, and for community members to showcase their talent.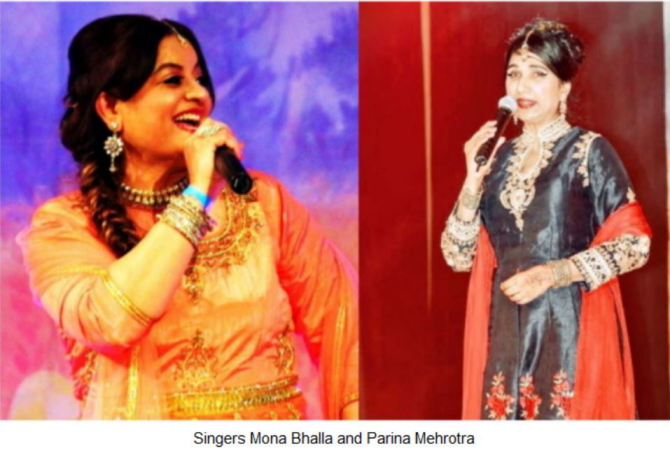 Once the audience was welcomed by Vice President Bikram Singh Chohan, the evening was started with a "Shabad", prayer, by the children of the Sikh Religious Society (SRS) of Palatine's Gurmat School. This was followed by colorful dances and songs, which were performed by local artists of all age groups. Bhangra teams like Navi Paneeri, Kaum Punjab Di, Warriors Bhangra, gidha dances performed by groups like Shaunkana Chicago Diyan, Milwaukee Gidha, and Bollywood Arts Academy, and Chicago's renown singers Manmeet Kaur, Mona Bhalla, Maddy Singh, and Parina Mehrotra, put on an unforgettable show. Bhangra, featuring the signature Punjabi "Dhol" drum beats, and gidha, characterized by traditional "Bolis", mesmerized the audience. Audience members could not help but respond by cheering, tapping their feet, and clapping along. The kaleidoscopic ambiance was highlighted by the authentic colorful costumes worn by the young and old alike.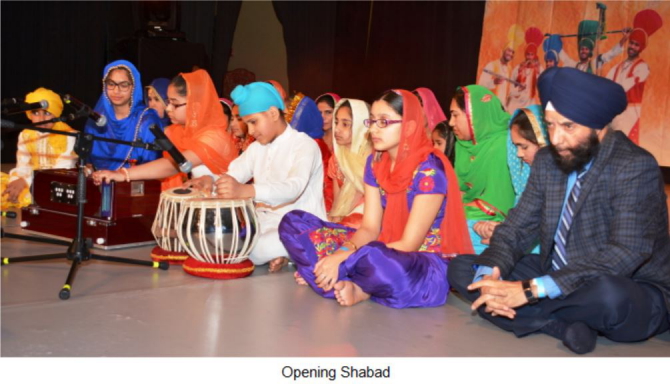 It seemingly transported everyone back to the villages, fairgrounds, and university youth festivals of Punjab. This was a nostalgic moment for many, as the Meadows Club hall became the microcosm of the Punjabi culture and entertainment; it felt as if the spectators were sitting in Punjab amidst the view of its heritage and colorful suits, dupattas and turbans surrounding them. Ecstatic parents and grandparents were untiringly snapping pictures of their colorfully dressed children performing on the stage.
The program which was divided into four parts, was enthusiastically emceed by Raskirth Singh and Gurkiran Kaur Palia, Guru Dhaliwal, Seerat Kaur Kaler, and Mona Bhalla. The program also featured a number of unique events. This included a book release ceremony held on the stage in the presence of the PCS President and Chairman "Engineering a Life" by author Krishan Bedi, who also had a book signing at his vendor table. It also included the Chief Guest releasing a new music video by Maddy Singh, who also performed. Throughout the night, the venue's lobby was crowded with guests at all times checking out the merchandise and refreshments vendors, socializing, and taking photos.
Rajinder Singh Mago, one of the event's organizers, introduced the PCS Board and event sponsors, who were honored with plaques. Mementos were presented to the outgoing President Sukhmel Singh Atwal and the outgoing Chairman Hardial Singh Deol. Incoming President Surinder Singh Palia and Chairman, Bhupinder Singh Dhaliwal, were introduced. President Surinder Singh Palia thanked the Board of Directors, organizers and the supporters and presented awards. Grand sponsor of the program, Bhupinder Singh Dhaliwal and the Chief guest Gurdeep Singh Nandra, along with several other Silver and Bronze sponsors were also honored with plaques.
"As always, the PCS Team, backed by the hard-working participants with support of their families and friends, came through with their exceptional talent of organizing a great show. What a way to pass on our Punjabi Virsa (heritage) to next generations. Young participants will cherish these memories for the rest of their lives," said Bhupinder Singh Dhaliwal, incoming PCS Chairman.
Dr. Bhupinder Singh Saini of Advance Pain Management Milwaukee was the patron, and Dr. Narinder Singh Grewal of Advance Pain Management of California was the Platinum sponsor.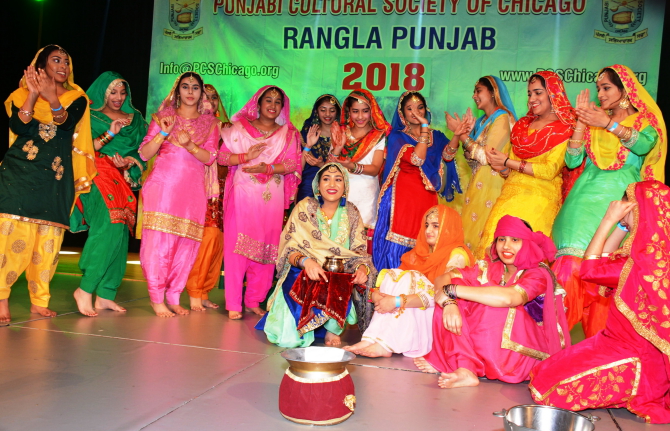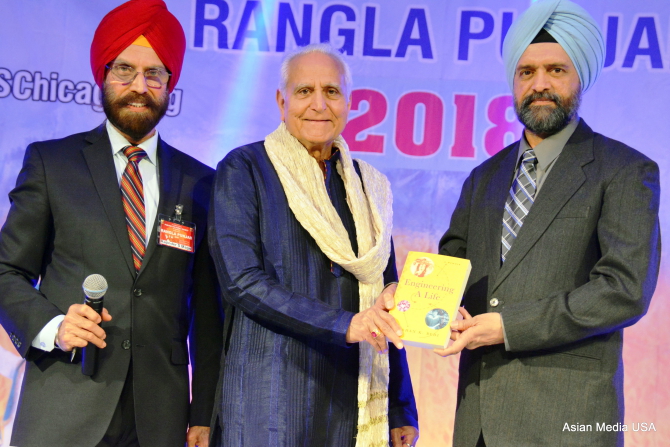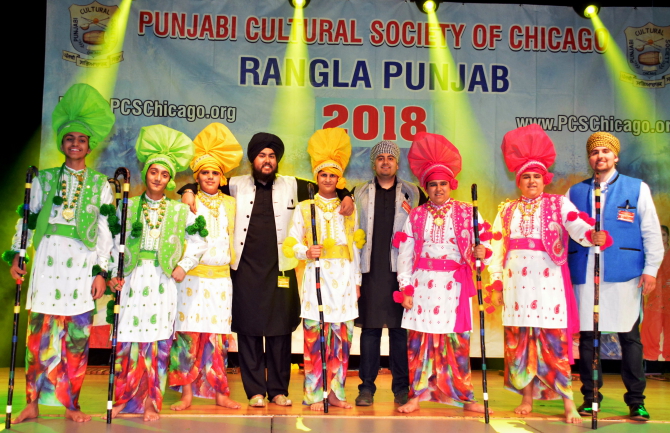 The event's Grand Sponsor was Rajpreet Kaur and Bhupinder Singh Dhaliwal. The Silver sponsors were Major Gurcharn Singh Jhaj, Kevindeep Singh Atwal, Lakhvir Singh Sahota, Santokh Singh DC, and Jesse Sahota. The Bronze sponsors were Dr. Amarjit Singh, Harkewal Singh Lally, Nick Balwinder Singh, Jaidev Singh Bhathal, Gulzar Singh Multani, Amrikpal Singh, Jagjit Singh Dhindsa, Manjeet Singh Bhalla, Dr. Bhupinder Singh Pelia, Harjit Singh, Dinesh Sharma, Mehar Singh Salhan, Prince Ghotra, Harpreet Singh Chawla, Manmohan Singh Saini, Amrik Singh (Amar Carpets), Harkirat Singh Sandhu, Bikram Singh Sohi, Happy Multani, and Laddi Singh.
"Engineering a Life" book author, Ad Mark, and Bombay Jewelers had their vending booths in the lobby. The photo and videography was by Asian Media, and online ticketing by Sulekha.com
The event was organized by Surinder S. Palia, Bikram S. Chohan, Parvinder S. Nanua, Manjeet S. Bhalla, Pardeep Singh Deol, Surinder Singh Sangha, Raibrinder Singh Ghotra, Sukhmel Singh Atwal, Mohinderjit Singh Saini, Harwinder Paul Singh, Jasbir Singh Palia, Vick Singh, Ronny Kular, Amarjit K. Atwal, Balwinder S. Girn, Bhinder S. Pamma, Gurmit S. Dhillon, Parminder S. Ghotra, Yadwinder S. Grewal, Rajinder Singh Mago, and with the help of Rajpreet Kaur Dhaliwal, Bhupinder Singh Dhaliwal, all of the coordinators and other volunteers, including Jaskaran Singh Saini, Harleen Kaur Saini, Gurpreet Girn, Joti Parmar, Sandeep Singh,Gurleen Saini and volunteers from Kohls among many others, who will be recognized at a special appreciation dinner on June 10, 2018.
"When we moved to Chicago about twelve years ago, Punjabi Cultural Society of Chicago embraced us and has helped connect my children and family with our roots and Punjabi culture here in Chicago. We can't wait for the next PCS. event," said Chief Guest, Gurdeep Singh Nandra.
PCS's upcoming events are "PCS Youth Graduation and Scholarship Night", which includes "Rangla Punjab" participant appreciation and awards, on June 10, 2018 at the Viceroy of India Restaurant in Lombard, Illinois, the "PCS Sports Festival" in August, and an appearance in the "McDonald's Thanksgiving Day Parade" on November 22, 2018 at State Street Chicago. "Rangla Punjab 2019" will be held on April 27, 2019
The Punjabi Cultural Society of Chicago is an all-volunteer not-for-profit community service organization devoted to promoting Punjabi culture, language, performing arts, education, good citizenship, healthy life style, and sports in the metropolitan Chicago area and beyond. For further information please contact:
PUNJABI CULTURAL SOCIETY of CHICAGO,
P.O. Box 1244 , Palatine,
IL 60078
e-mail to [email protected],
PCS Website http://www.pcschicago.org/