'THE QUEST CONTINUES: LOST HERITAGE The Sikh legacy in Pakistan' a second book by Amardeep Singh starts shipping in early October.
It can be pre-ordered at lostheritagebook.com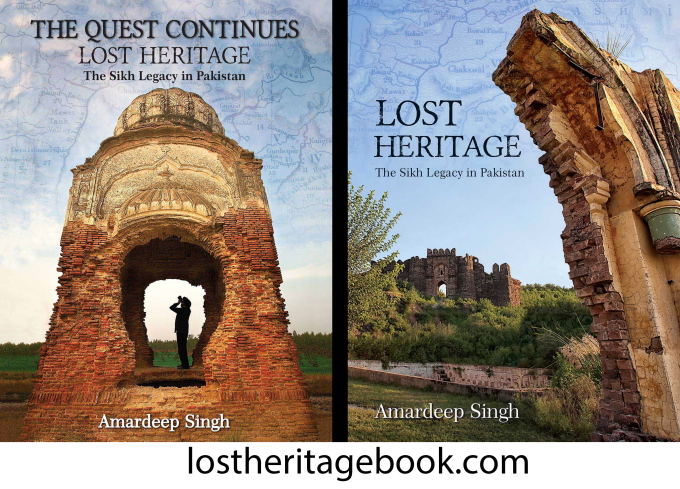 In 2014, Amardeep undertook a journey across Pakistan to visit the native lands of his parents in the present Pakistan Administered Kashmir. Inquisitive, during the journey, he questioned, could the heritage in the lands where Sikhism was founded and the Sikhs had created an empire be limited to just a few functional gurdwaras? This led him to go beyond his personal motive to travel across 36 cities and villages, researching the remnants of the Sikh Legacy. The findings were compelling to document in a book entitled, 'LOST HERITAGE The Sikh Legacy in Pakistan', which was published in January 2016.
After having elevated the research to a global platform, the passage thereafter, stirred Amardeep towards an obsessive quest to further research the tangible and intangible footprints of the Sikh legacy in Pakistan. In Jan 2017, he embarked on a second research trip which took him to 90 additional cities and villages across Sindh, Balochistan, Pakistan Administered Kashmir, Khyber Pakhtunkhwa and the Punjab. The second exploration, is documented in a sequel entitled, 'THE QUEST CONTINUES: LOST HERITAGE The Sikh Legacy in Pakistan' which will be released in October 2017. The research in the sequel provides a continued strong impetus to those curious about their roots or interested in the rich historical era. The text of the second narrative too is interspersed with photographs of the remnants of the legacy that continues to bear mute witness to the heart-wrenching partition of the subcontinent. In addition, it brings focus to the life and practices of forgotten communities which continue to thrive and evolve across Pakistan.
Over a short period of 2.5 years, Amardeep has researched the remnants of the Sikh legacy at 126 cities and villages in Pakistan and published them in two volumes. Amardeep has approached the subject holistically to cover religious places, arts, architecture, forts, living cultural aspects, etc. It is his humane approach to the subject that resonates with members of all communities.
His aim through the study of the abandoned legacy of one community is to motivate all communities to become aware of their past and through it, learn to live in harmony for mutual progress.