Dayton (November 15, 2023)
Despite the chilly weather, a significant gathering took place at the Veterans Memorial Park in Beavercreek, Ohio, USA, for Veterans Day. American gathered to express gratitude and pay homage to the dedicated individuals who have served in various branches of the US Armed Forces. 
Honoring Veteran's: Mayor's Appreciation
Beavercreek Mayor Bob Stone, a former member of the US Armed Forces, extended heartfelt thanks to the Veterans. On this occasion, Air Force personnel hoisted the American flag and performed the national anthem. The event featured Colonel Adam B. Willis as the guest speaker, who commands the 445th Airlift Wing at Wright-Patterson Air Force Base in Dayton. 
Origins of Veteran's Day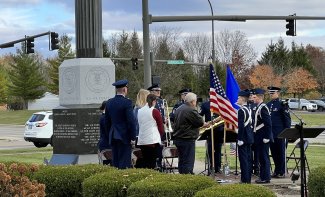 Veterans Day is celebrated every year to commemorate the bravery of those who died in the service of the country in wars. This day was first started as a tribute to the soldiers who died in the First World War which ended on November 11.
Sikh Community's Participation and Expression of Gratitude
Participating in this ceremony were members of the Sikh community, including Dr. Darshan Singh Sehbi, Piara Singh Sembhi, Dr. Charanjit Singh Gumtala, the Patron of Amritsar Vikas Manch, along with his Sameep Singh Gumtala and granddaughter Meher Kaur. They joined in expressing gratitude to those who have served in the US defense forces.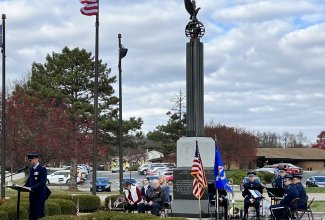 Heartwarming Interactions with Veterans
This was my second consecutive year of participation. Some of the Veterans shared memories about the Sikhs in World War with one of them mentioning about the recent first Sikh contestant Jag Bains winning the Big Brother.  A heartwarming incident happened last year, when an elderly World War II veteran, upon seeing turbans, greeted Sikh student at Wright State Harroop Singh with joy, embraced them and inquired, "Are you a Sikh?" The veteran, expressing admiration for the bravery for Sikh during the Second World War, joyfully took pictures with them and share fond memories.
Sikh Community's Interactions with Dignitaries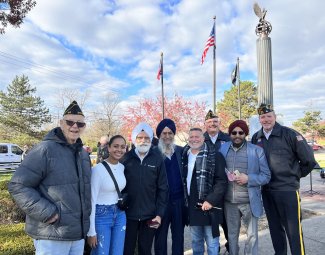 Members of the Sikh community also met with military officers from Dayton's Wright Patterson Air Force Base, Commissioner Rick Perales, Beavercreek Mayor Bob Stone, and newly elected Mayor Don Adams. Expressing gratitude for Sikh soldiers currently serving in the US Army, the Sikh community members acknowledged the strides made since 2009 when Dr. Tejdeep Singh Rattan and Dr. Kamaldeep Singh Kalsi received special accommodation to serve in the US Army while maintaining their turbans and beards. Born in Amritsar, Punjab in India and now serving as a Lieutenant Colonel in the US Army Dr. Rattan studied from the Wright State University in Dayton. Since then, the army changed some of its regulations, paving the way for a significant number of turban-wearing soldiers in the US Army. 
Significance of Sikh Participation in American Events
It is very important for Sikhs to participate in such American events. People respect Sikhs because of the bravery and sacrifices of thousands of Sikhs in history including World Wars.  Our Sikh Gurus and other brave Sikhs gave their lives for religious freedom, justice for all.