I was invited to attend and be a presenter at a camp outside Toronto by a wonderful group of youth behind Sikh Youth Federation in eastern Canada. This camp, held on the shores of lake Huron, is for older teens and adults. People flew from both coasts of the U.S. and U.K. to attend. 
I showed up and started to do seva in the darbar tent which was being prepared in a most regal fashion. Just the preparation of the tent demonstrates the ethic of the organizers. On the side rails, where most people wouldn't notice, beautiful hand drawn designs were painted as a way of honoring the Guru's throne.
Like any new setting one has to get acquainted and later that evening the first divan of the camp took place.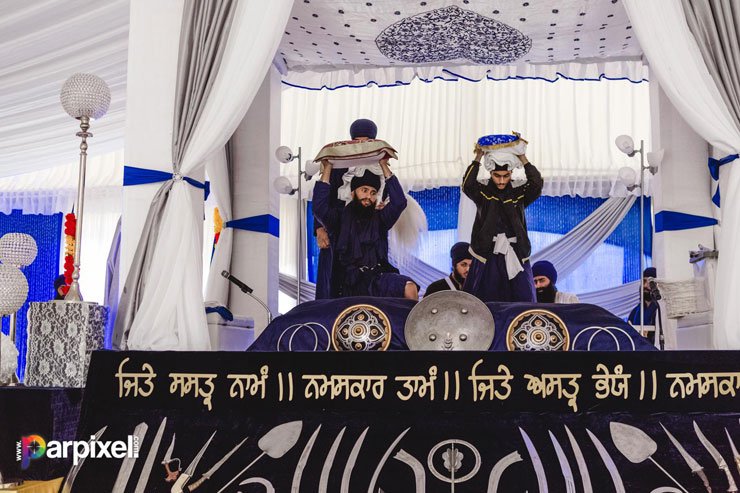 I was very pleased to see that Dasam Granth Sahib was opened in prakash along with Siri Guru Granth Sahib ji. The atmosphere was very special. 
The thought that came to my mind again and again was "this is the court of the Guru Khalsa". The Guru Khalsa is no small idea. The Guru Panth is another form of the living Guru, the Sangat of spiritual leaders. Later I would find many things that confirmed this sentiment to me. The leadership that the organizers showed and what they are able to create is something truly amazing. I have prayed to be in such company, these are the ones I've been waiting for. 
Every jatha and group of Sikhs is like a flower in the Guru's garden. We may have different maryadas and different interpretations, but we are not meant to all be the same. Just as a rose smells and looks different from a tulip we celebrate the differences even among Sikhs. All are beautiful, each in their own unique identity. This sentiment I'm sure has been put out before, yet at this camp it seemed to me to be truer than ever. There was a diversity of jathebanday with different views and different practices, but these different youth created a space where we were all friends. Even more than that, there was of respect for each other, or perhaps a lack of distrust. I personally felt that this is the culture of the Sikh Panth. Respect and diversity united by devotion to the Guru. I felt at home in this environment. 
Many pleasant surprises awaited me in this place. I had never before heard an ardas that included every single historic gurdwara by name. I was also thrilled by something else I've never experienced before: during ardas the four sons of Guru Gobind Singh are mentioned by name and when the youngest is mentioned everyone in the sangat repeats his name ITSELF as a jaikara. "FATEEEEEH SINGH!" roared in the court. I love this spirit. I love this atmosphere. Sometimes I don't know if we can understand how blessed we are.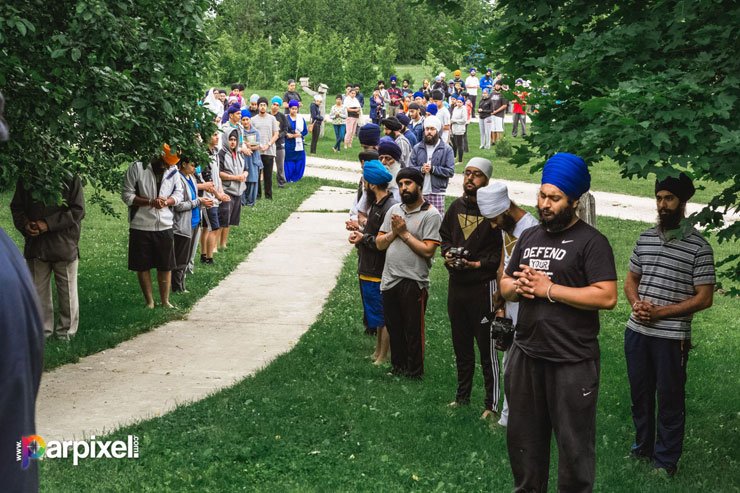 I continued to find great moments with the campers and life long bonds were formed. I led a session where one member cried during the simran portion saying it was the first time she ever really understood and experienced simran. The heartfelt devotion of these young folks is truly touching. 
To be able to participate, to give and recieve this touch, to me this is the spirit of Guru Gobind Singh and it is why we praise him by saying "aape guru chela". We are doing it with him, we are teachers and we are students. It is a great honor to participate in this dance. 
All the sangat that I asked agreed that the biggest highlight was Guru ji's presence. I would recommend to anyone hosting a Sikhi event to take the example of this camp, the format and procedures used. It really worked. Both Granths were kept in a very well maintained cabin. Every morning, a series of invocations with the sangat would initiate the day. Then the impressive caravan from the cabin to the divan tent would move in a stately procession. This would happen twice a day. There was a panj carrying swords, another panj carrying nishans (flags), chour seva and umbrellas over both Granths, a trumpet, a drum, a bell, flower petals, sprinkled water. The minimum for the daily parade was 18 to 21 sevadars plus the sangat. Then the whole camp would follow chanting Naam. You could not but feel but that you were in the very entourage of a king. You felt like you were walking in the foot steps of where the Guru put his feet on the ground. It was a capsule in time and I felt deeply that it was Guru's time.
It is Guru's time! Only the Guru Khalsa can create an atmosphere like this.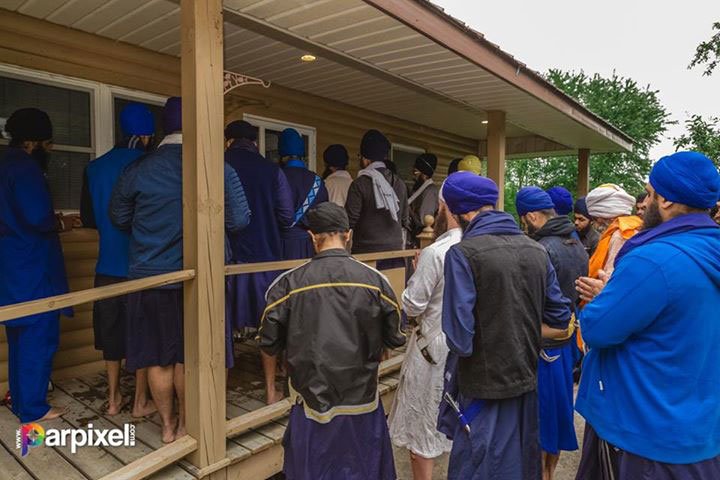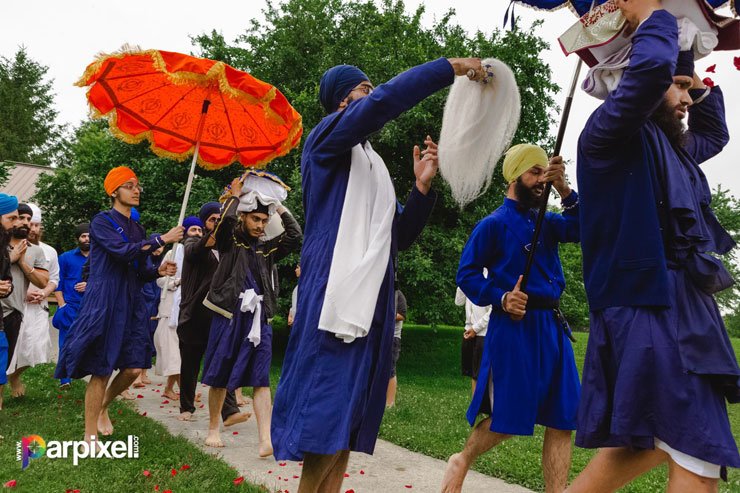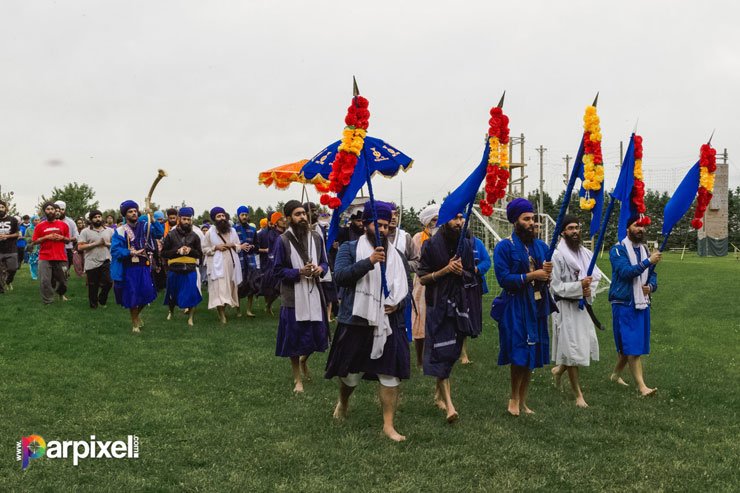 One night we had a Rainsabhai kirtan, which was off the hook, I almost couldn't believe how beautiful it was at times. 
One morning after we had done Asa di Vaar I found it a challenge to keep myself focused the whole time but I was inspired by the other participants and I did keep up. I was later told by several people at the camp that they were impressed with my ability to sit straight and how I appeared to be absorbed in the simran. They were the ones who inspired me!
I did have a special feeling about Siri Guru Granth Sahib, a personal darshan of the Guru. I had never quite had an experience like that before. There is truly something special about having Dasam Prakash. I feel it completes the court of the Guru. If anyone ever gets the chance to be in such a complete presence, I highly encourage you to experience it for yourself. God bless the Sikh Youth Federation organizers for making this all happen!
The participants themselves are half of the atmosphere created. Some of these young adults are near expert in Gurmukhi pronunciation, some have historic knowledge sufficient for leading any sangat with katha, some have recording quality singing voices, some are longing lovers of the Guru, some are silent sevadars, some have the glowing face of the Guru, some are chanting the Naam at all times. All are beloveds of the Guru. 
Another factor that can not be forgotten was the amazing presenters.
First Bhagat ji. I don't understand much of anything out of what he says, and it is often difficult for friends to translate him as he talks in a steady flow. This sound current, this flow, gives me another view of what he is saying and I can say that when he talks to the group he is creating some kind of magic. I've seen him change the entire atmosphere and bless everyone present by saying things that many would consider to be simple or repetitive messages. It is a great blessing to have met Bhagat ji and been able to have the darshan of such a unique holy man.
Young people + bona fide saint = vaaaah!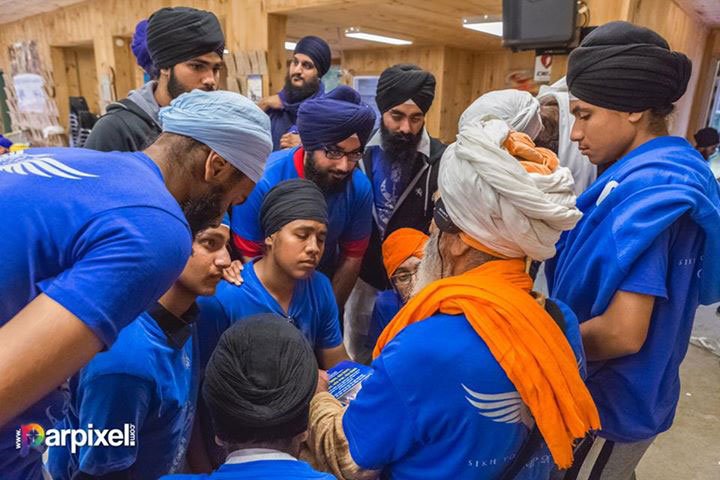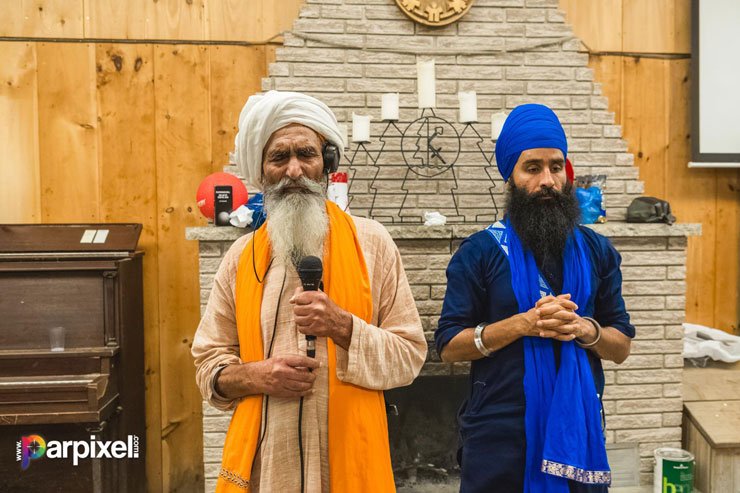 (Left: Bhagat ji, Right: Bhai Jagraj from Basics of Sikhi)
Next is Bhai Jagraj. I had been looking forward to meeting him for quite some time. I always liked his videos and found that he put many ideas not just into words, but clearly articulated in an excellent manner. Sometimes I was surprised at how friendly I felt towards this man, and even more so when I started to feel how imbued with the Naam he truly is. I'm amazed how much can be picked up from YouTube! Meeting him was meeting my own big brother. He is every bit as real as his videos show. He is a great asset and inspiration to a whole generation. 
Bhai Hajara Singh was flown from England because of his singing. It's not just his singing, it's that he is pure heart. This man is someone who, when you see him, you immediately know how much he loves his mother, that kind of guy. If you are having a Sikhi camp consider having him over because he will add so much from singing, fun exercises, team spirit and he is good with children. He is now my brother too!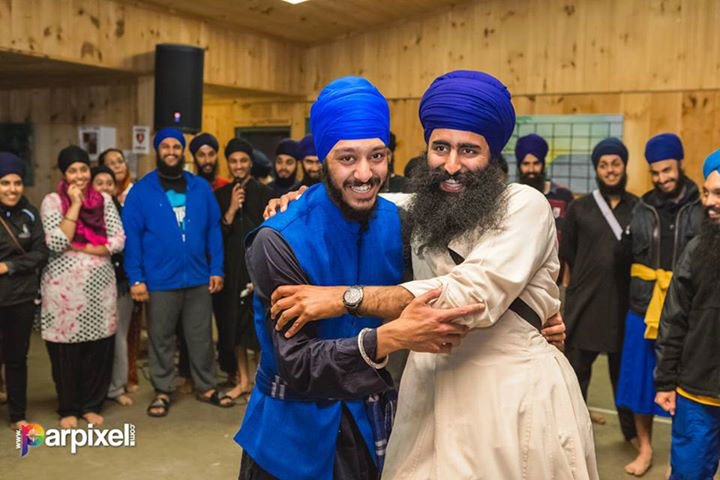 (Left: Bhai Hajara Singh. Right: Bhai Sukha Singh)
Bhai Sukha Singh is as much a character as he is an icon for Sikh youth. What a guy! His scholastic integrity is unparalleled. He is so deeply grounded in Sikh history, his knowledge is highly respected and rightly so. A true lover of the Guru I was so happy to see him at the camp. Bhai Sukha Singh, among many invaluable other contributions, brought the most memorable moment of the camp. The story he told at the campfire. I recommend setting aside an evening to watch the following video of him reliving and bringing Mai Bhago and the 40 liberated ones to life for us. This is a priceless gift given to us in almost too easy a reachable way in our modern lives. Priceless.
Get a group together, join this precious moment of immortal history, sing along, absorb yourself and you will feel the Guru's presence. The Guru is truly with us: 
My only regret is not being able to recognize all the precious souls who contributed to the Guru's court and who brought the Guru alive for all of us at this camp. These are the times that we live for, and I know I speak for many others when I say these are moments we will never forget. 
That night, sitting at the campfire, I felt a compelling urge to express what I was feeling at that moment. "The Guru is in every hair of yours." This line hit me so hard. I knew for certain it is not just an encouraging sentiment. It is absolutely true. The Guru is in our hairs! Every one of them.
Beloveds of the Guru! Know that this is the absolute reality! Have no doubt and do not forget this atmosphere, keep this spirit alive! 
After the camp even the youngest members wanted to keep the vibes going by replaying their recordings of the kirtan all day every day. Many people took on new commitments for their practice and personal improvement. The campfire will live in our hearts many of which are still singing, "Tooti Gandhanhaar Gopaal... Tooti Gaandhanhaar Gopaal..." "God You mend what is broken..."
By the way, this was no simple camp. A camp is an event that occurs once. One can attend several camps in a summer. But this... this doesn't just happen. No my friends, this was a spiritual appointment arranged by the Guru for a specific purpose. It was a great honor to witness such bounty. If only I had the words to express all the beauty present in such times! I can only speak for myself but I see that the Khalsa has a bright future. With youth like these I gain more hope for the future, surely the Guru has many wonders in store for us all. Keep up!!!
Great is the Guru Khalsa!
Blessings to the continued good work of the Sikh Youth Federation
And thank you Jasdeep Singh for helping me out so much!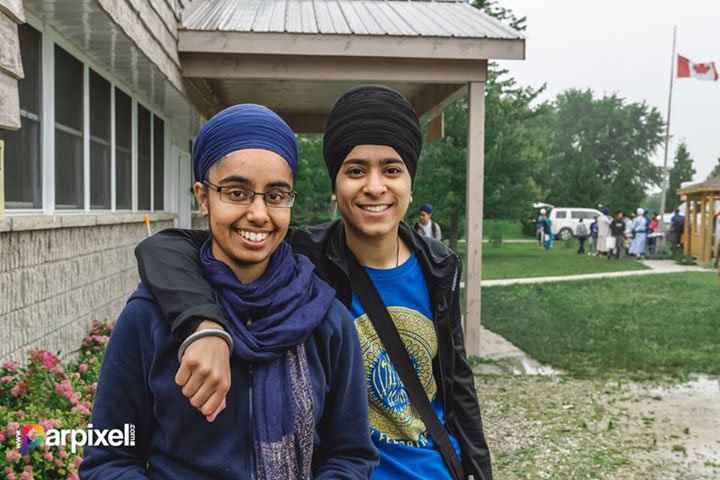 Welcome to camp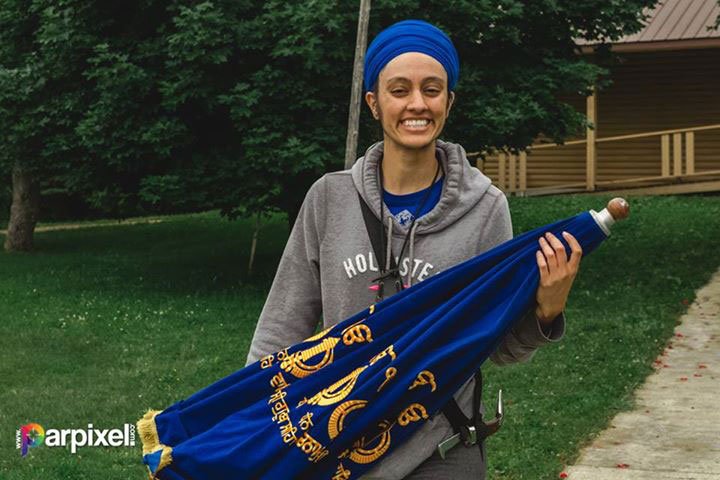 Shining faces
:)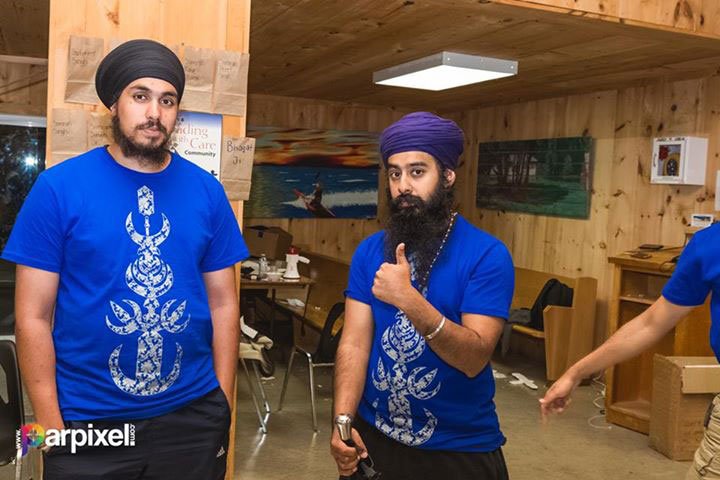 Excellent men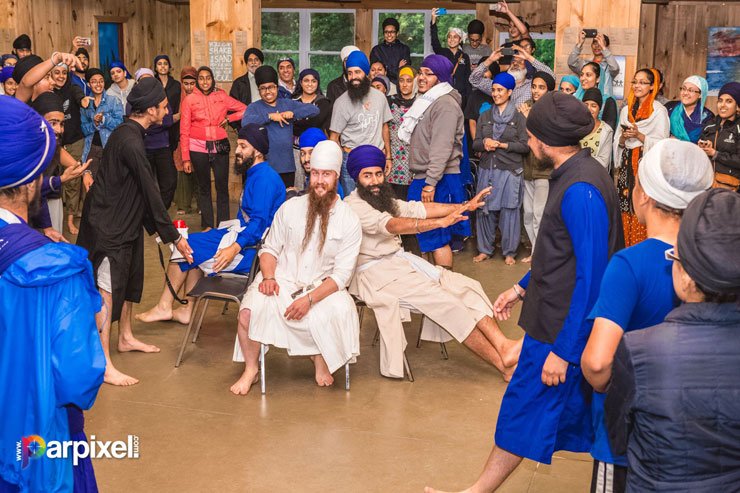 Fun and games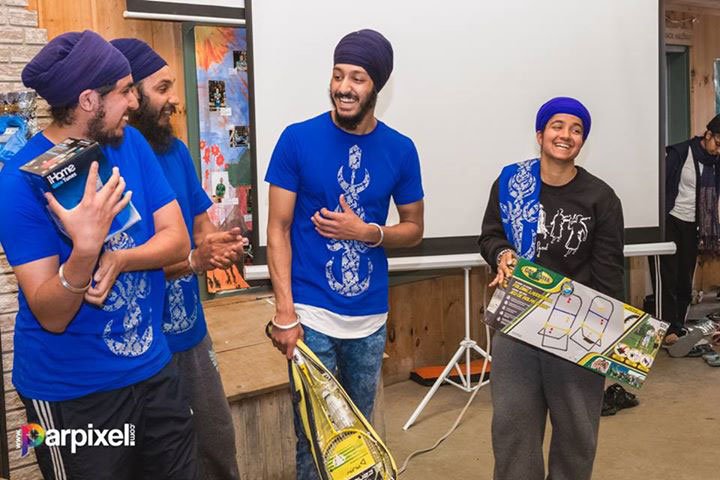 Bhai Hajara Singh wins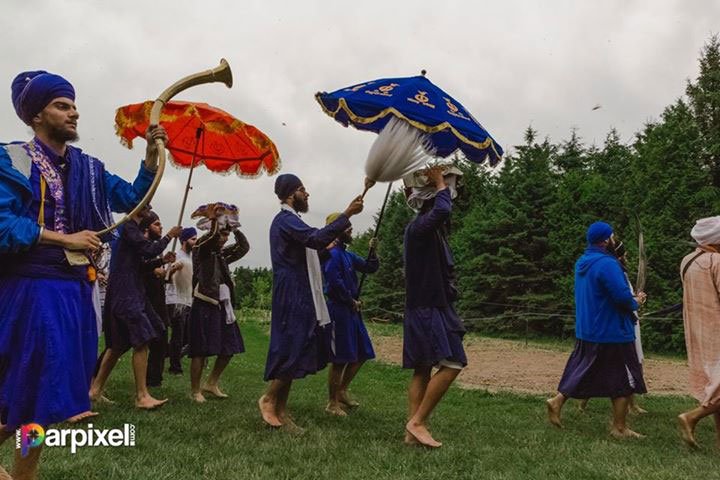 A most royal presence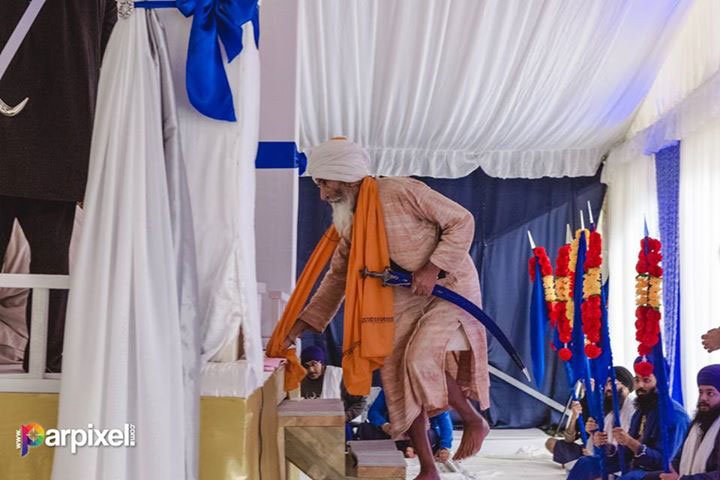 Bhagat ji taking up duty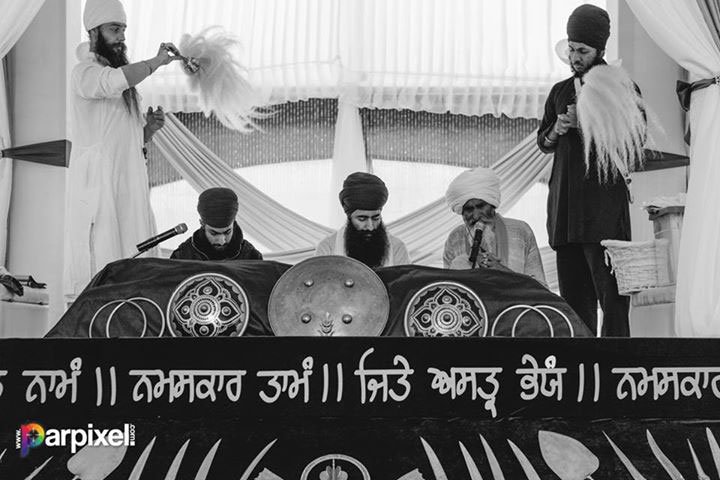 Heaven on earth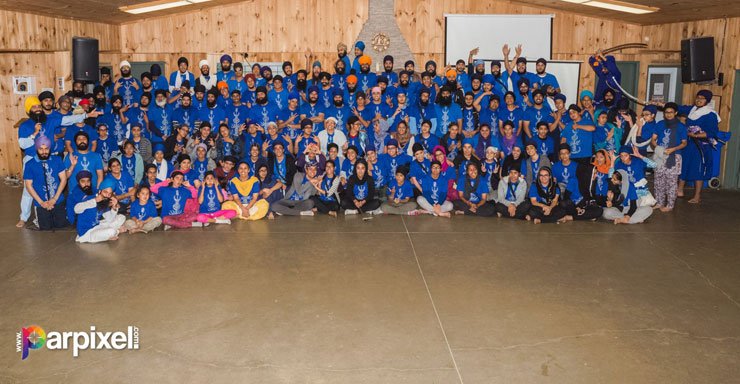 Wahiguru ji ka Khalsa
Wahiguru ji ki Fateh!
Note: This article was originally published on: Sept 4th 2015