Event: Fighting for Black Trans Lives In Liberation Movements
For more information contact: Gujari Singh (631) 404-9977
This weekend SALDEF will present the fourth episode of the series Demystifying U.S. History and Activating Sikh Action for Black Justice Movements. The fourth episode, Fighting for Black Trans Lives In Liberation Movements will air September 13, 2020 at 8:00 PM EST.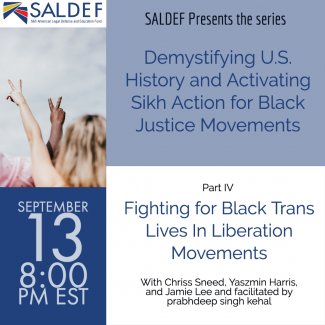 In this episode, Chriss Sneed and moderator Prabhdeep Kehal will discuss how historical movements for justice have intersected with fighting for Black trans lives in these liberation movements. The panelists will consider how gender in relation to race has been used and constructed to control Black lives and, by extension, societies in the U.S. and global contexts. Specifically, the moderator and panelists will share how fighting gendered, transphobic, and sexual violence is linked to the same struggle that Black liberation movements have always fought against.
REGISTER NOW 
September 13, 2020 at 8:00 PM EST - Fighting for Black Trans Lives In Liberation Movements
With Chriss Sneed  & Moderated by Prabhdeep Kehal
YOU CAN ALSO WATCH ON FACEBOOK
Click here to RSVP on Facebook and host your own watch party. You can also watch live on our page!
Chriss Sneed (they/them) is a Sociology Ph.D. Candidate at University of Connecticut, where their work focuses on Black LGBTQI activism, identity, world-making in the U.S. and Brazil. Chriss currently serves on the Board of Directors of the Audre Lorde Project, a Lesbian, Gay, Bisexual, Two Spirit, Trans and Gender Non-Conforming People of Color community organizing center, focusing on the New York City area.
Prabhdeep Kehal is a writer, community scholar, and educator. As a sociologist and doctoral candidate at Brown University, Prabhdeep researches how people and communities make knowledge about race and racism, and how they use this knowledge in their lives. They broadly question how colonialism persists within US higher education and, specifically, how these ideas about race are used in the processes of hiring, promotion, and defining merit (what counts as good) in education and academia. Prabhdeep's community work focuses on identifying and fighting how ideologies of white supremacy, anti-queerness, and gender conformity emerge in our lives, both within and outside the Sikh and Sikh-American diaspora. 
To watch Episode I Colonial Uprisings and The Creation of "Race" / From the colonial period to the eve of Civil War with Dr. Nneka D. Dennie CLICK HERE 
To watch Episode II  Black Resistance and Continued Protest / From Civil War to Mandated Desegregation with Channon Miller PhD CLICK HERE
To watch Episode III  Fighting for Civil Rights / From Liberation Movements to the Movement for Black Lives with Dr. Ashley Howard CLICK HERE
For more information on the series CLICK HERE
READ MORE: Who are Sikh Americans (informational) www.saldef.org/who-are-sikh-americans
READ MORE: Sikh Media Style Guide -- http://saldef.org/wp-content/uploads/2009/10/Sikh-Style-Guide-6.20.pdf