Washington, D.C. (January 30, 2017) – In order to raise the awareness of the Sikh religion and the contributions of Sikh Americans in the United States, the National Sikh Campaign (NSC) has hired FP1 Strategies to develop and implement an effective strategy to improve the perception of Sikhism throughout the United States. FP1 is a conservative-leaning Washington based marketing firm which has an impressive clientele which includes Facebook and Ford.
 
NSC will be partnering with FP1 to launch a major marketing campaign that will focus on increasing the Sikh American community's presence in national and local news outlets, as well as social media. FP1's relationship with conservative media and organizations will also help NSC reach and educate Republican and right-of-center audiences. AKPD, President Obama's media team founded by David Axelrod and the Hart Research Associates, whose clients include the World Bank, Bill and Melinda Gates Foundation and the Harvard University, have already been working closely with NSC to develop the media strategy to create awareness about Sikhs and Sikh identity in America.  
 
NSC is working to launch this campaign in Spring 2017, utilizing tested television advertisements, an innovative website, public relations efforts, targeted digital media, and community events to affect change. "Engaging FP1 was a crucial decision in making our entire strategy complete, and their expertise in reaching conservative Americans will be valuable in expanding our reach beyond our target audience of millennials and progressives," said Dr. Rajwant Singh, Co-founder and Senior Advisor of NSC. "This is perhaps the first time that any U.S. Sikh community has undertaken a major, proactive effort to reach out to Americans nationwide."
 
"Every step in our plan has been tested to have maximum effectiveness in shifting the perception and driving positive awareness of Sikh Americans," said Shawn Singh Ghuman, Communications Director of NSC. "We plan to use every tool, channel, and capability in the marketing communications industry to engage our society with the values Sikhism extolls."
 
NSC was created to reduce the hate crimes and violence Sikh Americans have faced since 9/11, and their mission has become increasingly important in today's political and social environment. Through research conducted in early 2015, it has been verified that when Americans learn about the key tenets of the Sikh religion, their feelings become far more positive.
 
"The professional approach of our different advisors to tackle this difficult issue facing the Sikh American community is very impressive," said Inderpal Singh, National Outreach Director of NSC. "Hiring agencies like FP1 Strategies is offering us a new way to understand and explain our religion among our neighbors."
 
NSC has organized several fundraisers in 2016 in cities throughout the United States, including San Francisco, CA, Los Angeles, CA, Seattle, WA, Denver, CO, Durham, NC, Visalia, CA, and Fresno, CA. The organization has raised over $900,000 to date and hopes to grow that amount in 2017.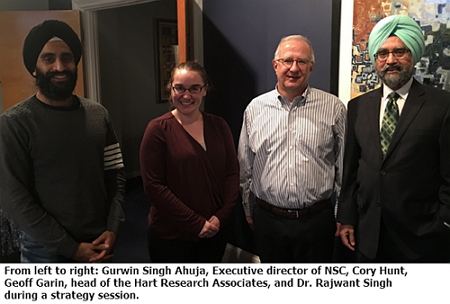 "We are extremely thankful to the Sikh community for their support, and we are making sure that we maintain our donors' confidence in this project by using the funds as best as possible," said Surinder Singh, Treasurer of NSC. "All funds are strictly being used to pay for the campaign and all donations are being professionally handled and audited by two reputable financial entities."
 
The National Sikh Campaign has continued to gain momentum in the past few months as it steadily reveals its sophisticated ads, website, and cutting edge research to select cities across the country. These materials will lay the foundation for their new, public education initiative set to launch in 2017.