These are the words of daily Sikh prayers: "Sri Nankana Sahib and other Gurdwaras from which the Panth has been separated, the gift of open vision and care to the Khalsa Ji." I thought it would be completed someday. Finally, after reading my name on a list,  I felt satisfied and thanked God . The train arrived from Pakistan and left for Wagah. The attitude of the Pakistani police and army officers on the other side of the Wagah border was very loving and sincere. Their superiors showered flowers on all the passengers and presented their  faith by putting a flower necklace around our neck. They were asking each other  to walk slowly and make a separate queue for the ladies. The shouts of Jakaras were loud. Once or twice when the slogan 'Raj Karega Khalsa' was being chanted, I was standing in line and a Pakistani commando was standing nearby. I could see the expression on his face. At last he began to say that fatigue is removed only by shouting Jakaras.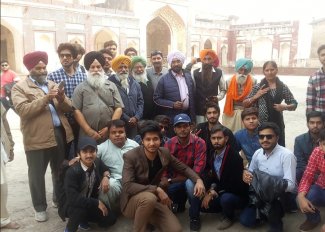 After that the Immigration Department of Pakistan kept our passports and issued us identity cards and forms. There was also a tea langar. We reached Sri Nankana Sahib by Pakistan Special Train at 3 a.m in the morning. After the train we reached Nankana Sahib by bus. Nankana Sahib was also visited by thousands of devotees from all over the world. Finally, after many hours, the dust of Nankana Sahib ( birth place of Guru Nanak) touched our foreheads. While we were bowing at Nankana Sahib, l got some Xerox pages of Guru Nanak's journey to the Arab world in Urdu-Arabic. I brought it from where I already knew a little bit.      
I thought of translating it into Punjabi and giving it to everyone. After seeing the Darshan, we went to the side of the langar where Sindhi Nanak Naam Leva brothers and  Peshawar Sikhs were preparing the Langar . Different types of delicious foods are distributed among the people . Some of my books, which I had brought as a gift for prof . Kalyan Singh Kalyan was given to him. We were sitting in the premises of Gurdwara Sahib when suddenly we met a gentleman from Punjab TV. He was a gentle person associated with the media. He said that he regularly records kirtan in Gurdwara Sahib. 
 Nankana Sahib, the birthplace, is a small shrine with a marble inscription on it which reads in Gurmukhi Punjabi "Birthplace of Guru Nanak Dev ji" . It is surrounded by marble carvings and with Sikh insignia khanda . This service was performed by a Sardar of Rawalpindi in Sammat 1947 (1890 AD). The Jand tree of Shaheed Lachhman Singh is present in the premises of the Gurdwara.  It was here that three Sindhi  small Sikh boys requested to be photographed by  our group, which I granted. Large posters of Sant Jarnail Singh Bhindranwale and 2020 Khalistan were visible from afar inside the Gurdwara premises. There is a beautiful gate  outside the gurdwara with the inscription 'Gurdwara Janam Asthan' in English.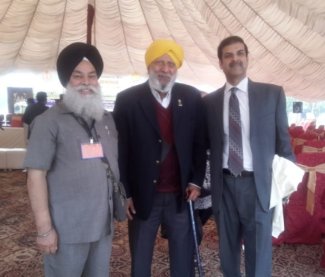 On November 22, 2018, we were taken by bus to see Gurdwara Sacha Suda. It is located in village Chuharkana, district Sheikhupura. According to Bhai Bale's Janam Sakhi, Guru Nanak was given Rs.20 by his father for business purposes . Guru Sahib was accompanied by Bhai Mardana. Outside Mandi Chuharkana, he saw some saints sitting hungry in the fields. Guru Sahib, seeing the hungry saints, gave them a langar of twenty rupees. When Mehta Kalu Ji found out he got very angry but Guru Ji  said that he had come with a real deal. Gurdwara  is now the place where the Sadhus ate langar. This three-storied fort-like shrine was built by the royal order of Maharaja Ranjit Singh. The shrine has 25 kanals of land. The shrine has been closed since 1947.
During the Baisakhi of 1993, it was opened for open viewing to the sangats from all over the country and abroad. The site has been renovated at a cost of millions of rupees in collaboration with the Sangat of England. A new langar hall and sarovar have also been constructed. The Guru Granth Sahib is seated here nowadays. Akhand Path Sahib begins four times a year. To the right of the sanctum sanctorum is a large forest tree, which is said to have been planted here by Guru Sahib after giving alms, the shade of which is now enjoyed by the devotees. Now the crumbs of the old forest tree have burst, which we have seen for ourselves. In the evening we reached Nankana Sahib by bus.Near Nankana Sahib, a few furlongs away, visited Gurdwara Bal-Lila Sahib. Here the Guru used to gather small children and convey the message of worship of God. It was here that clothes and bread were brought from home to the helpless, meek and poor children.
Here at that time Muslim Rai Bular Ji built the first Sarovar of Sikhs (Nanaksar Sarovar) in the memory of Guru Ji, which still reminds us of the brotherhood and coincidence of Muslims and Sikhs. This gurdwara comes up 20-22 steps. Huge domes have been built and the saffron flag is hanging. The construction of this Gurdwara Sahib is being done by the UK Committee and kar sewa by Guru Ka Bagh, Baba Lakha Singh Ji, Sevak Baba Satnam Singh in collaboration with Sangats from Pakistan and around the world.
Gurdwara Sri Patti Sahib is just a few furlongs away. At this holy place, Pandit Gopal Das was a teacher of Guru Nanak Dev ji  in his childhood.This is a huge Gurdwara Sahib building with a small main entrance. An inscription reads "Gurdwara Patti Sahib. At the shrine, Guru Nanak Dev Ji gave spiritual instruction to Pandit when Guru was a student in his childhood and composed a hymn called Patti in Raag Asa. This building is too old. Inside the gurdwara, a young Sindhi brother was reciting the Guru Granth Sahib. Now we were walking towards other gurdwaras when a Muslim brother started talking. We were talking when I saw a Singh walking towards his house, I asked him if it was not Kalyan Singh? I had never met Kalyan Singh but I had seen him in the photo. He immediately nodded and shouted at him then he finished reading. I went to him and called him Guru Fateh, introduced him and he took me in his arms. He insisted that we go home and have breakfast  but I apologized that we had breakfast and we were going to see another gurdwara. Promising to visit the Gurdwara in the evening, we grabbed the Rakshas Auto and walked towards Gurdwara Tambu Sahib.
Crossing the narrow streets we visited Gurdwara Tambu Sahib. This place is touched by the holy feet of Guru Nanak Sahib. When Guru Sahib returned after making a real deal, for some time Guru ji rested under the tree , which looked like a tent, and was lying down. From this place Bebe Nanaki and father Mehta Kalu took Guru Sahib home. This forest tree is still in the shape of a full tent. Many branches of this forest are still green today. The Gurdwara here is small but huge buildings have been erected in the vicinity. Inside the gurdwara, the Kirtania Jatha (Muslims) of Bhai Mardana ji's lineage were performing melodious Kirtan. A large langar hall was constructed by the Kar sewa Committee Sikh Gurdwara (Pakistan)  in March 2009 in collaboration with the UK and the rest of the Sikh community abroad. We went to Bebe Nanaki   langar hall and ate langar.
It was here that Muslim doctors set up a medical camp in which Dr. Sultan Ahmed Abdullah, Retired Head Chest Department, Punjab Medical College, Faizabad under 'Bright Hope Foundation' at Nankana Sahib. 7th Free Medical Camp on 21-23rd Nov, 2018 on the eve of the Birthday Ceremony of 'Baba Guru Nanak Jee' They were also giving checkups and free medicines. Five or six doctors were working here.
From here we reached Gurdwara Guru Hargobind Sahib . Here the Guru had tied his horse to a forest tree and walked towards the birth place of Guru Nanak. It is called 'Gurdwara Chhevin Patshahi'. Part of this forest tree is still preserved as a memorial. It is also the fifth Patshahi Gurdwara. The Gurdwara was inaugurated on April 16, 2016 by Mohammad Sadiq Al Farooq, Chairman, Evacuee Trust Property Board, Government of Pakistan. It is also the seat of Guru Granth Sahib. The shrine of Guru Hargobind Sahib was commissioned by a Singh on 13 April 1937, inscribed in an inscription:
"Shrine of Maharaja Guru Har Gobind Sahib. Sardar Ishar Singh Sahib, Royal Deputy Magistrate (Nahar) , performed the service of this holy shrine in the memory of his father Sardar Ganesha Singh Sahib, the royal money lender Mananwala Bar." 
The entire text is written in Urdu. From there we went to see Gurdwara Mall Ji Sahib. This is the story of 1483 AD when Guru Nanak Sahib used to graze his buffaloes and cows at this place when he was 14 years old. Once while grazing buffaloes he became absorbed in devotion to God and he fell asleep then he lay down, when the sun changed direction then the sun came on his body. Out of the bushes came a snake and it spread its head and cast a shadow over the mouth of the Nanak . Nawab Rai Bular of Talwandi saw this incident with his own eyes and became a true devotee of Guru Ji. Rai Bular later named 750 acres of land after Guru Nanak. This is why this place is known as Gurdwara Sri Mall Ji Sahib. The tree of the place where Guru Ji slept is still safe and even today it seems to be  like a snake. People have gone to great lengths to fulfill their desires. The Guru Granth Sahib is seated in this Gurdwara. The Gurdwara has a large white dome and four small domes around it. There are many small mammoths. Then we reached Gurdwara Sri Kiara Sahib through the narrow roads. This is the place where Guru ji's cattle destroyed the crops of the Zamindar  and Guru Ji with his spiritual power made the crop green again. The place is huge, with a small gurdwara where the Guru Granth Sahib is seated. On one side of the Gurdwara is a large sarovar. From here we immediately drove to Janam Asthan as 'Nagar Kirtan' had started.
People of all religions were involved. The road was red carpeted. This carpet was also donated by a Muslim hero and from where the Nagar Kirtan (famous for this procession in Pakistan) went, the red carpet was spread all the way. Many of the young children were riding on horses, adorned with handkerchiefs. In this Nagar Kirtan, Sindhi Veer Parvar was making its presence felt in large numbers. The bus on which the 'Parkash of Guru Granth Sahib' was adorned was offering a very beautiful view. Drummers were playing drums and flute players were singing Baba Nanak's praises to the tune of their flute. Sindhi brothers and sisters were also performing bhangras. Blue and yellow Khalistan flags were also displayed in the Nagar Kirtan. The whole road was beautifully decorated. Along the way, Sindhi families were also distributed pinnis,sweets, etc. On our way back we found an old man aged 90 years and named Iqbal, a resident of Jhelum. He is called the Bhangra Baba. He used to perform bhangra in this procession every year and now health does not allow it. However, at our request, it was broken into a stream of tears. He made me happy by reciting many lines of Sufi Punjabi poetry. Similarly, another elder was also found who recited verses from ancient poetry.
    In the evening Prof. Kalyan Singh Kalyan came inside the premises of Nankana Sahib and hugged me.  There we met the first Sikh Major Harcharan Singh, and the first Sikh doctor, Dr Mimpal Singh. I gave my books as a gift to both of them, who were very happy and felt proud. Sardar Lali, a Sikh TV artist from Pakistan, also met there. There i met Mr. Imran Galani, the Deputy Secretary of Okaf, who is a very cheerful young man. Then I met Babar Jalandhari who is often active on Facebook and is a true son of a Punjabi mother. Even though I recognized it from afar. On a building Dr. Rajwant Singh (USA) was busy making films but he could not be met and left for the USA  in the evening. I also met many other personalities.
    Kirtan and Fire-like  lectures were held in the Diwan of the night. Melodious Kirtan of local Sikh girls had nailed the entire Sangat. Many Sikh  veterans from abroad gave speeches full of Sikh pomp and pageantry that mostly came from  Canada, U.S. A, UK, and Germany. The central point of their speeches was the achievement of 'Khalistan'. Later, ragi jathas from Darbar Sahib performed kirtan of divine hymns. Sindhi families were celebrating Baba Nanak's birthday by lighting candles with great devotion. The Akhand Path Sahib concluded at one o'clock in the night. Sindhi brothers distributed pinnis, chocolates, candies etc. to the sangat according to their sentiments. Sindhi women memorized Gurbani and Shabad orally, as they were singing Shabad along with Ragi Singhs. There were huge fireworks at night.
     On the morning of 24th November 2018, after bowing at the place of birth, I came out and found Veer Vinod from Sakar (Sindh). We met a group of Pishawar Sikhs who were happy to take photos with us.
    In the evening we were proceeding towards Panja Sahib (Hasan Abdal). Hassan Abdal, also known as Baba Wali Kandhari, is a historic town located on the GT Road and Karakoram main Road near NWFP Province. At a height of 714 meters on a hill, there lived  a Muslim saint Baba Wali Kandhari. After his death, he was buried near Kandahar.
    On November 25, we left for Sri Panja Sahib. For reasons like mountaineering or security, we arrived at night. There, with the grace of 'Shah ji', a room was found, in which two other pilgrims from Jammu made adjustments. No one was allowed to go outside the main gate of Panja Sahib. We stayed here for two or three days. At 2 o'clock in the morning, I took a bath in the sarovar where there were big fish. There we saw the holy panja of Guru Nanak Patshah, which  pleased us . Panja Sahib now falls in Attock district (Campbellpur). Guru Nanak Sahib stayed during the Western Udasi, on his return from Makka Madina and Baghdad. The Guru was accompanied by Bhai Mardana. The Guru resided at the foot of the hill. At that time Wali Kandhari lived on the top of the hill. The Guru was sitting under a poplar tree. According to Janam Sakhis, when Bhai Mardana became thirsty, Guru Ji sent him to Wali Kandhari three times to fetch water.
At the end Wali Kandhari said, "The fakir of whom you are a follower cannot give you water". When Guru Sahib lifted a stone with his assa(stick) , a spring of water burst under it. Bhai Mardana and others present there drank water and thanked God. The Wali Kandhari's spring dried up and its water flowed into the spring. Wali Kandhari rolled down a heavy stone, then Guru Nanak stopped the stone with his right hand and Guru Sahib's paw was engraved in the stone. This stone with fingerprints and spring still exists today. Pilgrims are delighted by kissing their paws and drinking water. This place remained like this for a long time. The local devotees continued to bow down. Gradually the sangat built a small Gurdwara . During the Khalsa rule, when Peshawar was conquered, Sardar Hari Singh Nalva built a huge and beautiful Gurdwara and Sarovar. Maharaja Ranjit Singh visited the shrine several times. Panja Sahib has also been associated with Sikh history since then. The shrine is now managed by the Pakistan Sikh Gurdwara Parbandhak Committee.
   In the evening, in front of our porch, three or four people were presenting books and taking pictures. When I passed by, I also stopped. There I met Dr. Shahzad Hussain Naqvi, the deputy editor of the Balochistan Express. It was there that I met Chann Ji, a poet from Lucknow who was reciting  his Punjabi poems. Dr. Naqvi took the time of the second day and left. The next day they met again and the discussion on scholarship and Punjabiyat continued. Here I presented him with my English book 'Flora and Fauna in Guru Nanak's Bani '. He did a lot of work for communal harmony in the area of ​​Panja Sahib. He belongs to the Shia sect of Muslims. During the night we were brought to Lahore near Dehra Sahib, Royal Fort, Lahore. Putting our luggage in the room we bowed at Gurdwara Dehra Sahib.
when the Mughal ruler snatched two horses from some Sikhs brought for Guru Hargobind Sahib and  kept them in the royal stables here. These two horses were later hauled out of the royal fort by Bhai Bidhi Chand Chinna and presented to Guru Har Gobind Sahib by jumping from the fort wall into the Ravi river.
Lahore Fort Museum (New Gallery) which was inaugurated on April 17, 1965 by Dr. S. M. It was opened by Sharif. The Sikh Museum is adorned with many ancient weapons, 18th and 19th century weapons of Sikh soldiers. Such as old bows and arrows, various pistols, shields, war cannons etc. There is also a statue of Maharaja Ranjit Singh's white horse. Jahangir's 'Dalan-e-Sang-e-Surakh' of 1617-18 AD also remains. The museum also houses portraits of the heads of the Sikh Empire, kings and emperors, portraits of Sikh-British battles, old horse equipment and umbrellas from the time of Maharaja Ranjit Singh. Most of the photographs in it are from the collection of Princess Bamba Jindan. Inside the fort compound is the Moti Masjid, built by Shah Jahan in 1645 AD. This small mosque is made of white marble and shines like pearls in the full moon, hence its name Moti Masit.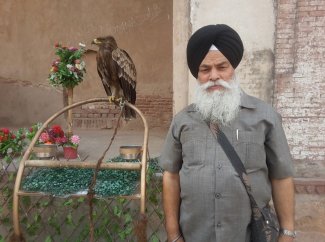 The arched roofs of the mosque are very beautiful. Nearby is the Muktab Khana, a building near the drugstore that served as a gateway to the Daulatkhana Jahangiri (palace). Visitors to the palace were monitored from here. It was built in 1617 under the supervision of Mahmur Khan during the reign of Jahangir and is a beautiful hall near the Jahangir Mahal. In which a beautiful carved brick and black stone floor has been prepared. There is also a fountain in its center. Hazuri Bagh lies between the royal mosque and the royal fort. In the Sikh kingdom, Maharaja Ranjit Singh ruled in 1818 AD. In the center of the garden was a 45.5 × 45.5 feet marble porch. It is a two storey building with a basement underneath. The upper floor was destroyed by lightning in 1932. Brandari has been used by Maharaja Ranjit Singh and other rulers.In one of its corners I saw the famous poet Ulama Mohammad Iqbal Mazar, which is in Hazuri Bagh. This tomb was built in 1951 AD. There was a precious shawl on this tomb in a small room. An inscription had an Arabic verse written on it with a garland of flowers.There were also bouquets of flowers on the tomb along with Urdu inscriptions.
       To the east of Hazuri Bagh is the Mughal-era Rusnai Darwaza. Adjacent to the door is the Samadh of Maharaja Ranjit Singh and Gurdwara Dehra Sahib built by Guru Hargobind. The royal mosque was also built by the emperor Aurangzeb in 1673-74 AD. It was completed in three years under the supervision of Muzaffar Hussain Sarmad Almaroof Fidai Khan Goga, Governor Lahore. Its interior and exterior decoration is remarkable. The walls of the mosque are made of small bricks and limestone. Above the domes are red and marble, which were brought from India. This mosque is 567 x 567 feet high. It can hold about 60,000 prayers at a time. The straight door is in the shape of a large doorway which is a masterpiece of workmanship.
    The Royal Fort, Lahore, is a monumental monument in which periodic carvings are enshrined in its footsteps. It is mentioned in travelogs and chronicles. It is also mentioned in the attacks on Lahore by Shahbuddin Gori (1180 1186 AD). The fort was destroyed by the Mongols in 1241 AD. It was rebuilt by Sultan Gyas-ud-Din in 1267 AD. Amir Taimur continued to build the fort in 1381 AD, Sultan Mubarak Shah in 1421 AD and Sheikh Mubarak Ali in 1432 AD. The Mughal emperor Akbar built the fort Lahore with solid bricks in 1566 AD and extended it to the river Ravi which flowed along the northern wall of the fort till 1849 AD. Akbari Mahal, Dolatkhana Aam, Akbari Gate were built during Akbar's time and later Mughal rulers also continued the construction work on this side.
Maharaja Ranjit Singh built the northern wall of the fort, Uthdara, Haveli Mai Jindan, during the Sikh period (1799–1839 AD). In 1849, the fort was captured by the British and the southern walls were erected. Then we went to see the famous Anar Kali market in Lahore. Walking in this beautiful market was in full swing. Security was already in place for all due to the passengers. Before going to AnarKali Bazaar we were taken by bus to the Governor Lahore House where an international seminar was being held on which was written 'Baba Nanak's Bani, a symbol of monotheism and love'. Many speeches were made here including by Governor Lahore and other Sikh leaders. This seminar is conducted every year by Dayal Singh Research Foundation Lahore.
  Gurdwara Dehra Sahib was our residence in Lahore. It was here that a Sikh youth of Nankana Sahib, named Azad, took us on a tour of the gurdwaras around Lahore. He first took us to Gurdwara Chuna Mandi in his car. This Gurdwara is two-three kilometers away from Dehra Sahib. Putting the car in one place, we passed through the narrow streets. On the right hand side we saw a huge white milk building in the market which is famous as 'Janam Asthan Sri Guru Ramdas Ji Chuna Mandi, Lahore'. Flower petals are drawn on its front door. Inside, the sanctuary is in the shape of a large hall. Above this Gurdwara there is a large dome and small domes between four smaller domes. The premises of the Gurdwara are covered with black and white marble. We also ate langar in the langar hall below. After this we reached Nakhas Chowk, Lakha Bazaar where Bhai Taroo Singh and Gurdwara Shaheed Ganj Singhanis were located. It was here that  I saw the lower-floor rooms where these Singhanis had been imprisoned, and two millstones still there. There is also a very large ancient well nearby. Bhai Taroo Singh was also martyred here. This Gurdwara Sahib has Parkash Guru Granth Sahib and also has a langar for the sangat.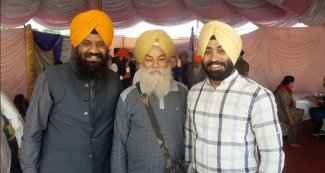 The next day we took the bus from Gurdwara Kartarpur Sahib to Narowal district. Along the way came endless villages whose condition seemed to be very poor. Large fields of midwives and Pakistan's best basmati grains are grown in this area. Most of the roads here were unpaved and dust was flying. Gurdwara Kartarpur Sahib was opened for the visit of Sikh Sangats. Strict security arrangements were made because the Prime Minister of Pakistan Imran Khan was also here. Exquisite venues were decorated. Guru Nanak spent the last two decades of his life with his wife and children at Kartarpur Sahib, which later became the main seat of Sikhism. Bhai Gurdas Ji also writes: "Then Baba came to Kartarpur, Bhekh Udasi Sagal Utara".
It was in Kartarpur Sahib that Bhai Lehna (later Guru Angad Sahib) learned from Guru Nanak Sahib and Guru Ji appointed him as his spiritual follower. It was here that Guru Nanak merged into the divine light on Assu Vadi 10,1596 Bk (7 September 1539). Kartarpur has long been absorbed by Ravi, but Sikhs and devotees of Guru Sahib have settled in Dera Baba Nanak, which is on the other side of Ravi. A three storied building 'Gurdwara Kartarpur Sahib Ravi, Patshahi Pehli' was constructed later, which is also visible from the India-Pakistan border. Apart from the annual jagir adjoining the gurdwara, 70 acres of land is available in many villages. The present Gurdwara Sahib was constructed by Maharaja Bhupinder Singh of Patiala at a cost of Rs. 156006. It is called 'Gurdwara Kartarpur Sahib, Narowal'.The Prime Minister of Pakistan Imran Khan, Navjot Singh Sidhu, Bibi Harsimrat Kaur Badal, Sr. Gurdeep Singh Puri, Sr. Gobind Singh Logonwal etc. were also present in the large pandal. The foundation stone was laid. We were to return to Dehra Sahib in the evening.
During late hours, we reached Eminabad. In the time of Guru Nanak it was called Sodhpur or Siadhpur. This place is 13 km away from Gujranwala town. Bhai Lalo, the chief Sikh of Guru Nanak Sahib, was a resident of this place. Guru ji and Bhai Mardana visited the town several times. The town was attacked by Babur in 1521 AD, and among others, Guru Nanak Sahib also sent to prison. Guru Sahib was given a grain mill in the jail. There is now a beautiful gurdwara here. There is also a huge sarovar. During the Sikh rule in 1760 AD, Charhat Singh Shukarchakie conquered this town and hoisted the saffron flag. Three gurdwaras were established in the memory of Guru Sahib, namely Gurdwara Rori Sahib, Gurdwara Chakki Sahib and Gurdwara Khuhi Bhai Lalo.
The Shiromani Gurdwara Parbandhak Committee (SGPC) Amritsar managed them from February 28, 1922 to 1947. Later, the Pakistan Ekaf Board and now the Pakistan Gurdwara Parbandhak Committee (PGPC) were in charge of the building. It has three domes on the main beautiful porch and below the central dome is inscribed 'Gurdwara Rori Sahib' in beautiful Gurmukhi characters. As soon as you enter the main door, it is written 'Roar Di Gur Kiya Vichhai'. Bhai Gurdas Ji has also mentioned this in his first Var (24 Pauri). Now only Baisakhi is celebrated together. People from Gujranwala and surrounding villages flock to this fair. The building has been repaired and fenced off by spending lakhs of rupees on this Gurdwara. From here we reached Gurdwara Dehra Sahib directly. On November 30, we took our passports. There is a huge garden just outside Dehra Sahib in which 'Minare-Pakistan' offers a different view with touches of sky. From there we reached Attari and took buses directly to Jammu and thanked Akal Purakh.