To fully have a sense of the circumstances, conditions, and hostilities involving the martyrdom of Tenth Guru Gobind's sons and mother, it is necessary to have an understanding of related events 
Guru Gobind Singh Lineage 
Parentage
Guru Gobind Singh, born in Patna on January 5, 1667, to Mata Gujari and Ninth Guru Teg Bahadar, grew up with his father absent for several years on mission tours. At age six he and his mother joined his father in Anandpur, where he became the tenth guru on July 8, 1675, at the tender age of nine years, immediately following his peace-loving father's martyrdom at the hands of the Mughal court. 
Wives
Mata Gujari sought alliances through marriage for her young son. In 1673, she betrothed him at age six to Jito the daughter of Hari Jas, a Subhikkhi of clan Khatri from Lahore. Within a year of the Ninth Guru's martyrdom, at age 10, Guru Gobind Singh married his first wife Jito on June 21, 1677, north of Anandpur, near Basantgarh at Camp Guru ka Lahore.
Having no children, at his mother Mata Gujari's behest, the Guru married again at age 17, on April 4, 1684, when he wed Sundari, the daughter of Ram Saran, of clan Kumarav Khatri, from Bijvara (Hoshiarpur) Punjab, and a recent convert to Sikhi. 
Lastly, on April 15, 1700, after the girl's father had publicly proclaimed the proposal during Vaisakhi festivities, the Guru, at age 33, accepted as his spiritual wife, Sahib Devan Kaur, born November 1, 1681 to Jasdevi and Ramoo Busi, of clan Khatri from Rohtas (Jhelum), Pakistan. 
Progeny
Guru Gobind Singh sired four sons. His second wife Mata Sundari gave birth to his first-born son, Ajit Singh on January 12, 1687. 
The Guru fathered three more sons with his first wife, Ajit Kaur, including Jujhar Singh, born March, 15, 1691, Zorawar Singh, born January 9, 1697, and lastly Fateh Singh, born February 17, 1699. Ajit Kaur passed away within a year of her babe's birth on December 5, 1700. The cremation of Mata Jito Ji took place in Agampura, nearby Holgarh, close to Anandpur.
The Guru fathered no children with Mata Sahib Kaur, instead he named her the honorary mother of the entire Khalsa Nation in perpetuity.
Establishment of Khalsa – 1699
Guru Gobind Singh established the Khalsa during April of 1699, with an initiation ceremony held during Vaisakhi festivities in Anandpur. Five brave men from various walks of life offered themselves to the Guru and became known as the Panj Pyare, (Five Beloved) administrators of Amrit (Immortal nectar).  The Panj initiated volunteers who drank of the Amrit which Ajit Kaur (Jito) sweetened with sugar puffs as the Panj stirred the nectar with a double-edged sword while reciting prayers. 
Initiates agreed to faithfully recite the same prayers daily so as to become indomitable spiritual warriors with attributes of both saint and solider. Drinking Amrit, Guru Gobind Singh and Ajit Kaur, along with the entire family, also became initiates, prompting thousands of the Guru's followers to accept Amrit that first day. 
History of Hostilities Anandpur 1700 – 1704
Increasingly threatened by the Guru's growing popularity, and fearing the influence of his religious reformations, the established Islamic and Hindu authorities both took action against Him. Unrelenting harassment and continual persecution of Sikhs, by both Mughals and hostile hill Rajas, resulted in several significant battles over the next several years.
1700
1st Battle of Anandpur
Battle of Nirmoghar
Battle of Basoli
2nd Battle of Anandpur
1702.
1st Battle of Chamkaur
3rd Battle of Anandpur
1703
4th & 5th Battles of Anandpur
1704
Fortifications of Anandpur
Hill Rajas joined forces to continue harassing the Sikhs in Anandpur. In the fall and winter months, Guru Gobind Singh sent out letters requesting hundreds of his Sikhs to arm themselves and join him, along with his family, and his most trusted warriors, in Anandpur. The Guru established five fortifications (garh) in Anandpur and divided his leaders and army between them, with 500 hundred warriors held in reserve. Guru Gobind Singh took charge of Anandgarh, Uday Singh commanded Fatehgarh, Mokham Singh held Holgarh, the Guru's eldest son, Ajit Singh, oversaw Kesgarh, and the Guru's second son, Jujhar Singh, supervised Lohgarh. 
Seven Month Siege of Anandpur 1705
6th Battle of Anandpur 
Hill Rajas colluded to combine forces with Mughal forces headed by Wazir Khan to surround and attack the Guru and his faithful followers in an all-out effort to destroy the Sikh strong holds. By May of 1705, having been unable to overpower the resistance of courageous Sikh warriors, the enemy mounted a siege. The Khalsa fought fiercely, eliminating 900 hundred enemy the first day. The siege continued for seven long months until December of 1705. The antagonists resorted to disrupting food supplies and diverting the only water source. Resourceful Sikhs used cunning, daring, and stealth to send out foraging parties. However, as food supplies dwindled, hardships increased, and the Sikh sangat (gathering) faced starvation. Increasingly famished Sikhs sought the Guru's permission to return to their homes.
Treacherous Evacuation of Anandpur 
Messages, bearing the seal of Emperor Aurangzeb, arrived that promised the Sikhs safe passage if they would relinquish their stronghold. Guru Gobind Singh suspected treachery, and cautioned his Sikhs to have patience. But many wished to escape the suffering of severe privations, and pressured the Guru to evacuate. Mata Gujari entreated her son to allow the Sikhs to leave Anandpur. Despite his misgivings, the Guru considered himself to be the servant of his people and ultimately agreed to their request. On the Evening of December 5, 1705, the Sikhs evacuated Anandpur. Expecting the enemy to break their treaty, Guru Gobind Singh assigned Ajit Singh and 50 warriors to act as rear guards. Udai Singh volunteered to relieve Ajit Singh and sent him to catch up with his father. Udai fought so fiercely that the enemy who mistook him for the Guru when they surrounded, and killed him at Shahi Tibbi. Meanwhile after placing his youngest two boys in the care of his mother and wives Sundari Kaur and Mata Sahib Kaur, the Guru, his son Jujhar, and his warriors led the remaining Sikhs out of Anandpur, burning everything they left behind. Guru ji sent Bhai Jiwan with another 100 warriors to find Ajit Singh and to stave off the enemy as Sikh families made their escape. Just before daybreak on the 6th of December, the caravan reached River Sarsa to find it in full flood. With the enemy hard on their heels, the only way forward meant crossing the treacherous river.
Devastation and Separation at River Crossing 
Guru Gobind Singh along with his warriors, his family, and his faithful Sikhs plunged forwarded into torrent of the flooding river. The fierce, frigid, flood waters carried away both possessions, including precious scriptures, and people, many of whom did not survive the crossing. Ajit Singh caught up with father, Guru Gobind Singh, and brother, Jujhar Singh, and informed them of Bhai Jiwan Singh's death. The Guru proceeded with his sons, and warriors to the village Ghanaula. With enemy forces still in pursuit. Guru Gobind Singh sent Bhai Bachittar Singh and Ajit Singh with another 100 warriors to Malkpur Ranghran to hold back Raja Ajmir Chand of Sirhind. A great many valiant Sikh warriors fell in battle against Raja Ajmir Chand, and Bhai Bachittar Singh suffered mortal wounds. Ajit Singh carried him to the fortress of Kotla Nihang Khan, where Guru Gobind Singh joined them, and arranged for Bachittar to be cared for until he expired (December 8, 1705). Before leaving on that fateful night of December 6, 1700, the Guru had been seen, and his whereabouts reported.
Mata Sundari and Mata Sahib Kaur made their way safely across the river and to Morinda (Ropar) where they stayed the night of December 6, 1705. Bhai Mani Singh helped to them to escape to Delhi the morning of December 7, 1705, where they took shelter in the home of Jawahar Singh
 Mata Gurjari managed to cross safely with Zorowar Singh and Fateh Singh, but had been separated from the Guru during the confusion and devastation. They found their way to Serhi where she met with Gangu, a Brahman who had been a former servant. He offered her shelter in his home. During the night of December 6, 1705, he robbed her of gold she had brought along. Gangu buried the gold, and concocted a cover story the about neighborhood thieves to alleviate suspicion. As no one else had been in his house, Mata Gujari confronted Gangu. He then turned her out of his house and met with an official to conspire to arrest her and the Sahibzade, then share the reward for her capture. On December 8, 1705, they informed police officers, Jani Khan and Mani Khan, who turned Mata Gujari and her grandsons over to the governor of Morinda (Ropar), who handed them over to Nawab Wazir Khan, the imperial viceroy of Sirhind where they were imprisoned December 9, 1705.
Enemy's Relentless Pursuit 
With superior numbers of enemy regiments in relentless pursuit, Guru Gobind Singh, his sons, and 40 of his faithful most trusted warriors, including three brothers of Bhai Bachittar Singh, pressed on. That night (December 6, 1705), they camped close to Chamkaur, on a property owned by Rai Jagat Singh. Knowing that more than 100,000 and 700 mounted enemy troupes pursued them, Guru ji requested to be allowed to shelter with a walled compound. After gaining permission, the Guru and his warriors set about fortifying their position.
Martyrdom At Chamkaur Battle December 1705
2nd Battle of Chamkaur
All through the night of December 6, 1700, Guru Gobind Singh readied his sons and 40 loyal warriors for battle with the oncoming horde. Having fought once before in Chamkaur, and familiar with the compound and surrounding terrain, he strategically placed his Singhs to the greatest advantage.
Kotha Singh and Madan Singh, positioned themselves on either side of the only entry gate on the north side of the compound. Along each of the four outer walls eight Singhs stood ready including Bachittar Singh's brothers Ajab Singh, Ajaib Singh Anik Singh. The Guru, and his sons, Ajit Singh and Jujhar Singh, secured central positions within the second floor of the inner building from where the Guru could see to direct the battle and they could loosen arrows from their bows to slay their enemies. Alim Singh, Daya Singh, Man Singh, and Sant Singh took up vantage points at the top most story.  
As the first rays of the sun dawned December 7, 1705, an ultimatum to surrender arrived with treaty conditions. Mughal imperial officers, Khwaja Muhammad and Nahar Khan demanded that the Guru and his warriors subject themselves to Islamic law. Unanimous in their decision, the impeccable Guru, his courageous sons, and gallantly warriors, scoffed fearlessly, and declined. Expressing vehement outrage, Sahibzade Ajit Singh admonished the Mughal emissary to silence himself, and return like a dog to his masters, while he still had breath. 
The Mughals officers, ordered their troupes to attack without mercy.  More than 100,700 Mughals bore down on the Guru, his two sons, and 40 brave warriors. The Singhs responded with astounding ferocity rapidly using the few weapons they had stockpiled. Himmat Singh had supplied matchlock muskets. When powder, and balls had been exhausted, and arrows spent, they resorted to using hand weaponry, sabers, swords, spears, shields, spiked mace, cudgel, chakar, kataar and such. 
Stalwart Until the Last Breath
The Guru's warriors remained stalwart to the end. Facing their foes fearlessly, they embraced death heroically without complaint.
Five heroic warriors grouped and charged together as one through the gate to greet death. Cheering with immortal valor, they slew an incredible number of their adversaries before taking their final breath.
Daan Singh, Dhyan Singh, and Khazan Singh launched themselves into the midst of their enemy instilling terror in their astonished hearts. The trio attained a tremendous tally, while welcoming their fate. 
Mukham Singh withstood the blast of scores of muskets and dozens of balls before he fell to meet the Almighty.
Himmat Singh faced his Guru offering his farewell, and saluting his slayers, he relinquished his life. 
A second group of five ferocious warriors heroically emitted a fierce roar as they ran to wring life from their opponents, reaping untold numbers before bending before the oncoming onslaught.  
Deva Singh and Ishar Singh struck the shocked souls of their foes with the frightful intensity of their fatal fervor.  
Amolak Singh, Anand Singh, Kesar Singh, Kirat Singh, Lal Singh, and Muhar Singh convened to beg leave of their Guru to accost the advancing horde. Turn by turn, drop by drop, the stout hearted six spilled their precious life force, all the while diminishing the numbers of their antagonists.
Imperial officers Ghairat Khan and Nahar Khan, felled by the Guru, perished along with untold numbers of enemy soldiers, struck down by fearless martyrs immortalized by their sacrifice. Heroic efforts prevented the enemy's endeavor to infiltrate the defense mounted by the Guru and his bold warriors. 
Martyrdom of Elder Sahibzade
Determined to hold the fortress until nightfall, the two elder sons of Guru Gobind Singh beseechingly solicited and sought their beloved father's favor to fearlessly face their foes as had their companions before them. 
Sahibzade Ajit Singh, within weeks of his 19th birthday, not yet wedded, but already a seasoned warrior, requested his father's permission to leave the compound wall, confront the slayers of his companions, and wed death. Alim Singh, Bir Singh, Dhyan Singh, Jawahir Singh, Sukha Singh followed his courageous charge, fearlessly flanking his rear. Fanned out like a sickle, they reaped the ranks of their enemy, cutting through them as though harvesting a field. The Singhs fought so fiercely that no enemy would face them hand to hand alone. As the sun dropped lower in the sky, hundreds fell in the wake of their slashing swords and piecing spears. Finally, in desperation, Mughal officer Zabardast Khan led a fatal counter attack using the full force of his footmen and calvary to completely crush the band of six stalwart Singhs with a surge of overwhelming numbers. The Singhs fell together, courageous in death as they had lived in life. 
Sahibzade Jujhar Singh, looked on as his beloved elder brother achieved illustrious martyrdom. With only three months remaining until his 15th birthday, he explained to his father that he desired a death of honor on the field rather than falling while still in the fort, and requested he too be allowed to achieve martyrdom as had his brother. Five lion-hearted Singhs accompanied him whirling on to the field of battle like a chakar with their backs together. With weapons thrusting and slashing, they mowed through the field of adversaries, bodies falling all around them. The sun lowered toward the horizon as they fought on, ferociously felling their opponents. The fearful enemy reluctantly closed in pressing gradually forward with deathly force. The magnificent Singhs slowly succumbed to their injuries as the last rays of the sun gave way to the darkening sky. Though the names of the five bold Singhs remain unknown, their illustrious actions have been immortalized by their valor. The Mughal who chronicled the enemy report wrote that the battle tactics and bravado of the Singhs made them appear as, "Crocodiles parting the water in pursuit of prey." 
Night fell with only five live warriors remaining alongside Guru Gobind Singh. They urged desperately him to flee. When he refused, declaring he also wished to achieve martyrdom as had his brave Singhs all of whom he considered his sons, they explained that as a counsel of five they represented the Guru, and he the Khalsa, and therefore had an obligation to obey their directive. They impressed upon the Guru the importance of his survival to the Sikh nation, and devised a plan for his escape.  
Daya Singh, Dharam Singh, of the original Panj Payara, and Man Singh disguised themselves in the clothing of fallen enemies. Guru Gobind Singh gave his garments, armor and plume to Sangat Singh, who planned to masquerade on the ramparts the next morning as the Guru. He intended to wear the plume from the Guru's turban in his own, hoping to trick the enemy long enough for the Guru and the others to successfully escape.  Sant Singh elected to remain behind with him and guard the rampart. 
Guru Gobind Singh Escapes Chamkaur
On the night of December 7, 1701 under cover of darkness, Guru Gobind Singh and his three companions made ready to depart. Just as they slipped from the fort, an arrow struck and killed Sant Singh outright, leaving Sangat Singh to face the Mughal horde alone. Shooting arrows to put out lamps, the escapees ran through the dark camp heading in different directions. Guru ji blew his horn, clapped his hands and shouted out to announce his escape. The sudden sound woke the sleeping enemy and their camp became utter chaos. In their confusion, thinking they had been attacked in the night, they began killing each other. Amid the distraction, the Guru fled north traversing rough and thorny dark terrain. Headed for the wilds of Machhiwara, bereft, bereaved, barefoot, and alone, Guru Gobind Singh composed the verse 6th verse of Shabad Hazare Patishai 10.
"O Beloved I prefer sleeping on hard bare ground with You;
It is a curse to be with others and forget You."
Martyrdom At Sirhind December 1705
In the Tower
Just days after the fateful crossing of Sarsa river, and her betrayal, Mata Gujari, along with her two grandsons, arrived with their captors in Sirhind. There, on the night of December 9, 1705, the Mughal official Nawab Wazir Kahn had imprisoned them in an open tower exposed to the elements. Sahibzada Zarowar Singh just weeks away from his 9th birthday, and Sahibzade Fateh Singh, less than two months from his 7th birthday huddled with their grandmother, nearly 81 years of age. Excepting the clothes they wore, everything had been taken from them, and nothing given. They had no blankets to ward off the chill night wind. Neglected by their captors, they had neither food, nor water. Nothing to sustain and warm their bellies had been offered. They had no news of Guru Gobind Singh, and no way of knowing about the martyrdom of the elder Sahibzade. Helpless, they turned their thoughts to Waheguru.
Below them, curious people craned their necks to gawk and gossip. Sachanand, a Khatri who had hoped to wed his daughter to Sahibzade Ajit Singh, but had been repeatedly spurned, turned his anger towards the younger Sahibzade. He vengefully proclaimed, "These are the offspring of a poisonous serpent. If allowed to survive, they will grow to be as dangerous as their sire."
Wazir Khan decided to separate the boys from their grandmother thinking they would be more vulnerable to his tactics without her influence to sway them. He sent the governor of Morinda to bring the younger Sahibzade before him. Mata Gujari hid the boys behind her to no avail. The governor slyly insinuated they would assuredly return safely to her after having accepted Islam. Zarowar took his little brother by the hand and boldly told the governor to take them to meet their enemy. Hoping to shake the boys' confidence, and make them more pliable, the governor informed them that the Mughal armies and killed their father the Guru and all of his men, including both of their elder brothers.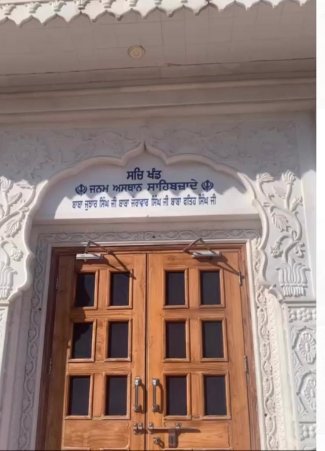 Trial and Test of Faith
The younger Sahibzade refused to bow before their captors. When made to pass through a short door that reached only to their shoulders, rather than stoop to lower their heads, they bent backwards and stepped through foot first. Nawab Wazir Khan spoke to the Sahibzade in a sugary voice telling them what sweet faces they had, and praised their bravery. He told the hungry little boys wearing tattered dirty clothes, that Islam would proudly welcome them, and that they could have whatever they wished once they recited the Islamic oath. 
The Sahibzade both replied that nothing the world offered could entice them to leave their faith. Zarowar Singh and Fateh Singh boldly raised their voices and recited together as one,
"Ser Jaave tan Jaave, mera Sikhi Sidak Naa Jaave."
(Our lives we can leave, but our Sikhi we cannot leave).
Stung by their reply, Wizer Khan addressed the Qazi who had been observing the interaction. Emphasizing their insolence, the Wazir advised disregarding any question of innocence. He insisted that rebellious sons of a rebel would cause the empire only trouble, and deserved to be punished.
The Qazi responded that by law the Sahibzade could not be held legally responsible for crimes they had not yet committed.
Though infuriated, the Wizer held his temper and again attempted to seduce the Sahibzade, and induce them to relent. He reminded the boys that childhood is a time for carefree pleasures. He advised them   to enjoy what this world offered and they would then embrace the glorious afterlife of paradise, as their reward, for accepting Islam.
Unwavering in their resolve, the Sahibzade replied that luxuries could never replace their faith. As sons of Guru Gobind Singh, grandsons of Guru Teg Bahadar, and great Grandsons of Guru Arjan Dev, the Sahibzade attested their obligation to be defenders of truth, and their duty to remain steadfast in resisting tyranny and injustice. 
The following day Mughal official Dewan Such Nand questioned by the Sahibzade asking their intent should they be released. The boys boldly replied that they would meet them on the battlefield. When told again their father had been slain, the Sahibzade replied confidently that Mughals could never kill the Guru, and declared they would continue their father's battle against oppression.  
Discussing it among themselves, the captors came to the conclusion that it is not wise to kill as serpent yet feed its young, for these boys would certainly grow up to be bothersome rebels.
 Nawab Wizer Khan turned they Sahibzade over to Sher Mohammad, the Nawab of Malerkota, whose brother had died fighting Guru Gobind Singh and admonished him to take his revenge. He replied however, that his brother had lost his life on the battlefield, not at the hands of the Sahibzade. The Qazi, after deliberating gave his judgement and announced that the Sahibzade be bricked up alive inside two walls. Though onlookers gasped at the decision, the Sahibzade accepted it stoically and declared We choose to accept death rather than to be forced to accept Islam.
Martyrdom of Younger Sahibzade
 They Sahibzade returned to the tower with Mata Gujari, who praised them for their bravery and courage. Together, in the cold tower, they awaited the sentencing to be carried out by telling stories about their illustrious ancestors, beloved companions, and their deeds of bravery and valor.
After two days, on December 11, 1705, the Sahibzade refused yet another offer from the court to accept Islam. Nawab Wazir Khan ordered their sentence to be carried out. Insisting the Quran did not condone murder of those innocent of crime, Sher Mohammad, the Nawab of Malerkota, registered a formal protest. The Sahibzade remained calm and steadfast in their faith while masons laid brick, upon mortar, upon brick, raising walls to surrounded them. As the bricks reached their chests, and they began to suffocate in the airless chamber, the walls gave way and collapsed around them. The next day, the Nawab then gave them one final opportunity to embrace Islam. When the defiant Sahibzade refused once again the attempt to sway their resolve, Wazir Khan gave the order to behead the resolute Sons of Guru Gobind Singh. On December 12, 1705, the executioner raised his sword and swung it, severing the heads of both eight-year-old Sahibzada Zarowar Singh and 6-year-old Sahibzada Fateh Singh. 
Martyrdom of Mata Gujari
The Mughals held Guru Gobind Singh's mother, Mata Gujari, in the cold open tower exposed to the elements. The Mughal had given them no food or water and threatened that anyone who aided them would be crushed to death in an oil press. Mata ji and her grandsons had been fed roti and milk by the kind Baba Moti Ram Mehra, whose wife Bibi Bholi ji, had given her jewelry to bribe their guard. Mata Gujari had mothered, nurtured, and been responsible, for her precious young grandsons since their own mother, Mata Ajit Kaur, had expired five year earlier. Throughout their ordeal in the siege, when crossing the flooded river, while harassed in court, and when held with her in the open tower, Mata ji continued to comfort and encourage the boys. When on December 12, 1705, she learned From Baba Moti Ram that the Sahibzade, Zorowar Singh, not yet nine years of age, and his little brother Fateh Singh, not yet seven years of age, had been beheaded, Mata Gujari pressed her palms together and collapsed never to rise again. As she had been with the Sahibzade in life, she joined them also in death. 
The next day, December 13, 1705, a merchant requested permission to collect the remains of Mata Gujari and the Sahibzade. Offering to cover the area where their bodies lay with gold coins, if allowed to perform last rites, Seth Todar Mal of Sirhind obtained authorization to collect and cremate the bodies of Guru Gobind Singh's mother and his two youngest sons. 
Baba Mothi Ram Merhu, nephew of original Panj Pyara Himmat Singh, together with his mother, wife, and their young son, paid for their kindness with their lives, when treacherous Gangu's brother, Pumma, learned of their deed and informed the authorities. Before his death, instead of denying his actions, Baba Ji told the Nawab that by feeding the Guru's mother and sons, he had carried out his sacred duty.
Encyclopaedia of Sikhism Vol. 1, 3 & 4 by Harbans Singh
The Sikh Religion Vol. 5 by Max Arthur Macauliffe
History of Sikh Guru's Retold Vol. 2 by Surjit Singh Gandhi
Dates calculated from Bk to A.D. using:
https://www.ashesh.com.np/nepali-date-converter.php &
https://indiannumismatics.com/table-of-eras.php