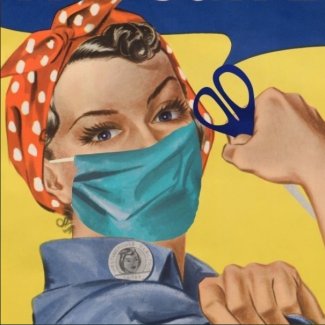 Saraswati Kaur Khalsa doesn't sew, but that hasn't stopped her from becoming one of the main organizers of Rosie the Respirators - a group of more than 40 volunteers with a goal of making 10,000 face masks for front-line workers in Northern New Mexico.
Khalsa, who lives in La Mesilla, is an assistant principal at Miri Piri Academy school in India. She's accustomed to working remotely as an administrator, doing fundraising and marketing. She is now using those organizational skills to help at home.
Rosie the Respirators was founded by Lauren Reichelt, Rio Arriba County's health and human services director. The goal is to provide masks to everyone on the front lines of the COVID-19 fight, including those working at rural health clinics. delivering meals to seniors, and those who are checking out and bagging groceries.
Khalsa manages the group's Facebook page, created a Google sign-up form for volunteers and coordinates donations of materials so they get to those who do the sewing.
"It's a hard time to figure out ways to contribute because we can't do the things we would normally do. like go to the food kitchen and serve or something. So this is a way to be helpful without exposing anyone," Khalsa said.