A brilliant and thoughtfully-produced Documentary: "Guru Nanak - The Founder of Sikhism ~ Life and Legacy" introduces the Western audiences - faith leaders, scholars, students and faith communities unfamiliar with the Sikh faith philosophy and heritage, culture and traditions, and the followers scattered around the world today to the Sikh faith.
The Documentary highlights the humanitarian spirit and revolutionary activism of Guru Nanak; his tireless travels to faith centers in India, Middle East, Tibet, Sri Lanka and vigorous discourses with faith scholar in search of the Truth and revealing his unifying message of Oneness of the Creator and the equality and dignity of all sentient beings. Throughout his life and legacy, Guru Nanak (1469-1539) embodied and passionately advocated the concept of compassion and service to humanity without distinction. His daring rejection of the prevalent divisive caste system and inhumane rites and rituals of the time in India threatened many and attracted others to his divinely-founded affirmation of the sanctity of all faiths and the sacred Sikh belief that "Every living being is the repository of the same Divine Light" and his just call and liberating message that "No one is outside the circle of God's Love" and to end bondage to divisive practices and indignities of fellow beings.
The Documentary provides us a glimpse of Nanak as a pilgrim of eternal learning, a masterful dispeller of myths and mythology; about Guru Nanak's exalted divinely-inspired poetic compositions enshrined in Guru Granth Sahib, the Sikh Holy Scriptures, that magnify our understanding and veneration of the Master Creator and His unfathomable Brahmund (Creation) and our responsibility to preserve Nature as God's majestic Crown and our glorious blessing. Many prominent faith leaders in laudable testimonies saluted Guru Nanak as a brilliant enlightened teacher, a Renaissance man and champion of interfaith understanding for all humanity.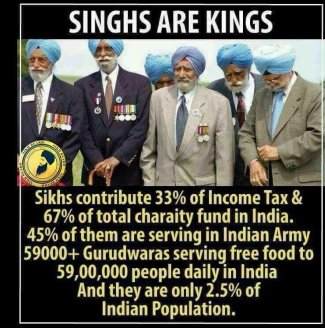 The Documentary spotlights Guru Nanak's 35 million followers, majority of them in the India, the birthplace of Sikhism, carrying on his legacy and lessons across continents at forums and frontiers worldwide, engaged in every imaginable profession and occupation. Several millions of Sikhs in the USA (an estimated ten to fifteen thousand in Indiana), Canada, Europe, and Far East combined are among the most creative, industrious, humanitarian, and proud presence on the world scene.
The Documentary brings home images of the Sikh spirit in the Diaspora: in sacred music, Bhangra Dancing, Turban Tying in Times Square, the Sikh Langar (community kitchen), networking and interfaith gatherings. It provides us a glimpse of Sikh settlers, their early struggles and proud contributions to farming; highlights outstanding achievements of Sikh Americans in medicine and business, science and technology; education, arts and politics; and pioneering efforts to preserve their heritage and honor Guru Nanak's rich cultural, spiritual, and humanitarian legacy that belongs to the ages and all humanity. Nanak's unifying message and lessons are an invitation to be a part of the global neighborhoods and divinely-mandated dignity for every member of Waheguru's (Wonderful Lord's) family.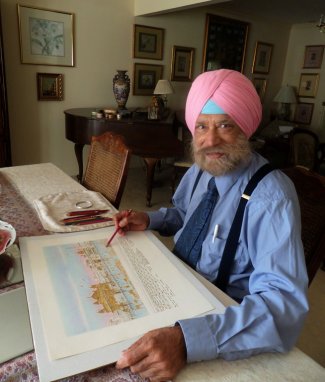 <>  KP SinghDesigns  <>  Indianapolis, Indiana USA  <>  April 5, 2020  <>