Around ten years ago I was conducting researching for my PhD, examining how young Sikh adults in Britain learn about Sikhi. I'd interviewed several young Sikhs and carried out fieldwork at various places across Britain including in Gurdwaras, at Sikh camps and at University Sikh societies, when I hit on the idea of carrying out an online survey. No online survey of Sikhs had been done at this point, so I thought why not try this innovative method out?
As well as advertising the survey at the events I attended, I posted details on various websites and discussion forums to gather responses (see here). This first ever online survey of Sikhs gathered 650 responses and was really useful, allowing me to triangulate survey responses with my interview and fieldwork data and I've included some of these in my academic publications to date.
I'm now doing it all again, this time examining the impact of technology, media innovations and the online / digital space. So much has changed since I ran the first survey in 2010/11 when the Sikh presence online was mainly to be found on websites, discussion boards and Yahoo/Google groups. Facebook was the most popular social media application back then, and the Sikh television channels in the UK were just emerging. There are now so many ways to engage with Sikhi online with new innovations emerging all the time, including Clubhouse, Discord and Twitter spaces!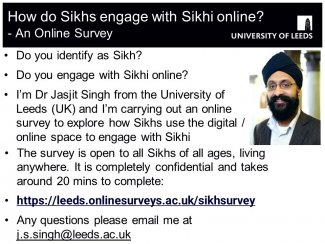 At the time of writing the survey has had 642 responses and I'd really like to get to 1000 responses if possible. I've had responses from all over the world including the UK, US, Australia, Canada, India, Singapore, Portugal, Malaysia, Thailand and Finland. So far, Youtube is the most popular online platform, with over 60% of respondents saying they regularly use this platform. Other significant platforms include Twitter (54%) and Instagram (45%). There have also been insightful responses as to why people go online and how Sikh values impact on engagement with technology. For just under half of the respondents so far, the COVID19 pandemic has significantly changed how they engage with Sikhi. I can't give too much more away now, to ensure I don't influence future responses!
The survey is open to anyone who identifies as 'Sikh' and has been granted ethical approval from the University of Leeds (REF: LTPRHS-038). I launched the survey in July and am currently planning on running it until the 31st of Oct 2021. I'm also planning on conducting online focus groups, most probably on
Twitter spaces and Discord, so please look out for these. I'll be publishing the findings in both academic and non-academic outlets and will present the results online.
Please find the survey here: https://leeds.onlinesurveys.ac.uk/sikhsurvey
Any questions please get in touch. My email is [email protected] and my Twitter DMs are open
@DrJasjitSingh