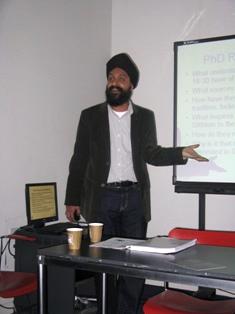 A PhD Research project studying the transmission of Sikhism among young British Sikhs (18-30) is currently underway.
The three year project being which began in October 2008 is being undertaken by Doctoral Researcher Jasjit Singh, supervised by Professor Kim Knott and Dr Sean McLoughlin of the University of Leeds. The project is part of the AHRC and ESRC funded Religion and Society programme, and is the only project in this programme specifically on Sikhs.
The project is being run in collaboration with BECAS, the Bradford Educational and Cultural Association of Sikhs, and seeks to investigate:
 What understanding do British Sikhs in the age range 18-30 have of Sikhism?


 What drives young British Sikhs to organise and attend Sikhism related events?


 What sources of authority do young British Sikhs draw on?


 How do young British Sikh acquire their knowledge of Sikh tradition, belief and practice?
The research will seek to understand how young British Sikhs (18-30) are learning about Sikhism and will focus on the role of Gurdwaras, Camps/Youth Events and the Internet.
Having recently passed the first year of the project successfully, Jasjit has put together an online survey to gather data regarding British Sikhs (18-30) and would appreciate it if those who qualify could fill this survey in.
The survey URL is here
.  Thank you for participating!
Further details about the project can be found on
the project website
.