(here is part 1 of this essay)
Reaching Pakistan
We boarded a Pakistan-bound train at about 11 AM which took us to Wagha Railway Station in Pakistan. It was an exquisite feeling, full of excitement and fear, entering Pakistan, since in India we had been told of the inimical environment in Pakistan. However, to our surprise we found a great reception at the Railway station where huge hoards could be seen all around welcoming us.
Muhammad Sadiq-ul-Farook, the Chairman of the Evacuee Trust Property Board and Sardar Tara Singh, President of the Pakistan Sikh Gurdwara Parbandhak Committee, were present. We had to go through lot of checking standing in queues (standing in queues for long periods became a routine throughout our journey.) The currency was to be exchanged by Habib Bank at Bagha but instead, only one private agency was exchanging currency at reduced rates. The rate of Indian currency on that day was Pakistan's Rs 164/- for Indian currency which was however reduced to Rs 120/-. There were three trains holding about 1,000 passengers each. These trains, and our allotted seat numbers, were to remain with us throughout our journey for which privilege we were charged the subsidized rate of Rs 1,855/- per seat. We were served free food (langar) by the Pakistan Sikh Gurdwara Parbandhak Committee, which had made all the administrative arrangements for the pilgrims throughout the journey. Rooms were allotted at Bagha itself; each room for 10 pilgrims. We deposited our passports. We were lucky to be allotted rooms at Nankana Sahib and Panja Sahib, since we only had tented accommodation at Lahore.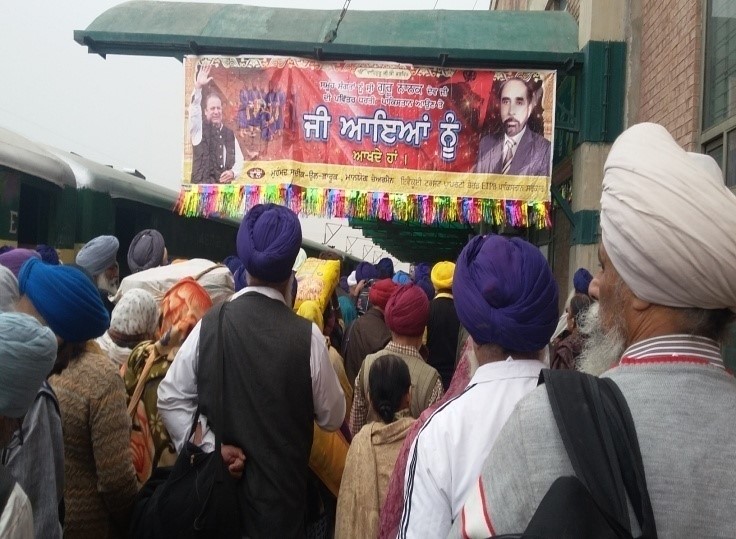 A program for our visit to Pakistan for ten days was issued at the Bagha railway station. Our first stop on the morning of the 13th was Nankana Sahib, where we were to celebrate Guru Nanak's birthday on 14th November, visiting Sacha Sauda Farookabad on November 15th. Next we were to be at Panja Sahib Hasan Abdal on 16th November and then return to Lahore on 18th November. From Lahore, buses were to take us to Kartarpur Sahib and Emnabad on the 19th November. Visiting the local Gurdwaras and Fort on the 20th we were then scheduled to depart on 21st November.
Reaching Nankana Sahib
As per our program, we were to join Guru Nanak's parkash divas on 14th November. Guru Nanak's birth is celebrated worldwide as Guru Nanak Gurpurab on Kartik Pooranmashi, the full-moon day in the month of Kartik (October-November.) This year it was to be celebrated on 14th November at Nankana Sahib. Nankana Sahib, earlier a Tehsil of Sheikhupura District, with a population of 97% Muslims and only around 70 Sikhs; is now a district headquarters of the new district by the same name. It is 80 kilometers from Lahore. It can be reached by rail and roads from Lahore.
There are sweet memories of Guru Nanak preserved here as Gurdwaras. Gurdwaras Janam Asthan; where Guru Nanak was born to Mata Tripta in the house of Kalyan Mehta; Gurdwara Bal Lila Sahib connected with his childhood; Patti Sahib connected with his schooling, Kiara Sahib and Maalji Sahib related to his grazing cattle and Tamboo Sahib and Sacha Sauda connected with Guru's feeding the hungry. Within the complex was Jand Sahib where Bhai Lachhman Singh was tied to a tree and burnt alive by Mahant Narainun's men on 21st February, 1921. Bhai Lachhman Singh headed the jatha for relieving the Gurdwara Sahib from the apostate manhunt. Shahid Ganj is the place where Mahant Narainu got Bhai Daleep Singh and Waryam Singh thrown in burning furnaces. There is also the well of Bebe Nanaki Ji, elder sister of Guru Nanak who used this well for drawing water.
At Nanakana Sahib
At Nanakana Sahib we were to attend the opening ceremony of the Akhand Path for the Gurpurab on 12th Nov at 11.45 PM. However, the train reached there the next day at about 2 AM and we were at Deodhi Sahib in Gurdwara Janam Asthan complex the place where our accommodation was arranged. The complex at night looked simply unbelievable and impressive. Everything from steps to architecture appeared dazzling! All over it was great, all around glazed the vibrant colours; really just one huge sea of color.
As soon as I stepped inside, I entered an entirely new world, one that is just a nonstop barrage of colors and smiles. Nankana Sahib, which I had heard of and read about so often and which had always held an alluring fascination to my imagination, was now before my eyes. It was truly an awesome place. For me this was not only a pilgrimage but a spiritual journey as well. The moments of brilliance filled my mind. The landscape of the entire complex helped to uncover deep and soulful inner meanings filled with contemplative awareness. Guru Nanak has been the most revered Guru for me, and connection to him has given me so much that I do not require anything more than going places and recalling events connected with the Great Guru and it was he who had helped me to be there at his feet. Since the program in Gurdwara was to start at about 4AM, we had a nap for about two hours.
At Janam Asthan
Finishing our morning routine, we moved to have first darshan of the revered place adorned by Guru Nanak's birth (avtar dharna.) The joy and gratitude felt upon reaching Guru Ji's home made everyone cheerful, glowing and beaming, as if the light of Guru Nanak Dev Ji had made them shine and everyone felt the presence of Guru Nanak himself. The kirtni jatha who had arrived with us from Sri Amritsar started singing the Gurbani ballad of the morning, Assa Di Vaar.
The cool morning air was filled with the fragrant and hypnotic chant in praise of the Lord sung together by the milling crowd of pilgrims standing in long queue to pay obeisance at the shrine. The sight of the huge crowd of pilgrims standing with closed eyes waiting for their turn was a humbling experience for us mortals. It was overpowering and emotionally mind-blowing to behold the devotion of the pilgrims. The sight was unique and breathtaking.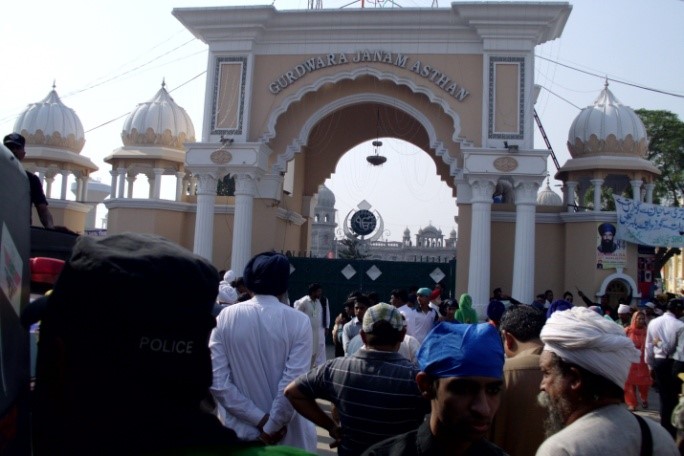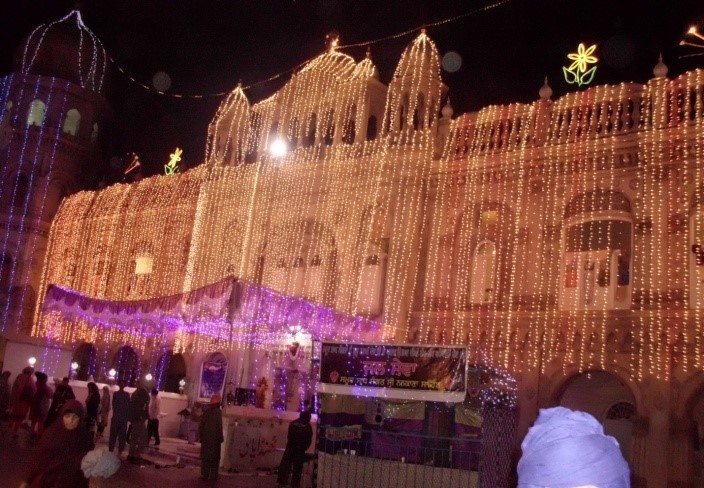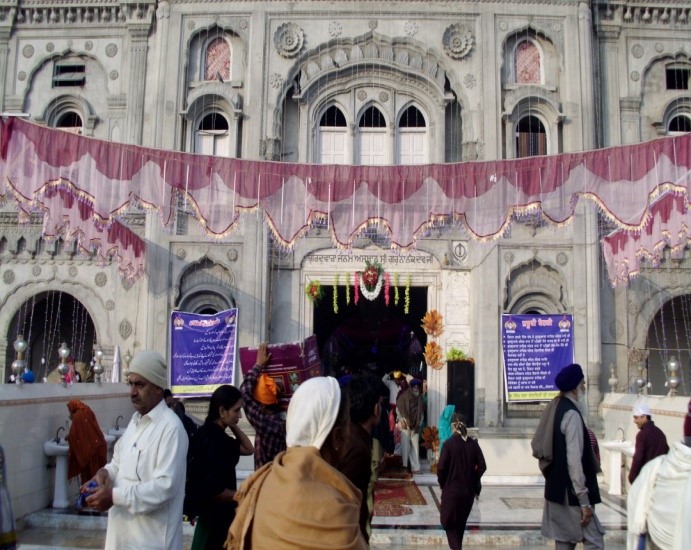 It is an unparalleled cosmic scene, with a sea of humanity swirling around, symbolizing God's House on Earth. It is, without doubt, a most tangible demonstration of the Power and Majesty of God on earth and the adherence and devotion of his Creation to His commands. Indeed, if one hankers to see the marvelous hold that faith in God has on believers, along with their submission to His will and eagerness to fulfill His commands in the face of all odds, one should come to Nankana Sahib and watch the sea of pilgrims praying ceaselessly to be one with Him. One would decidedly conclude at that unequaled sight of that the solemn exercise is symbolic of the Power and Glory of God on Earth to all who have faith in Him.
The entire experience of visiting Nankana Sahib was very unique and auspicious occasion. It is a gathering that has no parallel in human history. So much so, that the experience not only helps affirm, but also invigorates one's faith in God and, understandably, it endures with us as one of those very glorious moments in our lives that will stay with us till the end of our days.
I know because I have experienced it. It was the first time that I was standing in front of the place of Guru Nanak Dev Ji's birth and gazing at the religious inscriptions in eye-catching Gurmukhi. I stood in awe, mesmerized at the sight. The is huge, imposing, commanding and intimidating as well! It looks ever grand!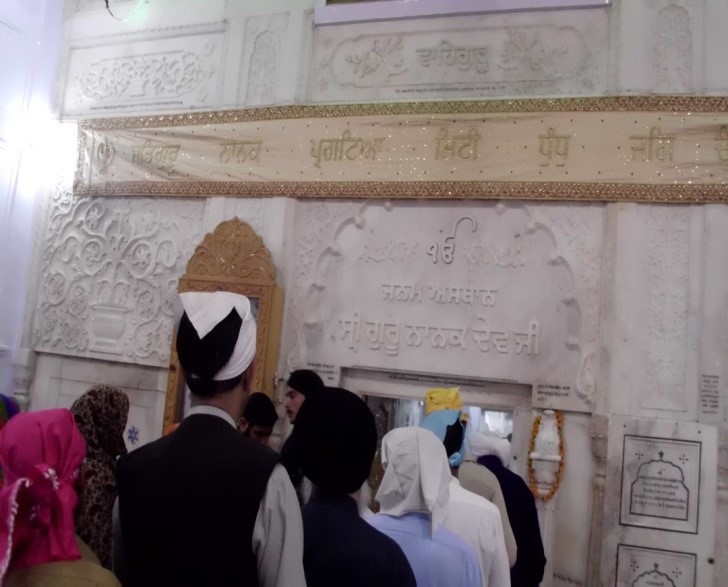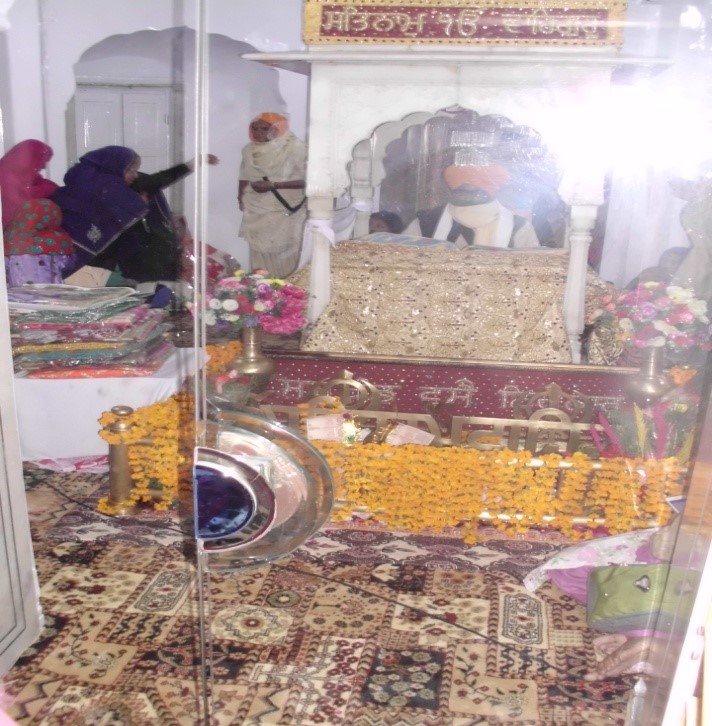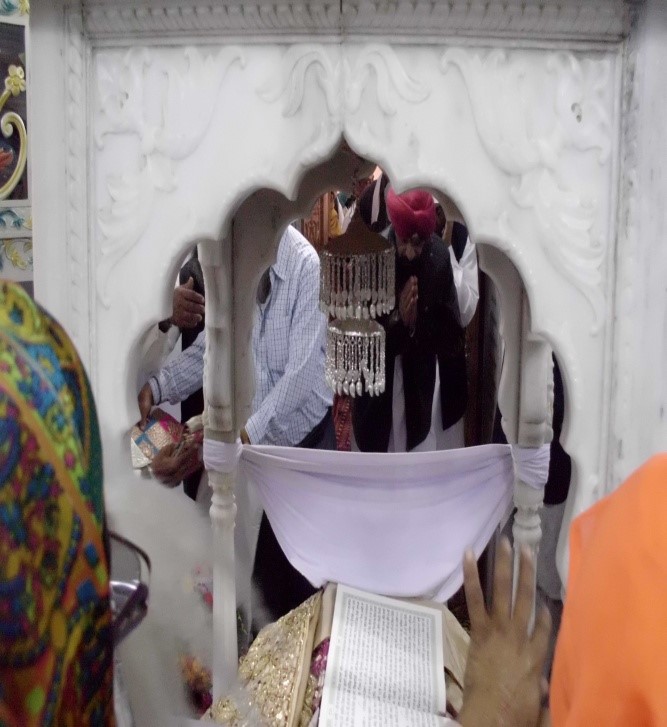 We queued up to prostrate ourselves at the gate of the great sanctum sanctorum. The Sikhs in the queue appeared glowing and beaming with the light emanating from the feeling of reaching the gate of the revered Guru. Heads bowed down, full of devotion, joy, gratitude and happiness they advanced towards the sanctum sanctorum. The kirtan was mesmerizing and uplifting. The fragrance of Naam was spreading everywhere, intoxicating the entire environment. The entire setup and the environment gave a glimpse of the festival of lights. The spectacle was enthralling. As we passed by the well where Bebe Nanki, the sister of Guru Nanak, used to take out water for home use, I recollected the event when the great Guru descended to the earth. How much amazed the great sister would have been on hearing about the arrival of her young brother! I felt very emotional. Words simply cannot describe what I felt. I was at the place where Guru Nanak came to this world to spread the message of truth!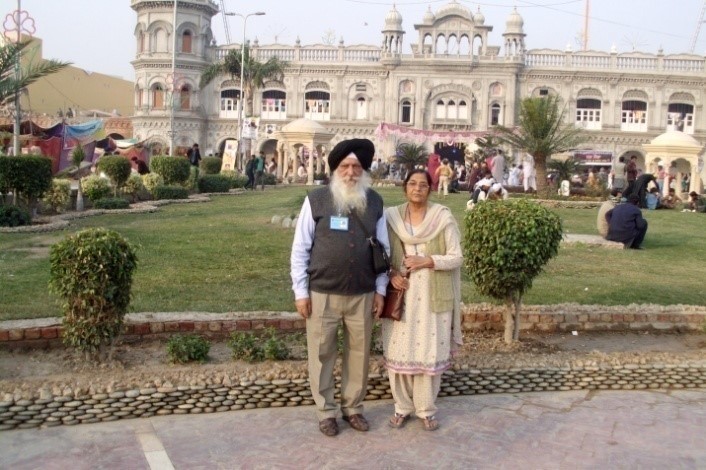 The author and his wife, Gurcharan Kaur, in the park in front of the Gurdwara
When my turn arrived, I bowed before Sri Guru Granth Sahib and felt refreshed and renewed with internal peace. All the pains and pangs of my travels were forgotten in that moment and livid sweetness spread all through my body. I felt the urge to touch the walls of the grand place where the Guru had his first presence and I realized why this place is of so much significance to the people. It has special powers for the believers and I was deeply impressed by the enormity of the crowd that was continually visiting this shrine. It included people from all religions; Sikhs, Hindus, Muslims and Christians. It included people from many countries; Pakistan, Afghanistan, India, Britain, USA, Australia, Canada, many European countries and the like. All felt the reverence of the place and all were peacefully moving in and out, paying their obeisance with bowed heads. I too felt completely at peace with myself.
Standing in the second queue to enter the room where Guru Nanak came into the world, I thought of the night in 1469 AD when the Guru descended onto this earth. What a beautiful night it would have been; the moonlit night of month of Katrik when Mai Daultan would have told the great news of the birth of Nanak to his mother Mata Tripta, his father Mehta Kalian Das and his sister Nanki. As the gracious light spread all around from this room, and his mother, Mata Tripta, having been blessed with the avatar would have been thanking God for bestowing her with the greatest gift on the earth, one who would trot the globe and redeem the world from insidious blasphemies and spread truth to all corners of the globe.
There is something magical about this place that attracts the attention of people from around the world. Sikhs everywhere pray in our Sikh Ardas to visit Sri Nankana sahib and other Gurdwaras which were separated from the Sikh Panth by the partition of India.
"Sri Nanakana Sahib te hor Gurdwarian de jinha ton panth nun vichhodia gia hai de darshan didar te sewa sambhal da daan Khalsa ji nu bakhsho."
The room of the Guru's birth is now an accommodating sanctum sanctorum where Sri Guru Granth sahib is placed on a pedestal and recited uninterruptedly. The pilgrims paid their tributes in front of Sri Guru Granth Sahib and moved out since the space did not allow waiting for very many people. The mere glimpse of the sanctum sactorum and having its touch and feel was electric — energizing mind and spirit and filling me with the feeling, 'Yes, I have made it!"