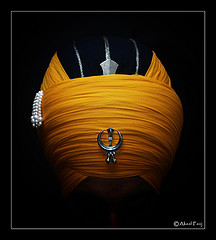 Turban Adventure

My turban is
having one of those days;
in an awkward phase,
tied ten different ways,
causing eyebrows to raise
and eyeballs to gaze.

My turban is
proof that persistence pays.

My turban is
a celestial smile,
beaming for miles and miles;
an eternal style,
not some casual trial
by a fickle child.

My turban is
always worth my while.

My turban is
a spiritual facelift,
suave and swift;
a fabric forklift,
fit to uplift
over every rift.

My turban is
Guru Gobind Singh's gift.

My turban is
a cool, sacred sheet,
wrapped pleat by pleat,
nice and neat;
a warm, winding street,
leading me to the Guru's feet.

My turban is
now complete.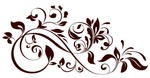 Harmohanjit Singh Pandher
Burnaby, BC, Canada
International Turban Day is celebrated on April 13th every year. This event was started in 2004 to bring awareness of the strict requirement on Sikhs to don the turban as a mandatory part of their religion. In the West since 9/11 in 2001, the turban, has attracted negative attention due to the wrongful linking of this garment with Osama bin Laden, the Muslim leader of al Qaeda who has often been pictured wearing a turban.

The turban or "dastar" or "pagri" often shortened to "pag" are different words in various dialects for the same article. All these words refer to the garment worn by both men and some women to cover their heads. It is a headdress consisting of a long scarf-like single piece of cloth wound round the head or sometimes an inner "hat" or patka. Traditionally in India, the turban was only worn by men of high status in society; men of low status or of lower castes were not allowed or could not afford to wear a turban.

Although the keeping of unshorn hair was mandated by Guru Gobind Singh as one of the Five Ks or five articles of faith, it has long been closely associated with Sikhism since the very beginning of Sikhi in 1469. Sikhism is the only religion in the world in which wearing a turban is mandatory for all adult males.

http://www.sikhiwiki.org/index.php/International_Turban_Day