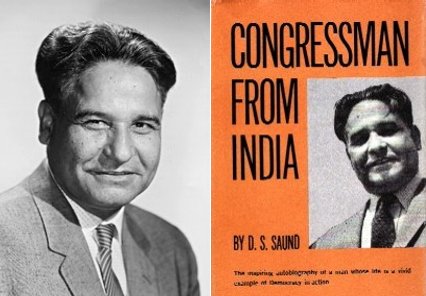 May 29, 2014 - CHANDIGARH: The story of Asian immigrants in America started with Dalip Singh Saund, the first one with roots in this continent to have entered the US Congress defeating world-famous racing pilot Lt Col Jacqueline Cochran. That he was also a Sikh and started his journey from India says a lot about the dream that still takes millions across the seas from the Punjabi heartland.
To understand this journey, Saund's story has now become a subject for a documentary titled 'Dalip Singh Saund: His Life, His Legacy', which was screened at the Punjabi American Festival held in California recently. Made by E Samantha Cheng, a writer, producer and director based in Washington, DC, the film is part of the Asian Pacific American Members of Congress History Project. It was released in April with public screenings at universities and community centres across America.
In an email interview with TOI, Cheng called the film a remarkable story of struggle for a more just society. "A trailblazer, a tireless advocate and an ethical servant of the people, Saund marked history for America and for civil rights of minorities. His achievement was an incredible milestone for Asian Americans as well as other minorities in the United States. His contribution to the Asian American legacy is significant, yet his story is so little told and few do not even know his name and legacy. This is why we felt compelled to make this film," said Cheng.
Saund was born in 1899 in Chhajulwadi village of Amritsar in Punjab and moved to California in 1920 to pursue higher education. The idea of immigration was still new at that time and immigrants faced racial discrimination. "Saund arrived in America at a time of great discrimination against minorities - a time of the Chinese Exclusion Act (1882) and the Asiatic Barred Zone Act (1917)," said Cheng.
The film portrays how Saund refused to accept the racial discrimination and wanted the immigrants' side of the story to be included in laws and policies that affected them. In 1955, Saund announced his bid for the US Congress. It was a nationally watched race as he was running against world-famous aviatrix Jacqueline Cochran-Odlum, a pioneer in the field of American aviation and an important contributor to the formation of the wartime Women's Auxiliary Army Corps and Women Airforce Service Pilots.
"But Saund, fighting for the working class, won. In the Congress, Saund continued to fight for everything from water rights for his district to equal rights for men and women to the influential Foreign Assistance Act. Saund's career was tragically cut short when he suffered a stroke in 1962. He died in 1973, having never returned to public life," said Cheng, whose team toured the entire country, piecing together oral histories, family photographs and rare archival footage to capture Saund's remarkable life and the mark he left on those around him.
"As with many documentaries, the biggest hurdle is research. We spent some time tracking down Saund's family members, his contemporaries, and those who have memories of him who are still alive. We also conducted extensive archival research which, given limited repertories of information, was challenging at times," said Cheng.
The documentary features interviews with Asian origin Congressmen Mark Takano and Ami Bera. More than a biography, Dalip Singh Saund: His Life, His Legacy shows how one man's integrity, compassion and determination triumphed against adversity in achieving a more just society. As Takano says in the film, "it's just a remarkable story."
"He did so much for the American people, but he's just a footnote. We want to take him out of the footnote and put him on the page of history," Cheng had said of Dalip Singh Saund in an earlier interview to a portal.


---------------------------------
Related Articles:
http://www.sikhnet.com/news/documentary-first-sikh-capital-hill
http://www.sikhnet.com/news/dalip-singh-saund-candidate-hall-fame
http://www.sikhnet.com/news/obama-pays-tribute-first-sikh-american-congressman
http://www.sikhnet.com/news/becoming-american-story-punjabi-pioneers-and-south-asians
http://www.sikhnet.com/daily-news/largest-sikh-gathering-makes-impact-u-s-capital