How Sikhs can learn from the langar at the Parliament of World's Religions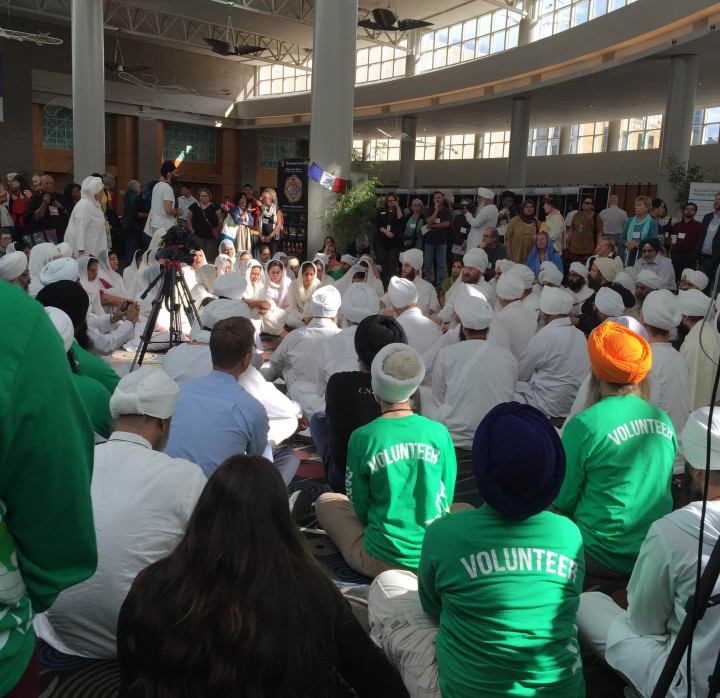 Simran before opening Langar
As I walked in Salt Lake City, crowned with my dastar and almond toasted skin, where people look nothing like me, I never expected so many people invading Salt Lake City for the Parliament of World's Religions (PWR) to greet me with folded hands and say, "Sat Siri Akal." They thanked me and remarked, "Sikhs are the most generous people in the world." This is all because of Langar served at PWR to feed 5,000 to 7,000 people a day for 5 days. This was the vision and revolution Guru Nanak created; equality, generosity and feeding the body and soul. This was the vision of Guru Gobind Singh Ji, to associate the turban with oneness of humankind and His saroop upholding principles of a saint and protector. People of many faiths were moved to tears and outpoured with gratefulness when they walked in and saw Sikhs serving Langar with love and generosity in their hearts.
People who experienced langar for the first time were in awe, unable to fathom how Sikhs prepared langar of this mass scale AND it was very organized. I believe this was a result of the Sikhs synergy at the PWR. Sure, Sikhs know the significance of langar and the barriers Guru Nanak Dev Ji broke in an unjust, inhumane land at the time. He practiced equality on many levels, economic, social, cultural, gender, religious, regional, and age. At the PWR, people experienced that kinship where women, men, the old, the young cooked together, served together and ate together, beyond any labels. Serving a vegetarian meal where all can partake; including the vegetarian, the vegans, the Muslims, and the Hindus.
I contemplated how Sikhs could make langar such a success on a massive scale. This was a result of the collective effort of Sikhs all around the world with sardha (faith) in their hearts. Many months prior to the PWR, the American Sikh Council collected donations from Gurdwaras around America to fund langar, the Salt Lake City local Sikhs took lead to prepare the langar, Guru Nanak Nishkam Seva Jatha brought over 100 sevadars from UK, and Khalsa Care Foundation for provided services to cook the langar. Sikhs from all over the world served Langar. All with one purpose, to serve. Langar started with meditation/simran before and while serving the meal, focusing on the grace of Waheguru (wonderful God).
By moving beyond our own ego, we can get to the essence of our being and recognize the greater good. We felt a connectedness with one another. By breaking ourselves from the social beliefs and negative thoughts of "my way" that separates us, we can do something greater than ourselves. The inclusiveness and oneness of all humankind strengthened our own sense of Sikh community. The inclusiveness then went beyond the Sikh community. Muslims, Hindus, Christians and many others wanted to donate towards langar and serve langar because this is what Oneness looked like and felt like.
Ego creates doubt, fear and blinds us from seeing the spiritual values of the universe. It challenges our capability to see the good in the situation and in others.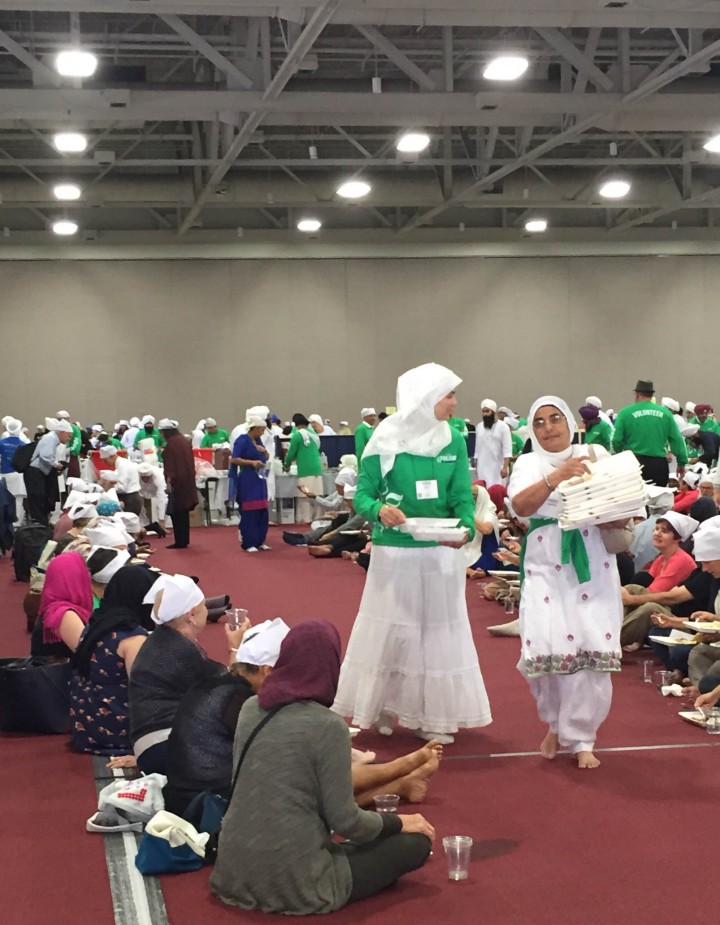 Langar Seva by all faiths
satgur kee sayvaa safal hai jay ko karay chit laa-ay.
Seva (Selfless Service) to the True Guru is fruitful and rewarding,
if one does it with a sincere mind.
If anything, the PWR langar could have easily been chaotic; too many cooks in the kitchen, too many servers, too many people wanting a hot meal. Yet, it wasn't. There was a calm, a higher order emerged because we had the same purpose and order manifested because we went beyond our egos. It may have perhaps meant we went outside our comfort zones to allow "others" to do things we normally wouldn't, but doing so allowed us to respond the way we needed to bring success on a massive scale.
If only we can cultivate this in our own homes and local Gurdwaras, we could bring peace and order to our everyday lives as Langar at PWR did. People would perhaps stop us randomly and comment on Sikhs' generosity, service and inclusiveness, instead of seeing us as targets and victims. Perhaps we wouldn't be the "not so unknown" 5th largest religion in the world. Perhaps, Guru Nanak would be a name everyone around the world would associate with equality and genorosity.
"Nanak Naam, Chardi Kala, Tere Bhane sarbat dha bhalla".
Nanak asks for 'Naam' (name of God) , which with God's Will,
brings well-being and positive spirit for all of humankind.
Jasvir Kaur
Chicago vali