Harvard University is launching an online course on Sikhism this coming Monday, August 6th. It is called "Sikhism Through Its Scriptures". 
The Harvard team consisting of Dr. Harpreet Singh, scholar of South Asian Studies at Harvard, Damanpreet Singh (also at Harvard) and Ravinder Singh have been working diligently to design a course consisting of text, audio and video to appeal to a broad general audience.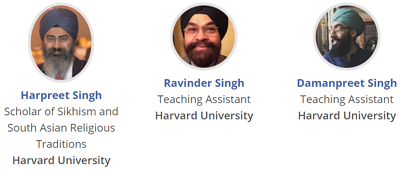 This is clearly a significant step in encouraging knowledge of Sikhs and Sikhism with this prestigious platform.
According to Ravinder Singh, "Based on experience with other modules, Harvard anticipates that the course will draw over 100,000 registrants - a number impossible to achieve in a regular classroom setting." 
The Harvard website states: 
"This course examines the Sikh scripture from a doctrinal and historical perspective by providing an overview of Sikh teachings as well as the historical context within which the scripture evolved and became canonized. It also examines the musical and aesthetic dimensions of the Sikh scripture, as well as ways in which the voluminous text has provided Sikhs with a social, ethical, spiritual and political message to help them respond to and shape the world around them."
See the details of the Harvard course on Harvard's website here. 
From Harvard: 
What you'll learn
● Exploration of a foundational Sikh text, the Japji, which was composed by Guru Nanak and is recited by Sikhs as part of their morning prayers
● The place of Guru Granth Sahib, the Sikh scripture, in Sikh life
● Interpretative skills to engage in a nuanced reading of Guru Granth Sahib
● Gurmat Sangit, the Sikh musical tradition, as represented in the Sikh scripture and its cultural context
● The aesthetics of Sikhi, including literature, art, and music
● The political dimensions of Sikh scripture and its impact on the evolution of Sikhs as a Panth or community
No knowledge of Sikhi or religion is required to take the course.