Notable award-winning filmmaker Harpreet Kaur, a Producer at Maryland Public Television, an affiliate station of PBS, sweeps three Emmy Awards this year for producing stories for Maryland Farm & Harvest. The series focuses on agriculture and helps viewers better understand where their food comes from, how it's produced and puts a face to Maryland's farmers. Kaur is excited about producing new segments as the show gets ready to launch all new episodes in November 2021 for season 9. 
Producing is not only Kaur's profession, but her passion. "I thoroughly enjoy conceptualizing, capturing and creatively telling stories. It's important for me to visually be able to bring these stories to life for our viewers so that they too can experience what life is like on a farm. You have a greater appreciation for your food when you see the effort that goes into sowing every seed, harvesting crops, raising livestock and the hard work that it takes to operate a farm."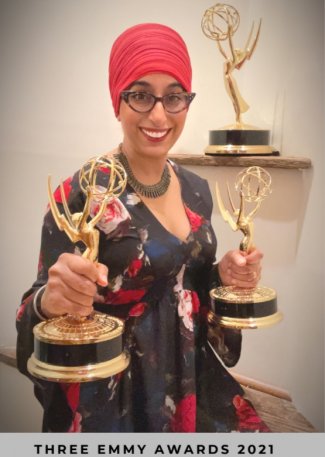 In 2019, Kaur accepted her first Emmy Award from The National Academy of Television Arts and Sciences, making history as the first Sikh woman to take home this prestigious award. Kaur thrives on the energy she gets when she's producing and say's it's what kept her going during the pandemic, "Being able to express oneself artistically through storytelling, music, photography or through any creative art form is what sustained many of us over the last year. I'm thankful that I was still able to continue to produce stories for Maryland Farm & Harvest in 2019 during the pandemic. Having to wear a mask and social distance didn't compromise my ability to produce. Sure, we had some limitations in production, but that only encouraged our team to think even more creatively. Despite all the challenges we delivered award winning stories."
We asked Harpreet Kaur for details on her Emmy wins. This was her response: 

Episodes that have already aired can be watched online at www.mpt.org on the Maryland Farm & Harvest page. The winning segments I produced were in episode #806 (story on firewood) & #807 (story on goats). The winning episode #707 also  included two stories I produced, one on paw paws and the other on kombucha. The three Emmy's are for producing & directing the segments.
Kaur is also the founder of Sach Productions. She is a passionate storyteller, documentarian, activist and humanitarian who is globally known for her documentaries, 'The Widow Colony- India's Unsettled Settlement' and 'A Little Revolution-A Story of Suicides and Dreams' which have received worldwide recognition.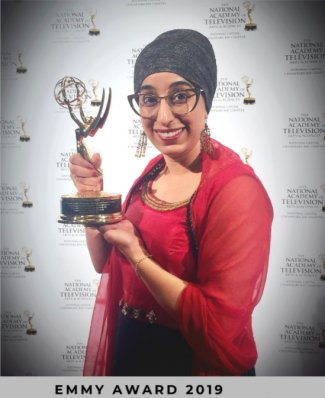 Her film, 'A Little Revolution' addresses the issue of farmer suicides in India. The film was released in 2014, but today, it's more relevant than ever before as farmers in India continue to protest agricultural laws that were passed in September 2020 which threaten their livelihood. The Widow Colony takes an in-depth look into the lives of the women of the Sikh men who were killed in the 1984 anti-Sikh massacre. The documentary has been shown at the Canadian and UK Parliament, followed by a screening at the United States Congress.
Kaur attributes her success to the people who trust to share their lives with her. The nature of the stories she has covered over her career range from human interest, social and human rights issues. Her ability to connect, understand, and creatively share stories have always had an impact on viewers. 
Documentaries available on Sach Production Films YouTube channel.
A Little Revolution: www.ALittleRevolution.com
The Widow Colony: www.TheWidowColony.com