Read Part I here
Guru Nanak in Dhara Nagari (Dhar), Indore, Madhya Pradesh
Giani Gian Singh in Twareekh Guru Khalsa Part 1 Guru 1 (Pub 1892 AD) (reprint Bhasha Vibhag 1970 AD, pp. 148-150)[1], mentions the details of Guru Nanak's visit to Dhara Nagri (Dhar) in detail: "Having descended from Abu Hills, he reached Nakhi Teerath where number of Vaishnos lived around Vashishat Ashram. Adter having visiting Achleshwar Mahadev he entered territory of Bhils.
Pacifying the violent Bhils he reached Dhara Nagri where Gopi Chand had been the famous king".
Gopi Chand was the nephew of King Bharthari Hari of Ujjain. As per the legend the legendry king Bharthari who ruled Ujjain during tenth century having been ditched by his beloved wife abdicated the kingship and became a yogi accepting Yog at the hands of Gorakh Nath. Guru Nanak visited the cave in which he stayed while performing Yog and held discussions with him. Gopi Chand the king of Dhara Nagri also adopted yog with him leaving his kingdom.
During the period of Guru Nanak's visit to Dharanagri, Sikander Lodhi (1489-1517) was the king at Delhi. The local ruler at the place knew Guru Nanak when Guru Nanak was in the service of Daulat Khan Lodhi at Sultanpur Lodhi. He welcomed Guru Nanak. Guru Nanak settled in Kala Baag (black garden). The historic parts of the town are dominated by an impressive sandstone fortress on a small hill. It is thought to have been built by Muhammad bin Tughlaq, the Sultan of Delhi, probably on the site of the ancient Dhārāgiri mentioned in early sources.[2]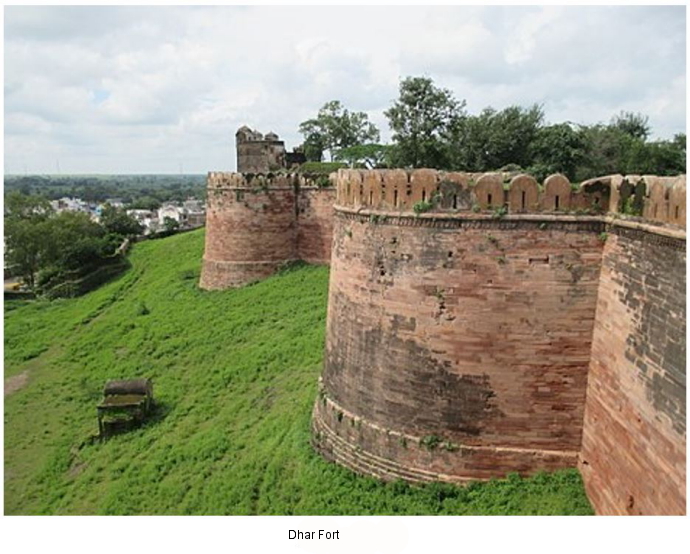 Having already heard about Guru Nanak, the local people visited Guru Nanak in large number. Since the followers of Bharthari and Gopi Chand have been dominating this area, they were much disturbed by Guru Nanak's increasing following. They came to Guru Nanak and challenged for a discussion. They insisted on their superiority of Yog to which Guru Nanak replied through a hymn in Rag Ramkali giving out the defects in the type of yoga they have adopted and told them the qualities of true yog and guided them to follow Guru's teachings sincerely:
ਰਾਮਕਲੀ ਮਹਲਾ ੧ ॥ ਛਾਦਨੁ ਭੋਜਨੁ ਮਾਗਤੁ ਭਾਗੈ ॥ ਖੁਧਿਆ ਦੁਸਟ ਜਲੈ ਦੁਖੁ ਆਗੈ ॥
ਗੁਰਮਤਿ ਨਹੀ ਲੀਨੀ ਦੁਰਮਤਿ ਪਤਿ ਖੋਈ ॥ ਗੁਰਮਤਿ ਭਗਤਿ ਪਾਵੈ ਜਨੁ ਕੋਈ ॥ ੧ ॥
ਜੋਗੀ ਜੁਗਤਿ ਸਹਜ ਘਰਿ ਵਾਸੈ ॥ ਏਕ ਦ੍ਰਿਸਟਿ ਏਕੋ ਕਰਿ ਦੇਖਿਆ ਭੀਖਿਆ ਭਾਇ ਸਬਦਿ ਤ੍ਰਿਪਤਾਸੈ ॥ ੧ ॥ਰਹਾਉ ॥
ਪੰਚ ਬੈਲ ਗਡੀਆ ਦੇਹ ਧਾਰੀ ॥ ਰਾਮ ਕਲਾ ਨਿਬਹੈ ਪਤਿ ਸਾਰੀ ॥ ਧਰ ਤੂਟੀ ਗਾਡੋ ਸਿਰ ਭਾਰਿ ॥
ਲਕਰੀ ਬਿਖਰਿ ਜਰੀ ਮੰਝ ਭਾਰਿ ॥੨॥ ਗੁਰ ਕਾ ਸਬਦੁ ਵੀਚਾਰਿ ਜੋਗੀ ॥ ਦੁਖੁ ਸੁਖੁ ਸਮ ਕਰਣਾ ਸੋਗ ਬਿਓਗੀ ॥
ਭੁਗਤਿ ਨਾਮੁ ਗੁਰ ਸਬਦਿ ਬੀਚਾਰੀ ॥ ਅਸਥਿਰੁ ਕੰਧੁ ਜਪੈ ਨਿਰੰਕਾਰੀ ॥ ੩ ॥ ਸਹਜ ਜਗੋਟਾ ਬੰਧਨ ਤੇ ਛੂਟਾ ॥
ਕਾਮੁ ਕ੍ਰੋਧੁ ਗੁਰ ਸਬਦੀ ਲੂਟਾ ॥ ਮਨ ਮਹਿ ਮੁੰਦ੍ਰਾ ਹਰਿ ਗੁਰ ਸਰਣਾ ॥ ਨਾਨਕ ਰਾਮ ਭਗਤਿ ਜਨ ਤਰਣਾ ॥ ੪ ॥ ੧੧ ॥
(ਪੰਨਾ ੮੭੯)
Raamkali, First Mehl: He runs around, begging for clothes and food. He burns with hunger and corruption, and will suffer in the world hereafter. He does not follow the Guru's Teachings; through his evil-mindedness, he loses his honor. Only through the Guru's Teachings will such a person become devoted. || 1 || The way of the Yogi is to dwell in the celestial home of bliss. He looks impartially, equally upon all. He receives the charity of the Lord's Love, and the Word of the Shabad, and so he is satisfied. || 1 || Pause || The five bulls, the senses, pull the wagon of the body around. By the Lord's power, one's honor is preserved. But when the axle breaks, the wagon falls and crashes. It falls apart, like a pile of logs. || 2 || Contemplate the Word of the Guru's Shabad, Yogi. Look upon pain and pleasure as one and the same, sorrow and separation. Let your food be contemplative meditation upon the Naam, the Name of the Lord, and the Word of the Guru's Shabad. Your wall shall be permanent, by meditating on the Formless Lord. || 3 || Wear the loin-cloth of poise, and be free of entanglements. The Guru's Word shall release you from sexual desire and anger. In your mind, let your ear-rings be the Sanctuary of the Guru, the Lord. O Nanak, worshipping the Lord in deep devotion, the humble are carried across. || 4 || 11 ||
Having explained what a true Yog is and to follow their Guru's teaching; he shamed them for not following their Guru's teaching. He mentioned that their Guru Gopi Chand had left the worldly pleasures including his kingdom but you enjoy vast mansions left by him and do not even care for the visiting mendicants and are more eager to pick up a fight rather than to listen to him peacefully. Have some shame and follow the footsteps of your Guru. Having listened to the Guru they fell at his feet and promised to follow the path of truth and renunciation of the evil in true terms.
Mardana enquired from the Guru as to how King Gopi Chand relinquished his kingdom. Guru Nanak replied: "Gopi Chand was the son of Birsain and the maternal grandson of Gandharab Sain. His mother Mainwati followed Yog, hence she gave him lessons on Yog and made him a Yogi. The area (Kala Baag) where we are seated got his ears pierced from Yogi Jalandhari Nath and obtained Yog". There is no Gurdwara commemorating Guru's visit to Dhar however, the area has lot of followers of Sikhism in this entire belt and they have constructed their own Gurdwars in the villages around. Sikligars have Gurdwaras in Surma, Bankaner, Singhana, Barwa Gandhwani, Ganwali, Bumja Hawai Patti in Chhindwara village, Pachauri in Burhanpur, Palsud, Ashwada and Ojher in District Badwani, Gandhwani Garaba, Shahpur Sadwa etc., where they have about 100 families each and in Indore and Bhopal too have their presence. Some other Gurdwaras of Sikligars and Wanjaras in Madhya Pradesh are Khargone West Nimar District, Gurudwara Betma Shahib, National Highway 59, Indore Road, Indore District, Village Maliwada, Dhar District, Dhar, Barwani District, Jhabua District, Thandla, Bhaghana, Neemuch District, Neemuch, Madhya Pradesh, Kilkipura Juna, Ujjain District, Nagda, Dhar District, Dehrisaray, That here Sikhs are in Janta Colony of Indore. I met number of Sikligars, Wanjaras, Satnamis, Bijnoris, Thathere Sikhs in this entire belt of Madhya Pradesh and visited some of their Gurdwaras.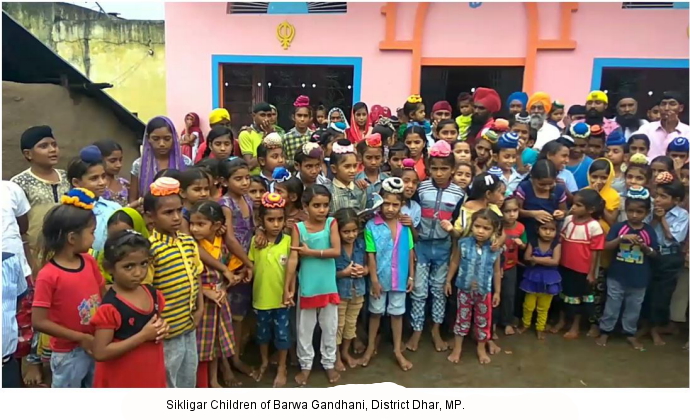 The condition of these Sikligars and Wanjaras is very poor. They are not able to feed themselves adequately what to talk of reasonable living. Till recently none of their child went to school. Now however, they are sending their children to schools but do not have fees for good schools hence have to do with the local schools only. This restricts their development in education and development as such and they remain at the lower strata of the society. Their previous profession has been making tools and weapons for the armies of the Mughals, Marathas and local chiefs. This profession was banned by the British and they are being punished for the very profession for which they have been making their living for centuries. Sikligar Sikhs who manufacture small tools and weapons are held by Dhar Police criminals as can be seen in the photo below: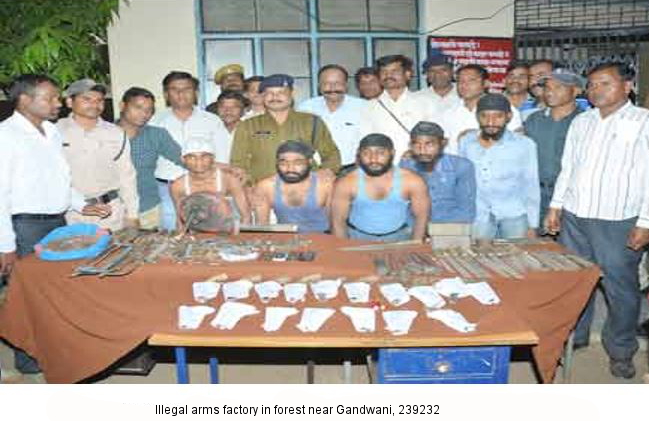 Wanjaras do local business and are located in Neemad, Khargaun, Narwar, Dewas, Sanawad, Ojhar, Burhanpur, Khadnar, Itarsi Kanghi Mohalla (700 families) and Nagpur Ekta Colony (around 7000 persons). Niranjanpur in Indore has 500 houses of Wanjaras; Bijnoris Sikhs migrated from UP first to Gandhi Nagar area of Bhopal,where they have around 150 families. Some of them have now shifted to Indore belt. Ujjain has 250 families of Wanjaras. The Gurdwara Guru Nanak Ghat was in progress where almost all workers were from these communities. The well to do Sikhs especially at Indore, Bhopal, Nagpur, Jabalpur and other cities of MP have been helping them but to a limited extent. SGPC and DGPC too, show their appearance through some preachers occasionally.
The need however is of a large scale effort to help them out from this milieu and to ensure that these Sikhs which number millions (100 million?) are elevated to reasonably standard. More schools and alternative jobs are needed for them. I wrote an article about them in 1968 in Sikh Review and have been writing and working with them ever since hence I plead to the Global Sikhs to come forward for this noble cause. I am sure Global Sikh Society will do more to ensure their development.
From Dhar (Dharanagri) Guru Nanak visited Betma. Distance between Dhar and Betma is 56 kms on highway no 47 which further leads to Indore another 38 kms and 25 kms from Mhow cantonment.
References:
[1] Giani Gian Singh, Guru Khalsa Twareekh, Part 1, Guru 1, 1892 AD, reprint Bhasha Vibhag Punjab, 1970, p. 149,
[2] K. K. Lele, in Dikshit, Pārijātamañjarī, p. xxi, n. 1,