The 2020 Guru Nanak Interfaith Prize awarded by Hostra University every second year has been won by
Amardeep Singh of Singapore honoring his efforts and accomplishments in preserving Sikh legacy and heritage in the world arena. 
Hostra University Biennial Guru Nanak Interfaith Prize
In 2008, the Guru Nanak Interfaith Prize was established at the Hostra university by the Bindra family of New York, who had endowed a chair in Sikh Studies in 2000. The $50,000 prize, whose first recipient was His holiness, the 14th Dalai Lama, Tenzin Gyatso, is awarded every two years to honor, support, and acknowledge organizations, and individuals, who encompass an ideal that envisions and encourages religious dialogue rather than division.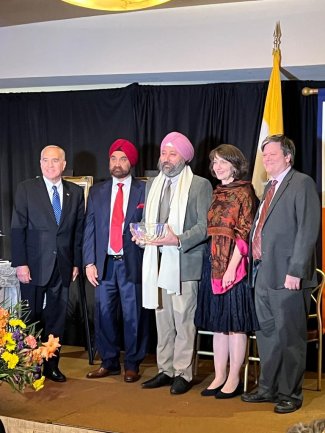 Lost Heritage Productions
Amardeep Singh and his wife Vininder Kaur, a remarkable couple, are co-founders and co-directors of Lost Heritage Productions whose 30-member team produced the documentary film, "Allegory: A Tapestry of Guru Nanak's Travels". Narrated in several languages, including English, the travel docuseries traces the mission tours of Guru Nanak, founder of the Sikh faith. The film is unique in its approach of presenting the Gurus philosophy as a force of unity within the diversity of one humanity. Filmed in nine countries, 24 episodes document 150 locations Guru Nanak visited during the 16th century. 
Originally from Uttar Pradesh, India, Amardeep Singh has additionally produced two documentaries "Peering Warrior" and "Peering Soul", featuring his travels through Pakistan, which had been largely off limits to Sikhs for 50 years following partition. Amardeep Singh has also authored several books. 
Contributions by Vininder Kaur 
Amardeep Singh gives due credits to his wife Vininder Kaur, acknowledging her importance in their shared venture. "She has been the backbone of support for the entire pursuit of research of legacy and its documentation. She edited my two books, "Lost Heritage, The Sikh Legacy in Pakistan" and "The Quest Continues, Lost Heritage, The Sikh Legacy in Pakistan". Thereafter, for the production of the 24-episode documentary series, "ALLEGORY, A Tapestry of Guru Nanak's Travels", she scripted the narrative and led the entire musicology effort with various musicians. She also led the translations of the docuseries script in Gurmukhi, Shahmukhi, Hindi, and Urdu. She was also a key member of the filming team, travelling with an all-male crew across 9 countries (India, Pakistan, Afghanistan, Iraq, Iran, Saudi Arabia, Bangladesh, Sri Lanka, and Tibet) to film at over 150 multi-faith sites.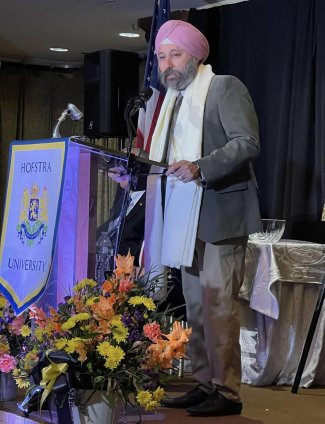 Hostra University Award Ceremony
One of 19 nominees, a committee, composed of both faculty and administrators, unanimously awarded the Guru Nanak Interfaith Prize to Amardeep Singh honoring the filmmaker for his commitment to the values embodied by Guru Nanak, and for his efforts at preserving Sikh heritage and culture.
Amardeep Singh and Vininder Kaur both attended the 2022 award ceremony held on 14th of November. The award presentation took place during a banquet hosted by the Crest Hollow Country Club in Woodbury, NY, after first discussing their project at a Hostra University lecture hall.  
In a statement about the award ceremony, Amardeep Singh expressed the sentiment, "Guru Nanak says, Righteousness is the only truthful universal law. Guru Nanak upheld the spark of Oneness. His message of Unity in diversity was, is and will remain a ray of hope for a united world.
Our physical journey in the footsteps of Guru Nanak during the making of the docuseries, "Allegory, A Tapestry of Guru Nanak's Travels" enabled us to experience the entirety of creation as One comprehensive phenomenon which can be comprehended through truthful intentions.
To receive the Guru Nanak Prize from Hofstra University is a humbling recognition of our belief that the essence of existence is love for togetherness."