Guru Nanak and Social Justice:
A symposium to commemorate his 550 Birth Anniversary
Eighty three years ago, in 1936, Dr. B R Ambedkar, the brilliant Dalit leader of the lower caste Hindus, was uninvited from a previously scheduled speech on social justice. The reason was that the organizers objected to certain statements he said he was going to make in that speech. The speech thus remained undelivered and became a footnote in Indian history. It is said that tired of fighting for social justice as a low caste Hindu, Ambedkar had seriously considered leading his followers en masse into Sikhism, the faith founded by Guru Nanak half a millennium ago.
Ambedkar was an ardent admirer of Guru Nanak for his strong comments about social justice, therefore the Punjabi American Heritage society felt that it would be a fitting tribute to Guru Nanak to hold a symposium highlighting social justice to commemorate his 550th birth anniversary and thought it would be a fitting gesture to invite Ambedkar's great grandson and the president of the Buddhist Society of India, Mr. Raj Rattan Ambedkar, as a special invitee for the occasion. In a symbolic reference to the unfortunate events of 1936, it was made clear to Mr. Raj Rattan that he was free to say anything he wanted to say.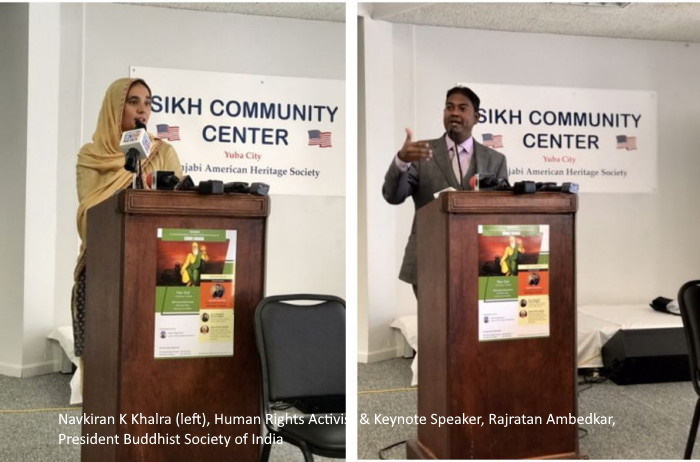 Two other speakers, Ms. Navkiran Khalra and Dr. Rupinder S. Brar were other speakers at the symposium. Ms. Khalra is the daughter of the celebrated human rights activist Jaswant Singh Khalra abducted and killed in cold blood by security forces in Punjab, India for his fearless advocacy of human rights. Dr. Rupinder Singh Brar is the author of a book on the Japji of Guru Nanak, published by the Smithsonian Institution in the United States.
The event was held in the Sikh Community Center in Yuba City and was attended by several hundred guests, in a packed hall. The symposium was covered by several news and radio channels and considered a great success. Mr. Ambedkar was introduced by Naindeep Singh, the head of the Sikh youth movement Jakara who compared the symposium of November 2019 to that of 1936 and welcomed Mr. Ambedkar without reservations. Mr. Ambedkar spoke with passion and compared the teachings of Gautam Buddha, Guru Nanak and the Sikh Gurus and highlighted the common message of social justice in all of them. He asserted that the Indian Constitution, that was written under the supervision of his illustrious great grandfather, though a modern document, had the spirit of the lessons taught by Guru Nanak and Buddha in it. Describing the current unfulfilled promises of social justice, he felt there was no alternative for the minorities in India from uniting and waging a combined battle for a better world.
Ms. Navkiran Khalra was introduced by the Sacramento based attorney and activist, Amar S Shergill who highlighted on going human rights violations in India and the world. Ms. Khalra spoke with rare grace and dignity. Her speech was marked by a complete lack of any bitterness and a tribute to the lessons taught by Guru Nanak. She said while people identified her as a daughter of a human rights martyr, by definition martyrs belonged not only to their immediate families but to the entire community.
Dr. Rupinder Brar was introduced by Professor of History at the University of California in Davis, Nicole Ranganath who surprised the audience by reading a part of her introduction in Punjabi. She first announced a good news for the gathered audience that after several years of community efforts the University had agreed to start Punjabi language and literature courses from the next academic year. She said she was happy that the Smithsonian Institution had published Dr. Brar's book on Guru Nanak and his composition, the Japji Sahib because she herself was moved by reading the manuscript to start learning Punjabi and reading Guru Nanak's works and felt the book would introduce many other readers to Guru Nanak. Dr. Brar spoke his interpretation of the Japji and its underappreciated status as a literary and a philosophical gem.
Another highlight of the Symposium was the launch of a new book called 'The Sikh Heritage beyond Borders' by Dr. Pannu (title image), a book about Sikh holy sites and architecture in Pakistan. He said it took him ten years of research to write the book. Dr. Jasbir S Kang, the local physician, founding member of the Punjabi American Heritage Society, was the moderator for the entire program and ran it professionally and with great degree of grace and courtesy.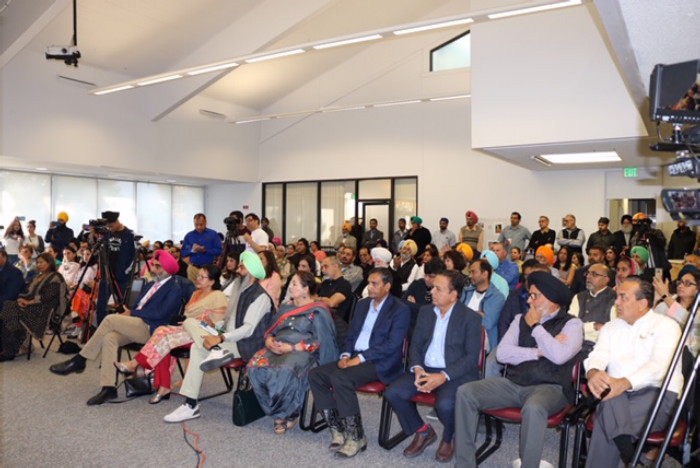 Most audience left the symposium very impressed and several of them suggested more such events in the future.
Dr. Tejinder S. Ghuman,
President, Sikh Community Center, Yuba City
530-300-3735