When the Tenth Guru, Sri Guru Gobind Singh Ji left the fort of Anandpur Sahib in the battle with Mughals and Hill Rajas and moved towards Lakhi Jungle, he was joined by hundreds of warriors in his own way in this battle. One such hero was a devotee of the Guru, Bhai Nigahia Singh Grewal Alamgir. Giani Gian Singh has mentioned in 'Twarikh Guru Khalsa' about him that when Guru Gobind Singh Ji left the fort of Chamkaur and reached Machhiwara, Bhai Daya Singh, Bhai Dharam Singh, Bhai Ghani Khan and Bhai Nabi Khan and Bhai Mann Singh carried the Guru out of Mughal encirclement as uch da Pir. As they approached village Alamgir, they met Bhai Nigahia Singh on their way. Bhai Nigahiya Singh was going to sell horses with his son. He saw the Guru on the way and presented him with a horse, which pleased the Guru who left the palanquin and mounted his horse for further journey".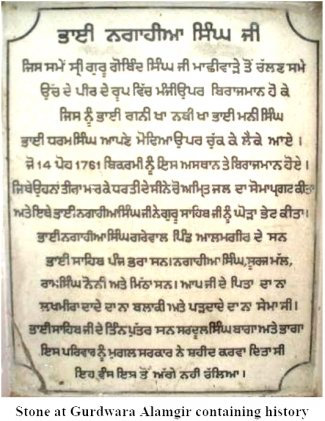 At this place now stands the magnificent Gurdwara Manji Sahib, Alamgir on the Ludhiana-Malerkotla road, at a distance of about 5 km from the metropolitan city of Ludhiana. At this Gurdwara Sahib, a fair is held every year in Poh to commemorate the arrival of the Guru and presenting the horse by Bhai Nigahiya to the Guru.
Alamgir village is said to have been settled in the beginning of the 6th century. According to oral tradition, the Mughal emperor Aurangzeb came to inaugurate the Sarai Lashkari Khan Kot near village Bija. When Aurangzeb came for the inauguration, the Chaudhary of Dhandra village complained to him that Nawab Lodhi wanted to forcibly marry his daughter. On hearing this, Aurangzeb beheaded Nawab Lodhi on his wedding day. Due to this, the settlement was named Alamgir after Aurangzeb Alamgiri.
Bhai Nigahiya Singh's family ancestry connects to village Gujjarwal in Ludhiana district Tota Jatt (Grewal) of Gujjarwal left his three sons Sema, Jodha and Gujjar at Gujjarwall and came to Alamgir. He bought land here and became a resident of Alamgir. Today's Alamgir village is considered to be the offspring of Sema. Sema had a son, Balaki, and Balaki had a son, Lakhmeer. Lakhmir Singh had 5 sons Nigahia Singh, Suraj Mall, Ram Singh, Nooni and Mitha. Bhai Nigahia Singh was the eldest. Bhai Nigahia Singh had three sons, Sardul Singh, Bagha Singh and Bhaga Singh.
Bhai Nigahiya Singh had connections with the Gurus since the 9th Guru. The birthplace of Bhai Nigahia Singh was Mulowal.  His father Lakhmir Singh was married to the daughter of Bhai Pyara Singh Mulowal. Thus Bhai Nigahia Singh's maternal uncle's (nana) village was Mulowal and Bhai Pyara Singh was the name of his maternal Grandfather who was a great follower of the Gurus. When Guru Tegh Bahadur visited Malwa, he came to the villages of Ghanauli, Ropar, Nandpur, Kalaur, Dadu Majra, Ugana, Nau Lakha, Tahilpur and Lung, preaching Naam to the people. 
The Guru reached Mulowal on Samwat 21 poh 1720  Bikrami The village panch Maia Gonda came to the Guru with rations. Finding no water with it, Guru Ji asked for it. Maia told the Guru that the nearest well is salty and bitter; 'the well with fresh water is quite far away from where we bring water. It will take some time'.  The Guru asked Maia to bring water from the salty well itself.  The Guru drank the water and found it to be sweet. Hearing that the bitter water has been made sweet by the Guru, the entire village people bee-lined to drink the water from the same well. The Guru honoured Maia with siropa.  Now his offspring live there. Maharaja Karam Singh of Patiala built Gurdwara Manji Sahib in Samwat 1882 Bikrami (1827 AD) at the place where Guru Tegh Bahdur ji was seated and allotted Jagir on the name of Gurdwara.
Father of Nigahya Singh, Lakhmeer Singh Alamgir was married to the daughter of Bhai Piara of that village (Jat of Harike Got). On 3-4 January 1664, he along with his wife also came to visit Guru Tegh Bahadur Ji. She requested the Guru: "My elder son should serve the Guru throughout his life". The Guru said, "It will be so." Bhai Nigahia Singh was born in the last months of 1664 AD. He was thus nearly of the same age of Guru Gobind Singh.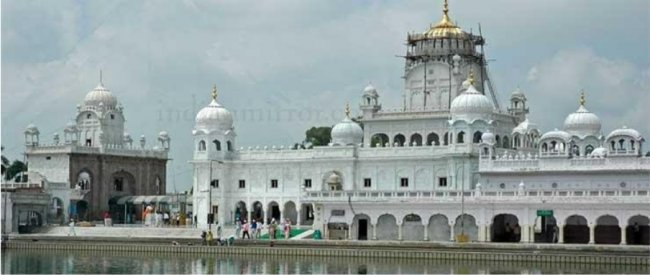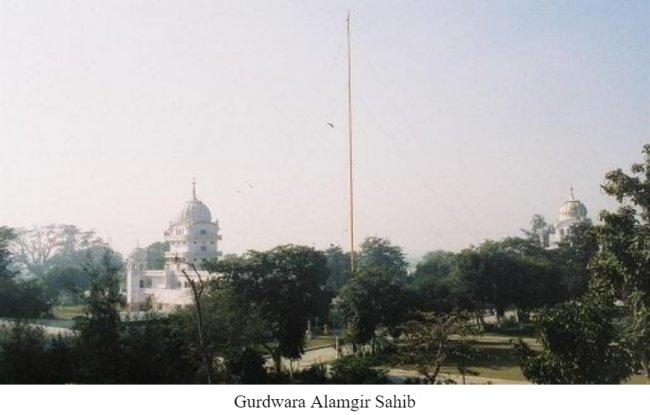 In the battle of Chamkaur, elder sons of Guru Gurbind Singh Sahibzada Ajit Singh and Jujhar Singh, three among the five loved ones, Bhai Mohkam Singh Ji, Bhai Himmat Singh Ji and Bhai Sahib Singh and forty Sikhs attained martyrdom. 
As per the list prepared by SGPC, the names of Bhai Sher Singh, Bhai Sardul Singh and Bhai Sukha Singh Grewals of Alamgir were also among the martyrs at Chamkaur Sahib. Bhai Sardul Singh was the elder son of Bhai Nigahiya Singh. All of them were put on pyre in the battleground together at Chamkaur Sahib. Gurdwara Katalgarh Sahib commemorates their memory. The villagers of Alamgir, however, have made Smadhs of these martyrs in Alamgir also.
Guru Gobind Singh reached Alamgir on 14 Poh 1761 (29 December 1704 AD). Bhai Nigahya Singh then knew that his elder son has also been martyred along with Guru's two elder Sahibzadas and the Mughal Army was following Guru Gobind Singh. He offered the horse to Guru Gobind Singh so that the Guru should get off the area as soon as possible. Where Bhai Nigahiya Singh offered his horse and the Guru killed a serpent to relieve a well of the poison at the request of the village people; a Gurdwara commemorates the events. 
Gurudwara Shri Manji Sahib (Alamgir Sahib) is situated on the periphery of the village towards the east. Guru Sahib asked an old lady who was picking cow dung whether he could get some water from somewhere to take bath to which the old lady replied that " Pir Ji this is a place of ruins, there is no water here. There is a well far away but there is a big python that lives there, no one goes there. Guru Ji hit the python with an arrow and the python fell into the well. When the Sikhs went to fetch water, the water had gone bad so close to where Guru Ji was sitting, Guru Ji hit one more arrow and there was a water spring that came out and all the Sikhs had a bath. On seeing this miracle, the old lady fell at Guru Ji's feet and prayed "Peer Ji! You are a Great Peer, I have a request. I have leprosy and I have gone to various places to get the treatment but it has not been cured. Kindly cure my disease and help me to get rid of this disease. Guru Ji said that whoever takes a bath in this water spring with faith, God will cure all his ills. Therafter the Guru mounted the horse presented by Bhai Nigahia Singh and proceeded towards Raikot. The old lady had a bath in that water spring and was cured. She went back to the village and told the whole story. The place where Bhai Nabi Khan and Bhai Gani Khan kept Guru Ji's bed, today at that place exists a beautiful Gurudwara known as Manji Sahib.
The village has a dharmsala in the centre of the village being used for public gatherings. This used to be the house of Bhai Nigahia Singh. It is in a dilapidated state and needs to be preserved and should not be used for pleasure and public enjoyment.
Guru Gobind Singh rode away towards Malwa. However, the Mughal Army following the Guru came to know of the presentation of horse to the Guru by Bhai Nigahiya. They laid siege to Bhai Nigahiya Singh's house. Bhai Nigahiya Singh, however, escaped from that siege and reached village Mulowal, but his entire family was killed by the Mughal army.  When Guru Gobind Singh came to know of this massacre, he went in plain clothes to Mullowal and solaced him. Bhai Nigahiya Singh and his maternal Grandfather Bhai Piara Singh thus last met the tenth Guru on 15 poh 1761 Bikrami at Mullowal.  Account of later life of Bhai Nagahiya Singh is not available. A hukamnama was also found at Mullowal which needs further verification. 
Bhai Nigahiya Singh sacrificed his entire family for the Sikh Panth and Panth must not only recognize the sacrifice but also create a suitable memorial to him at Almgir and Mullowal, so that our future generations know about the great sacrifices given to save Panth.
The backstory of this famous Sikh pilgrimage site is kind of interesting. Guru Gobind Singh was pursued by the Mughal Army, and it was at this place where he paused and rested, blessing it with his presence. The langar hall of Shri Manji Sahib is among the biggest langar halls of all the Sikh shrines with the capacity to serve hundreds of people for free in one go.
Like all other Sikh pilgrimage sights, Alamgir Gurudwara offers top notch cleanliness and hygiene. Gurudwara Manji Sahib is a pilgrimage site as well as a tourist destination, both for its sacredness and the piece of Sikh history that it offers.
Alamgir is a large village located in the Ludhiana West tehsil, of Ludhiana district, Punjab [3] with a total 700 families residing with a population of 3498 of which 1823 are males while 1675 are females as per Population Census 2011. Alamgir village has a higher literacy rate compared to Punjab. In 2011, the literacy rate of Alamgir village was 82.94 % compared to 75.84 % of Punjab. In Alamgir male literacy stands at 86.03 % while female literacy rate is 79.60 %. Alamgir village is administrated by Sarpanch (Head of Village) who is elected representative of the village.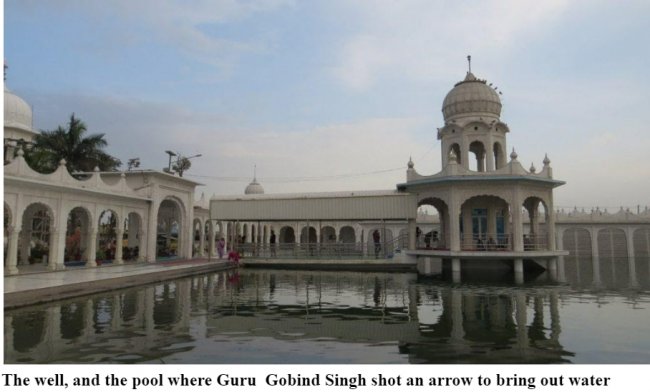 Reference
1.Bhai Simarjeet Singh, Dasam Patshah ji da aninn shardhaloo Sikh Bhai Nighiaya Singh Almgir, Gurmat Parkash
3. Alamgir (Ludhiana West)". census2011.co.in. Retrieved 9 July 2016