Baba Buddha Ji
Baba Buddha ji (ਬਾਬਾ ਬੁੱਢਾ ਜੀ ) (1506-1631) or Bhai Buddha is recognized as o Kathu Nangal one of the great Sikhs of the Guru period. Baba Buddha Ji (1506-1631) was born in Kathu Nangal on 6 October 1506 was the only son of Bhai Sugha Randhawa and Mata Gauran Ji who was from a Sandhu Jatt family.  H e was named as Bura at the time of his birth. His father did farming in the Village. They were Hindu Jatts. Later his parents had adopted Sikhism when they came in contact with Guru Nanak Dev Ji (1469-1539) the founder of the Sikh Religion. At that time, Sikhism was spreading across the Region of Punjab. The family later moved to Jhanda Ramdas village also in Amritsar District. At the age of seventeen he was married to Mata Miroan  Achal Village in Gurdaspur District of Punjab. He settled in Bir Baba Buddha ji in Amritsar District, where a forest (Bir) stood where he was granted land by Chaudhary Bhai Langah Dhillon of Jhabal Kalan a Sikh of the Guru.. 
Baba Buddha ji was a most venerated primal figure of early Sikhism. As a small boy, one day he was grazing cattle outside the village when Guru Nanak happened to pass by. According to Bhai Mani Singh, Sikhan di Bhagat Mala, Bura went up to him. Making obeisance he offered a bowl of milk as his offering, saying: "O sustainer of the poor! I am fortunate to have had a sight of you today. Absolve me now from the circuit of birth and death." The Guru said, "You are only a child yet. But you talk so wisely." "some soldiers set up camp by our village," replied Bura, "and they mowed down all our crops – ripe as well as unripe. Then it occurred to me that, when no one could check these indiscriminating soldiers, who would restrain Death from laying his hand upon us whether young or old." At this Guru Nanak pronounced the words: "You are not a child; you possess the wisdom of an old man." From that day, Bura, came to be known as Bhai Buddha, Buddha in Punjabi meaning an old man, and later, when he advanced in years, he was  known as Baba Buddha.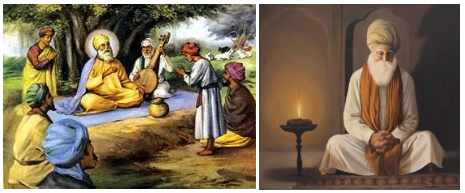 Baba Budha as a young boy presenting himself before Guru Nanak and getting his blessings
 Baba Budha ji meditating while at Ramdas
Bhai Buddha became a devoted disciple. His marriage at the age of seventeen at Achal, 6 km south of Batala, did not distract him from his chosen path and he spent more time at Kartarpur where Guru Nanak had taken up his abode than at Katthu Nangal. In the absence of Guru Nanak from his home, Baba Budha stayed in the service of Guru Nanak's wife Mata Sulakhani and sons Sri Chand and Lakhmi Das. Such was the eminence he had attained in Sikh piety that, at the time of installation of Bhai Lahina as Guru Angad, i.e. Nanak II, Guru Nanak asked Bhai Buddha to apply the ceremonial tilak on his forehead. After the death of Guru Nanak, Guru Angad Dev left Kartarpur to settle in Khadur Sahib near the river Beas while Baba Buddha continued to live at Kartarpur. The site where the ashes of Guru Nanak was buried was developed in to a village named Dera Baba Nanak. The foundation of the first building of the village was laid by Baba Buddha. Being a contender for the succession, Guru Nanak's elder son, Sri Chand, was not happy over the succession in favour of Bhai Lehna i.e. Guru Angad Dev . To evade the conflict, Guru Angad Dev went into seclusion for about a year and an half. The Sikhs could trace Guru Angad Dev and persuade him to give up solitude only with the help of Baba Buddha. Guru Angad Dev ji invented Gurmukhi script and to popularise it, he started teaching it to the children. Baba Buddha also learnt it and then started to teach it others. Prithi Chand, the elder brother of the fifth Guru, was jealous of and hostile to him. As the Guru had no child for many years, Prithi Chand proclaimed that the Guru was not destined to have any child, and hence he would eventually be the next Guru. But with blessings from Baba Budha, who by then was living in the forests near Basarke Village, Mata Ganga gave birth to her only child Hargobind who became the sixth Guru.  Mata Ganga had served Baba budha with bread, raw onion and butter-milk. Pleased by this gesture, he gave his blessings to Mata Ganga.He also Blessed Mata Ganga Ji the wife of Guru Arjan Dev Ji (1563-1606) fifth Sikh Guru did not have any child.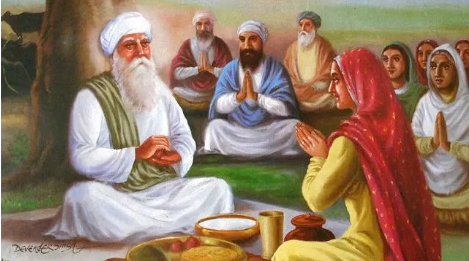 Mata Ganga Ji being blessed by Baba Buddha Ji with a saint soldier son
Guru Arjan Dev Ji sent her to Baba Buddha the Great Saint. She took food for Baba Budha ji.   While having food he took an onion in his hand and crushed it and blessed Mata Ganga ji saying that a great warrior saint will be born to you who will crush the heads of the enemy; the way I have crushed this onion. When the Adi Granth was compiled and installed in Harmandir Sahib on 16 August 1604, Baba Budha was appointed the first granthi or the high priest of the Sri Harmandir Sahib. The first recitation of the Adi Granth was carried out by Bhai Gurdas.
While applying Ttilak of guruship to Guru Hargobind, the sixth Guru, Baba Budha adorned him with the two swords on his both sides, which the Guru promulgated as the symbols of Miri and Piri. Baba Budha laid the foundation stone of Akal Bunga and Akal Takht. The sacred tank at Amritsar and the baoli at Goindval were excavated under his supervision. The ber tree (Jujube) under which he used to sit while supervising the excavation of the Sarovar at the Golden Temple still stands in the Golden Temple precincts. Bhai Buddha lived up to a ripe old age and had the unique honour of anointing all of the four following Gurus. He continued to serve the Gurus with complete dedication and remained an example of holy living for the growing body of disciples. He devoted himself zealously to tasks such as the digging of the baoli at Goindval under the instruction of Guru Amar Das and the excavation of the sacred tank at Amritsar under Guru Ram Das and Guru Arjan. He led an ideal Sikh life for more than a hundred years. He was one of closest companions of the Guru Nanak (the first Guru of Sikhism) and is one of the most revered and sacred saints in Sikhism. He served as the first head Granthi of Darbar Sahib Amritsar, and also laid the foundation of Akal Takhat Sahib in 1609 along with Bhai Gurdas Ji (1551-1637). Baba Ji also used to meditate and preach Sikhism. He had the privilege of being blessed by the first six Gurus. He holds one of the most important and pivotal positions in Sikh history. He was the first head Granthi of Sri Harmandir Sahib. The beri tree under which he used to sit supervising the excavation of the Amritsar pool still stands in the precincts of the Golden Temple. He subsequently retired to a bir or forest, where he tended the livestock for Guru ka Langar. This Bor or forest is still known Bir Baba Buddha Sahib.
Baba Buddha Ji passed his last days in meditation at Jhanda Ramdas, or simply called Ramdas, a village founded by his son, Bhai Bhana, where the family had since shifted from its native Katthu Nangal. Baba Budha Ji, served the first 6 Sikh Gurus with devotion. He performed the Tikka Ceremony of the first 5 Sikh Gurus from Guru Angad Dev Ji to Guru Hargobind Sahib Ji. His grandsons Bhai Gurditta Ji, and his great great Grandson Bhai Gurbakhsh Singh applied Tikka to the 7th, 8th, 9th and 10th Sikh Gurus. 
He died at Jhanda Ramdas at the age of 125 years in 1631 AD in the presence of Guru Hargobind Sahib Ji (1595-1644). Guru Hargobind was also present at the pyre when the body of Baba Buddha ji was cremated at Jhand Ramdas. His Samadh stands to this day. As the end came, on 16 November 1631, Guru Hargobind was at his bedside. the Gurbilas Chhevin Patshahi mentions that Guru Hargobind Ji gave his shoulder to the bier and performed the last rites. Bhai Gurdas, further, to quote the Gurbilas, started a reading of the Adi Granth in memory of the deceased. The obsequies concluded with Bhai Gurdas completing the recital and Guru Hargobind presenting a turban to Bhai Buddha's son, Bhana. Two shrines stand in Ramdas commemorating Baba Buddha, Gurdwara Tap Asthan Baba Buddha Ji, where the family lived on the southern edge of the village, and Gurdwara Samadhan, where he was cremated. (1)(2)(3)
Four Gurdwaras commemorate various events related to Baba Budha Ji in Kathunanagal and Ramdas These Gurdwaras are (a) Gurdwara Janam Asthan  Baba Buddha Sahib Ji, Kathunanagal (b) Dera Janam Asthan Baba Buddha Sahib Ji Kathunanagal (c) Gurdwara Smadh Baba Buddha Sahib Ji Ramdas (d) Gurdwara Tap Asthan Baba Buddha Sahib Ji Ramdas. (4)(5)
Kathu Nangal
Kathu Nangal is a very old village in Majitha-3 Tehsil of Amritsar District of Punjab. It is located 19 KM towards East from Amritsar: 3 KM from Majitha Rural. and 234 KM from State capital Chandigarh. Kathunangal Pin code is 143502 and postal head office is Kathu Nangal itself.  This Place is on the border of the Amritsar District and Gurdaspur District. Fatehgarh Churian  in Gurdaspur District is North towards this place. As per 2011 census, Kathu Nangal local language is Punjabi. Village l population is 3898 and number of houses are 751. (1) Kathu Nangal has a rich Sikh History.  Local folklore has it that Sri Guru Nanak Dev Ji visited Kathnanagal when Baba Buddha ji's parents passed away. These visits find mention in Jeevan Charitar  Baba Buddha Ji, a biographical account of Baba Budha ji written by Bhai Mangal Singh. (2)
Gurdwara Janam Asthan Baba Budha Ji, Kathu Nangal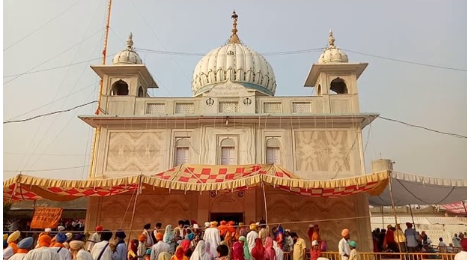 Gurdwara Janamasthan Baba Budha Ji, Kathunangal, District Sri Amritsar
Gurdwara Janam asthan Baba Budha Ji  is located on Amritsar-Batala road  in an expensive high walled complex which houses a massive langar hall, an equally large congregational hall, a sarovar and several rooms to serve as accommodation for devotees. The shrine is splendidly illuminated on Baba Budha Ji's birthday in October when special celebrations are held in his memory. (2) A two day fair is held every year in October by the sangat to commemorate Baba Buddha Sahib where Gurbani and Kirtan are continuously recited. Entire Gurdwara complex is lighted. Kabaddi matches are also held. Gurudwara Janam Asthan Baba Budha Sahib  KathuNanga lin Amritsar is listed under section 85 of Gurudwaras Act. 
Dera Janam Asthan Baba Budha Ji, Kathunagal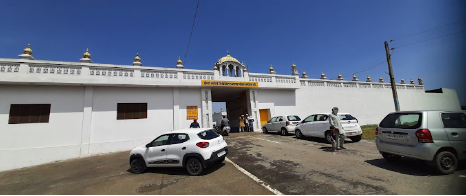 Dera Janam Asthan Baba Budha Ji, Kathunagal is located a short distance across highway from Gurdwara janam Asthan Baba Buddha Ji sahib. The Gurwara lies behind another Gurdwara and a langar hall builtfacing the busy highway.This smaller shrine has a similar name as the main gurdwara across the highway. A room to the left of the sanctum encloses an account well believed to date back to Guru Nanak Dev Ji's time. Guru Nanak visited this place when Baba Buddha Ji's parents died. Address of the Gurdwara is P2HM+RWG, Kathu Nangal, Punjab 143502, phone 097792 61440 (5)
Ramdas
Ramdass is a city and a municipal council in Amritsar district. It is situated on the bank of Ravi River. It is a border area. It is an ancient holy city. It is nearly 50 K.M. far from Amritsar. It is connected through railway line (Amritsar - Verka - Fatehgarh Churrian - Ramdass - Gurdaspur - Dera Baba Nanak) and all-weather concrete road (Amritsar - Ajnala - Ramdass - Dera Baba Nanak and Amritsar - Majitha - Fatehgarh Churrian - Ramdass). Dera Baba Nanak (Kartarpur Corridor, Pakistan) is 14 K.M. far away from Ramdas. As of 2001 India census,[6] Ramdas had a population of 5790 primarily Jat Sikh Bal clan. In ancient times Baba Buddha (ਬਾਬਾ ਬੁੱਢਾ ਜੀ) ji lived here. Guru Nanak is believed to have visited this place in 1518. He rested by the bank of Ravi which then passes by the side of Ramdas. During this period Guru Nanak is said to have visited Baba Buddha Sahib ji and his family. This town was founded by Fourth Sikh Guru, Shri Guru Ram Das Ji when he went there to bless Jhanda, the grandson of Baba Buddha Ji. Guru Ji named this town Jhanda Ramdas. Baba Buddha Ji with his family came here and spent about 22 Years and did intense meditation.  His last cremation was done here by Guru Hargobind Ji, sixth Sikh Guru. In His remembrance two Gurudwaras are built here named Gurudwara Tappasthan (ਗੁਰੂਦੁਆਰਾ ਤਪ ਅਸਥਾਨ) and Gurudwara Smadha (ਗੁਰੂਦੁਆਰਾ ਸਮਾਧਾਂ). (5)
Gurdwara Tap Asthan Baba Budha Ji, Ramdas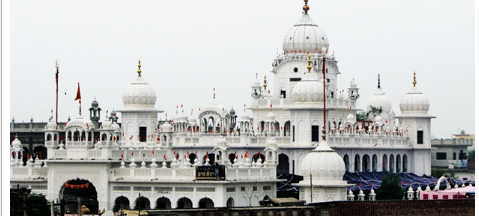 Gurdwara Tap Asthan Baba Buddha ji Sahib is situated in in town Jhanda Ramdas in district Amritsar at a distance of 45 Km from Amritsar City towards Dera Baba Nanak. Baba Buddha's family shifted to Ramdas from Kathunangal and Baba Buddha ji stayed here. Baba Buddha ji spent 21 years 11 months and 13 days here in his later years of life. Gurdwara is constructed at the place where Baba Buddha Sahib Ji did meditation and singing Shabads written by Guru Nanak. Baba Buddha Ji did intense meditation at this place. The family lived on the Southern edge of the town. The bed of Baba Ji is still preserved here. The sacred bed belonging to Baba Buddha ji Sahib is preserved here. Baba Buddha ji stayed here in the last years of his life. (6)(7)
An air-conditioned glass enclosure at the far end of tranquil sanctum houses the slab of marble on which Baba Buddha Sahib sat upon while absorbed in thought and prayer. A well in the courtyard of the thick-walled house towards the back of the gurdwara harks back to baba Buddha's time. The façade of the double-story dwelling was renovated recently. (6)(7) (8)(9) (10)
Gurdwara Smadh Baba Budha Sahib Ji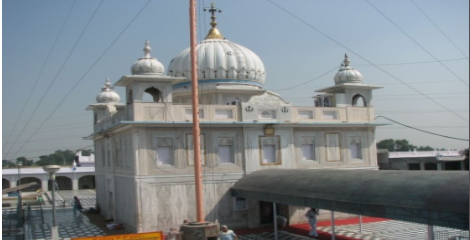 Baba Buddha Ji breathed his last at the age of 125 Years, 11 month and 11 days. In 1631, the funeral pyre of Baba Budha Ji was set up by Guru Hargobind Sahib Ji at the place where the Guru Granth Sahib Ji is now situated. Guru Hargobind Sahib helped lift the body of Baba Budha Ji and performed the funeral ceremony. With Guru Hargobind was Bhai Gurdas, Bhai Jetha, Bhai Langhah, Baba Bidhi Chand and Sri Chand Ji. According to Sikh tradition, an Ardas was carried out and Bhai Bhana, the youngest son of Baba Budha Ji lit the pyre. Nearby there is a platform called Thara Sahib where Guru Hargobind recited Kirtan Sohila. At this location Guru Ji distributed parshad to all who came. The pot used to distribute the parshad was given to a poor villager.  (9) (11)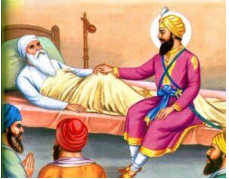 Guru Hargobind Sahib Ji with Baba Budha Ji just before he breathed his last
References
Jeevan Charitar  Baba Buddha Ji, a biographical account of Baba Budha ji written by Bhai 
             Mangal Singh.
Punitinder Kaur Sidhu, Gurdwara Janam Asthan Baba Budha ji, Kathu Nangal, Amritsar,  Dera    
             Janam Asthan Baba Budha Sahib Ji, Guru Nanak's Blessed Trail (Punjab), Lonely Planet Global 
             Limited,   Punjab October 2019,  p.70-72
"Census of India 2001: Data from the 2001 Census, including cities, villages and towns (Provisional)". Census Commission of India. Archived from the original on 16 June 2004. Retrieved 1 November 2008.
Punitinder Kaur Sidhu, Gurdwara Tap Asthan Baba Buddha Ji, Ramdas, Amritsar, Guru Nanak's 
             Blessed Trail (Punjab), Lonely Planet Global Limited,  October 2019,  pp.74-75.
  Punitinder Kaur Sidhu, Gurdwara Smadh Baba Buddha ji, Ramdas, Guru Nanak's Blessed Trail (Punjab), Lonely Planet Global Limited,   Punjab October 2019,  p. 73