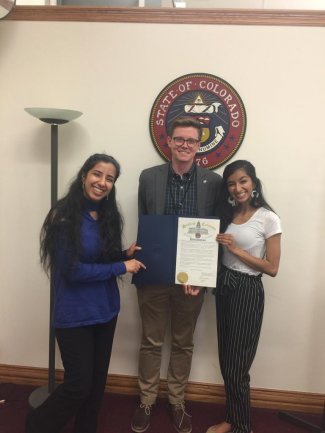 The state of Colorado has declared the second Sunday of every April as "Sikh Recognition Day," which falls during the religious and historic Holiday for Sikhs known as Vaisakhi. In the historic proclamation signed by Governor Jared Polis, the newly elected governor for the state of Colorado, core aspects of the Sikh faith are discussed in great detail.
The proclamation begins with referencing "Nil Sine Numine," the motto of Colorado and how it closely aligns to "Ek Onkar," or the one shared light and essence amongst us all. Concepts in the Sikh faith, such as selfless service, eternal optimism, and the well-being of everyone are woven throughout the proclamation to pay respect to Sikh teachings and how the Sikh community in Colorado has given back.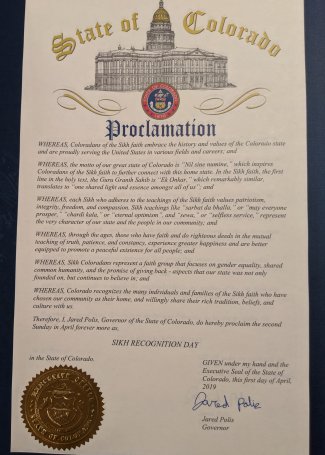 According to Serene Singh, who spearheaded the effort for "Sikh Recognition Day", the proclamation signed by Governor Jared Polis is a dream made a reality. Singh says that she is "proud to be a Sikh in this beautiful state and that today is a win for Sikhs, for Coloradans, and for our community!"
This proclamation comes at a great time for Sikhs in the state of Colorado. Sikhs have increased in population drastically in the past few decades in the midwest, many choosing to make Colorado their home. With four Gurdwaras in the state, a Sikh Student Association at CU Boulder, and non-profits aimed at uplifting the Sikh community in the state, this proclamation pays homage to the entire Sikh community with references to core Sikh concepts. Singh credits the historical proclamation to Governor Polis, the CU Boulder Sikh Student Association, her older sister Naureen Singh, and the Colorado Sikh community for supporting the effort.