PART IV of IV
Researcher's Visit to Sri Lanka

Researcher's visit to Sri Lanka was thought of before but move to Sri Lanaka was providential. I had planned the visit Sri Lanka for two reasons. Shiromani Gurdwara Prabandhak Committee had asked me to improve upon my book Amazing travels of Guru Nanak for the second edition and I planned to visit the maximum places to verify on ground what was mentioned. I revisited Jammu & Kashmir, Himachal Pradesh, Uttra Khand, Nepal, Sikkim, Bhutan and Arunachal Pradesh, and other states of India and now wished to visit Sri Lanka. My PhD student Ravindran from Sri Lanka has been requesting for a visit to see the progress of his ground research in Sri Lanka and I was also eager to research the places visited by Guru Nanak. The researcher requested his PhD student Sh. Ravindra an Asst Professor in Jayavardhna University Colombo to confirm the available details.
While the researcher waited for the reply from Ravindra, the researcher also checked from Sri Lankan embassy for a visa. They were not only quick to reply but also asked me to apply and got the visa the very next day! It was amazing. I checked various routes and transport immediately. On the same day the researcher got a good offer of air tickets from Spicejet. In the evening, the researcher got a call from his grandson inviting him for his birthday. As researcher's life partner Gurcharan showed very eagerness to join in his grandson's party, the researcher told her the plans to visit to Sri Lanka. She proposed early journey considering the rainy season coming close. He immediately booked tickets in Shatabdi to Delhi where the researcher son was employed and air tickets for Sri Lanka a day after.
Mean while the researcher discussed with Ravindran on email the arrangement which could be made at Sri Lanka for the researcher visit. He was surprised at so sudden a decision since he was going to Italy to attend a course the very same day and requested me to postpone till he returns in May. The researcher checked up for cancellation of tickets but the return would have been nearly zero hence it was futile and thought of proceeding as planned. Seeing the situation, Ravindran promised to manage all things at Sri Lanka and gave certain addresses. He sent him plans of his visit which included visiting Anuradhapuram, Tricnomalee, Batticoloa, Kurukalmadam, Badulla, Nuwara Eliya, Kendy, Sitwaka and Kottee. He modified a bit and accepted as given in the map.
While at Delhi the researcher contacted S. Brijmohan Singh (Mobile 919810782910) Green Field Colony Faridabad and Dr Bajwa who was in Colombo University on phone for further guidelines. Both of them had come on leave from Sri Lanka. Dr Bajwa was to go on 26th April to Colombo and I was eager to meet him there. They confirmed that there was no Gurdwara commemorating Guru Nanak's visit to Sri Lanka. There was only one Sindhi Gurudwara in Colombo which does not have stay arrangements. There was no Sikh in Sri Lanka except Dr Subhash Chawla who could be contacted at 94722967134.
This researcher started from New Delhi by air and reached Colombo at about 1.30 AM on 24 April 2016. From Delhi flights are available direct to Colombo as well as with one stop at Chennai. Direct flight saves time while stopping at Chennai saves money though extra time may be three hours. One can even go by train to Chennai and then by air to Colombo since sea route is not open for travel. Land route through Rameshwaram may open soon since the bridge from Dhanushkodi in India to Sri Lanka is already in the pipeline. At the airport the researcher was received by Mr Duminda and Chanak on the wheels of the AC vehicle. Both were Sinhalese friends of Ravindran. Duminda was quite fluent in English and very knowledgeable. He was an excellent photographer/videographer as well. A journalist was also supposed to be accompanying me but she dropped down at the last minute due to some reasons best known to her. I got Airtel connection for communication at Sri Lanka and back to my family for Rs 1000/- vslid for one month. Dollars and Indian rupees were accepted at the airport. Indian rupees were however were not accepted outside in Sri Lanka as was told to me by Mr Duminda. The researcher had Indian Rupees to Sri Lankan rupees at Chennai since these could not be exchanged in Ludhiana. The exchange amount given at Chennai airport however was not fair; they gave much less the amount than was to be given in exchange as per Govt standards.
Exchange of Indian rupees to Sri lankan rupees or Dollars must be done well before carefully.
My main purposes of visiting Sri Lanka was to (a) locate the places visited by Guru Nanak and the dharmsals as stated in chronicles starting from Kurukal Madam, Dibar, Batticoloa, Sitwaka and Kotte. (b) study the inscriptions on stones at Anuradhapura and visit other museums and the archeological department to locate if any other important inscription relating to guru Nanak's visit exist (c) to search local libraries for any evidence in some books or manuscripts about Guru Nanak's visit (d) verify the work done by my student Ravindra on kelani river and Colombo and check any source material on the subject under study.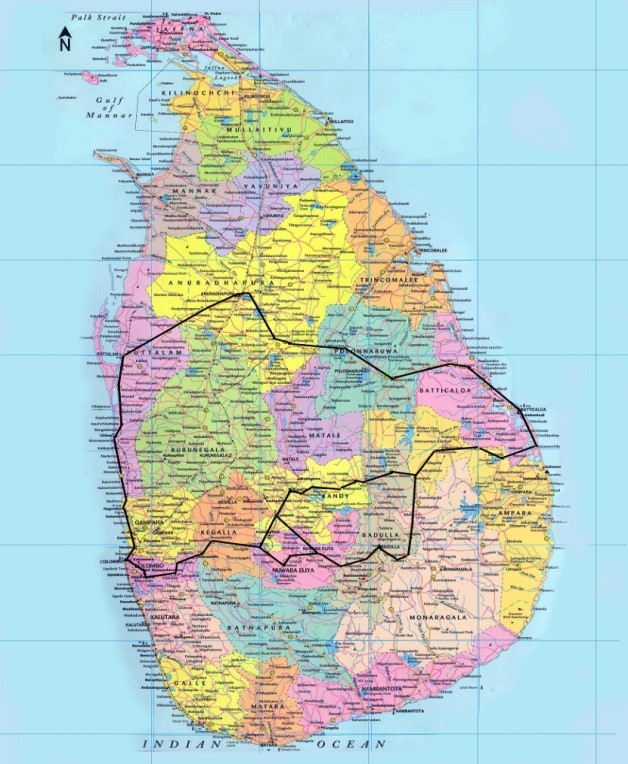 Since most confirmed information about Guru Nanak's visit to Sri Lanka with the researcher was of Kurukalmadam and Anuradhapurm, it was decided to go from known to unknown. The first plan was to visit Kurukalmadam where I had already established phone and email contact with Mr. Kuhananth Kurukkalmdam who was to guide me about the place. Before his visit to Sri Lanka in April 2016, this researcher had contacted Kuhananth Kurukkalmdam who wrote in email, "This village original name was Kurunadhar madam (Guru Nanak place) now we are calling Kurukkalmadam". (mail @: [email protected]). Please contact me on Mobile +94715863650 on arrival. I contacted him and he responded eagerly. Before starting from Delhi this researcher had also contacted S. Brijmohan Singh, Shri Chawla and Dr Bajwa who were located in Colombo but could not contact Mr Modi and Mr Ashok Kainth. Even Dr. Bajwa and Mr. Brijmohan Singh had come to Delhi due to holidays. Only Dr Chawla was available in Colombo. Immediately after landing at Colombo, the researcher preferred to go to Batticoloa and Kurukalmadam along with local area expert Mr. Duminda and Mr Chanka owner of vehicle arranged by researcher's student Mr. Ravindern who was very kind to make all arrangements at Sri Lanka though he himself was in Italy. After Kurukalmadam we were to visit Dibar, Batticaloa and Anuradhapuram, Kotte, Nuwara Eliya, Adm's Peak, Sitwaka, Kotte and Colombo proceeding from known to unknown. It was 2.30 AM after clearance from immigration authorities and at 3 AM we started for our journey which was expected to take about 7-8 hours. When we went he was waiting to guide us.
We travelled mostly by night and found sun rise at Polonnaruwa. In between we had two tea breaks, especially for the sake of the person on wheels since driving at night for long become quite tiring and make you sleepy. The local black tea is very tasty. They do not use milk since this is not available in large quantity in Sri Lanka.
Kurukul Mandam
From Baticoloa, we moved to Kurukal Madam a village on the East Lanka sea coast, 20 kms from Batticoloa. The village is on the national highway A4. It is within a Km range of the sea from east as well as from west situated in a lagoon. At one end the sea is silent while on the other side it is rough and deep. It was strange finding sea, boats and fishnets all around the place. Kurukul Mandam means "Guru's village". Guru Nanak along with Bhai Mardana and other Sikhs visited and stayed at this place for over three months. Bhai Paira too might have visited this place. The people of the village told Dr. Kipral Singh of Punjabi University, Patiala who visited the place in September 1968 that about 450 years ago a Siddh Baba came from Northern India, in whose memory this village was established,' (Dr Kirpal Singh p.79)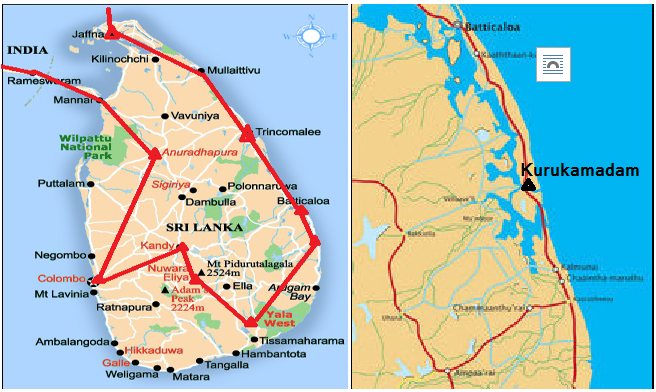 Even though the road was excellent, it took us 7 hours by road from Colommbo to reach Batticoloa. We visited the most prominent places in the town and area around and enquired from the key personalities but found no clue of Guru Nanak's. We then proceeded to Kurukalmadam 12 km from Batticoloa on the sea coast on National Highway A4 where Mr. Kuhuananth waited for us. We straightway went to the area where Guru Nanak had stayed. It was an open area with a big pond and trees all over. Sea was just about 300 meters. Greenery rich area was stunningly charming. Naturally adorned, untrammeled beauty was inviting. An excellent person knowledgeable about the connected events Kuhuananth took us around. First of all he showed us the pond where Guru Nanak used to have bath. Well spread in around three acres, it was now partially dry having water only in one corner. Kuhuananth told us that during rainy season this all area full of water and there was water everywhere. Kuhuananth's house was closeby and he has been guiding the visitors to the place. His parents are settled in USA. He could not migrate to USA because of his age and was remaining single having own small business in Kurukalmadam.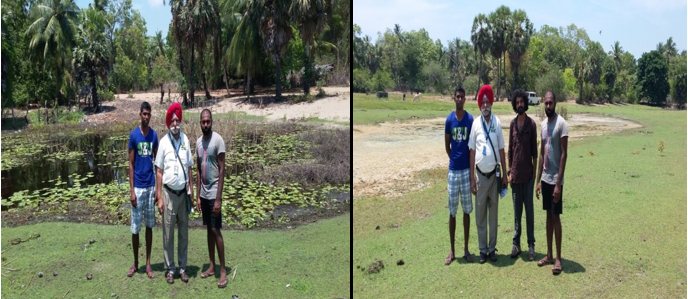 Soon he was joined with another engineering graduate Shri Vijai who too was quite fluent in English. He too told me the same background about the visit of Guru Nanak. Duminda on camera making video and taking photos the interviews with Kuhunath and Vijay were rcorded and are given below.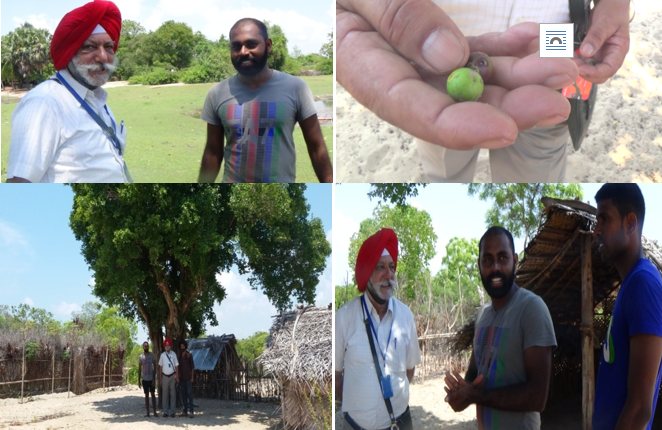 1. Kuhunath and the researcher on the bank of the pond. 2. The reethas 3. The reetha tree 4. Kuhuananth Vijay and the researcher

Kuhunath: Name of this village is Kurukalmadam. This means Guru's village. This is the historical village where Guru Nanak stayed for six months. Henc this village is in the memory of Guru Nanak though its name was different earlier.
Grewal: Where did the Guru came here from? What was his route from India?
Kuhunath: He came from Anuradhpuram side and visited Manna near Badulla and then Katargama before he came to this place. From he went to Batticoloa and to Trincomalee. From Trincomalee he returned I do not for what reason and then went back to Trincomlee and on to India.
Grewal: Do you believe in this?
Kuhunath: Not only me; all the villagers know and believes this. Our village is 99% educated with many engineers and teachers. One teacher has written a book also where the visit of the Guru to this place is described in detail.
Grewal: What all is connected here with Guru Nanak's visit?
Kuhunath: The pond in front of us where the Guru Nanak used to take bath. Sikhs visiting this place consider it sacred and take water in bottles. There is a tree of 'reetha' which we call it 'kanchala'. Reetha has bitter fruits. We put this fruit into water and find it very cool after sometime.
Grewal: This pond is very small!
Kuhunath: All this area of the pond appears to be a sea of water in November December every year. Sea is also very close just five hundred yards. Pointing to a tree he said: Just beyond this tree is the sea. This area is like an island surrounded by water lagoon from one side and the deep seas on another sea.
Grewal: Where is the reetha tree?
Kuhunath: Just 200 yards. Let us go and see.
As we went close to the sea we found a green large shady tree. Kuhunath showed the fruits of the tree and asked the interviewer to taste.
Grewal: Did you ever taste the fruit?
Kuhunath: Yes I did. Its taste is like bitter gourd (karela). But some Sikhs from Punjab last time tasted and told it to be sweet. It is not so with us. It is good for snake bites also.
Grewal: The interviewer tasted the fruit and found them to be sweat. Kuhunath offers him newly plucked reethas and tree leaves which the researcher took back home. He asked both Kuhunath and Vijay to taste. Both confirmed it to be bitter. Even Duminda also confirmed to be bitter.
Kuhunath: How could it be sweet?
Grewal : As per our chronicles companion of Guru Nanak Mardana felt hungry. He requested the Guru for some food. Guru Nanak asked him to climb the tree and eat its fruit. Mardana never questioned Guru's instructions. He climbed the tree and ate his fill since the fruit were sweat. While coming down he filled his pockets as well for the future. Guru Nanak asked him why he filled his pockets when he was instructed never to take extra than needed. Mardana felt sorry. He offerd the fruits to the persons sitting close. When those persons took it it was too bitter and they cried foul. Guru Nanak said: The taste is as per your mental makeup. Anything taken beyond the need is always bitter.
Kuhunath: There is another pond where lot oyf lotus can be seen. That is the actual place where Guru Nanak used to have bath. A gurdwara is being planned at the site for which the land has been purchased recently by Guru Nanak Sewa Trust, Colombo. They want it to be really big and attracting like Harimandir at Amritsar. Guru Nanak used deliver discourses at the place daily which was attended by the people of the area in large number. He became well known in the area.
Grewal :In our chronicles Sri Lanka is called Singhladeep. When and why it was called Sri Lanka? Kuhunath: We used to call it Singladeep earlier. In Tamil Singl means a chain. Since this country is a chain of island it was called the islands in chain i.e., singladeep. Similarly Malay is called so because it means a chain.
Next Kuhunath took us to the small pond full of lotus and showed the area purchased by Guru Nanak Sewa Trust. He then took us to the Hindu temple close by. The temple has a Shivling installed in it. The people worship Lord Shiva. We did video-graphing of the ancient temple for record purposes. It was very hot and walking on sandy patches bare feet was causing foot burn.



1. The temple at Kurukalmadam viisgted by Guru Nanak. 2. Shivling in the temple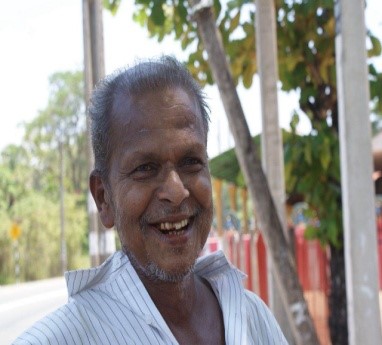 Nagaraja Kurukal
Outside the temple we met Nagaraja Kurukal (65 years) who told us that there were three saints which we call Guru who came first. One more guru came later.
They stayed under the tree which we call kanchal (reetha) tree and held discussions with the locals. We also call the place as Veda tree because the Guru distributed knowledge at the place. He probably was mentioning the two companions of the Guru and the later visit of Bhai Paira. He told his route of visit from Jaffna. This temple was very famous in those days in the area around and visited from far and wide including by the people of India.
Having discussed with other villagers around it was found that they had no doubt about Guru Nanak's visit to the place as the legend had been told word to mouth and also recorded in the book written by the local author.
We enquired from everyone about any knowledge of the place known as Dibar. No one had any clue of it. Similalry no one knew the existence of any king known as Shivnabh in batticoloa or any area around or in Sri Lanka. This was a matter of confusion and needed confirmation further for which we moved to Batticoloa. It was late afternoon and sun was shining at its best ground appeared as if burning. We departed at about 3PM from Kurukalmadam and reached Batticoloa without any waste of time. The enquiries were done from all local authorities and temples as well the local university but to no avail. The booklet on batticoloa too had nothing to reveal. I had earlier searched net without any fruitful result.
Unable to find any clue we moved next to Polonnaruwa where we stopped for lunch. The hotels all along Sri Lanka have special features that they serve bucqe where meals are laid down on table and you can take whatever you want. There are two specialisites everywhere i.e., rice and fish. Various types of mixers like vegetable and dal help to gulp in smoothly. Since I had developed taste of parathas, chapattis, curd, milk lassi etc., I was not getting tuned to the food.Moreover I was a vegetarian. Finding a pure vegetarian food in entire Sri Lanka was a problem. Somehow I had to have my fill. This I did with rice and some dal and cooked vegetables.
In Polonnaruwa, there is an excellent museum and it was on my itinerary to visit the same to find out some manuscript. We went there at about 4 PM. The World heritage site of Polonnaruwa was once the capital of Sri Lanka and had monumental pieces collected in the museum. There were inscriptions as well whcihc could be of interest. Once we asked of the entry card we were shocked to find the fees of entry to be Rs 3550/- Sri Lankan rupees. I was intitially hesitant to pay such a sum but the eagerness to find any inscription dragged me to open my purse. She saw my passport and reduced the fee to half i.e., 1775/- being an Indian.
The museum was very well maintained. Photography was not permitted however. Almost all the visitors were Europeans, Americans or Russians. There were great architectural and sculpture pieces of great worth. But I was keen on inscriptions on stone. There was some in Brahmi script, Sinhalese script and Tamil. The period they covered was of twelfth to fourteenth century while I was searching for the script of sixteenth century and after which I was not able to find. The detailed account of this museum is being given in a separate article since the matter of this research was different.
At Polonnaruva we had some cool moment on the bank of 'Parakarma Samudra' a splendid feat of engineering where water was stored for agriculture purposes for the entire central zone! The city of Polonnaruva has two major parts the old kingdom ruins area and the new city area. Passing through both we proceeded towards Anuradhapura. Enroute we crossed Harbrana and Mardankadwala. As the place appeared to be linked with Mardana we enquired about the place from number of people. They however did nto provide any clue as to how this name was linked to Mardana.
We reached Anuradhapuram quite late. We searcherd for some accommodation and got one room set for three persons at Rs 2400/- for the night. Since we were quite tired, sleep was too deep to notice any problem. Early we got up to visit the museum where preserved were the inscription on stone about Guru Nanak's visit to Sri Lanka and convincing the king to follow 'One God: path of truth and continuous recitation.'The museum was to open at nine so we thought of going to important places of Anuradhapura.



Anuradhapuram: lying statue of Mahatma Buddha


1. The place where Emperor Ashoka's son Mahindar presented the branch of Ashoka tree to the king of Sri Lanka. 2. The Ashoka Tree branch developed into a full tree supported by pillars of gold.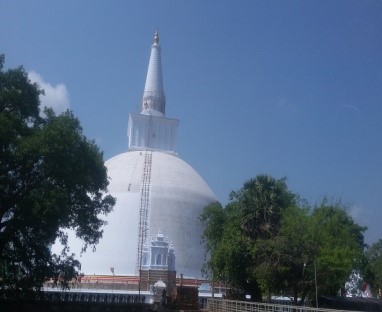 The huge pagoda Anuradhapura
Here major palces of inther erest for the tourist were ancient Buddist structures. We visited the key Buddist centre where an ove 50 feet statue of Mahatma Buddha is the point of attraction. The entry ticket here too was quite hefty. There was only oe visitor here and that two a European couple in addition to us. Another important monument was the place where emperor Ashoka's son Mahindar presented the branch of Ashoka tree to the king of Sri Lanka.This Ashoka Tree branch had developed into a full tree. The spread branches were supported by the devotees by erecting pillars of gold. Here the visitors came in large number and presented flowers etc. The speciality was that the devotees were seen in white dresses. Puja was being performed at two places wher large number of devotees had gathered. The bo-tree was actually a branch of Indian peeple tree spread all over.
Since it was nine we rushed to the museum. Anuradhpura museum entry again cost Rs 1775/-. As we went through the various architectural and sculptures our interest was on inscriptions of sixteenth centuries. Ther were only a few inscriptions which gthe researcher tried to decode. Almost all the inscriptions were of 11-13th century and there was no inscription number M-111 as cited earlier. This confused us a lot. As I enquired about the inscriptions from the head of museum, I was told that there is another archeological museum which is under renovation and is presently closed.
We proceeded towards the archeological museum. On the banks of a huge water tank, we found old dilapidated buildings. We met the officials there. I had introduced myself as a linguist with my background of Central Institute of English and Foreign Language and expert in decoding Indian languages and told them that I was keen to decode the scripts especially of Indian origin. This helped us. After lot of discussions permission was granted to us to visit the place where these inscriptions existed.
The researcher was astonsied to find a huge set of stone ionscriptions in open verandah with no protection from locals or vagaries of nature. It was entirely a different site than that we saw in earlier museums which were heavily protected and preserved very well. These stone inscriptions were looking like pillars as are erected on graves. The researcher went through all the inscriptions. All except 3 were in Sihalese and dated back to 15th century or before. 3 inscriptions were in mixed languages; these were M 25, M98 and M110. M110 was unreadable. This was the inscription which had been often quoted where details about Guru Nanak's visit was stated to be inscribed. Nothing could be read since it had weared out due to vagaries of nature and lack of proper preservation. It was also later seen that more interest had been towards preservation of Sinhalese or ancient local dialectial inscription than of any foreign language (Indian) and over the period they have worn out.
The researcher photographed all these inscriptions; phots of the two of the inscriptions are given above. This saddened the team as we could not find what we wanted despite such a long relentless journey and concerted effort.
We requested the officials to show us the records which had they with them. All the records were checked up thoroughly. The information they had about these stone inscriptions were scanty and pointed to nothing related to our research. We were given the number of and address of archeological office at Colombo where we could find the detailed information. I contacted the Director inscriptions who gave us the time next day at 9 AM in his office in Colombo.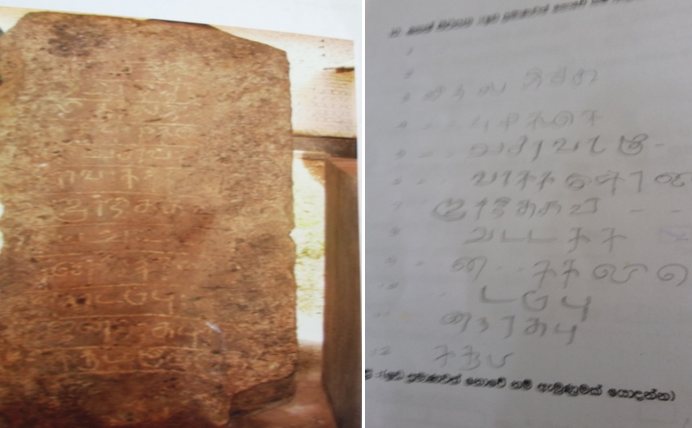 M 111 and (right) M 98

It was about 11.30 PM by this time. Now our main motto was to go to the department of Archeology at Colombo and dig out what all was preserved about Guru Nanak's visit. We started back from Anuradhapura without delay and were on route to Colombo.
The quality of work on roads in Sri Lanka and the visibility of the police on highways was very appreciable. The road sense among general public too was commendable. We did not find people or animals crossing the roads haphazardly. At the manual crossings the right of the way was given to the public on foot. Everyone was putting on seatbelts sincerely. No one was found overspeeding. Traffic was very smooth.
We had our breakfast at a roadside restorant near Dumbella on the bank of a beautiful natural pound with natural beauty all around. Bouquet type of breakfast was of the same type as we had at Polonnaruwa. By this type the researcher had got accustomed to such type of food. We had coconut juice to keep us cool in this hot weather.
By 3.30PM e reached Kurungela and had our lunch in a resotrant in a Tamil Indian restorant where we could get some chappatis, vegetable and curd. It looked so good. The researcher had his fill after a long time. By the time we drove through Colombo along Kelani River it was getting dark. Our requirement was to get a good room for the night stay. Dr. Yashanjli, a Professor in Jayavardhane Univeristy had got one room for me. It however turned out to be very hot as it lacked AC and during summer here without AC it was difficult. We found an alternative room for Rs 2200/- per night. Driving through Colombo in the watery island perched in greenery within and water all around was a scene to watch.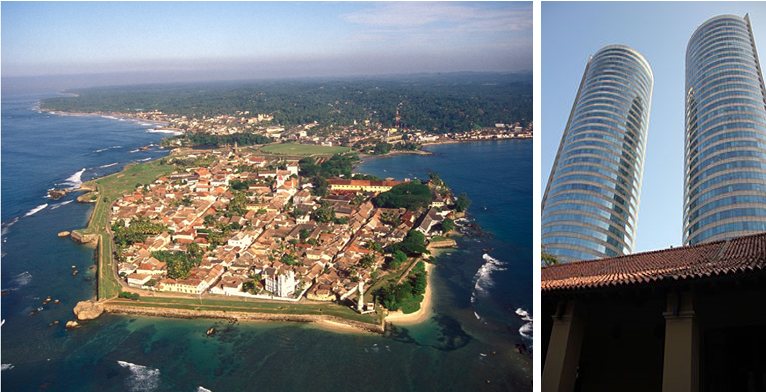 Colombo

Colombo, Sri Lanka's bustling commercial hub, is located on the country's west coast and with a population of between 800,000 and one million (estimates vary) is by far the country's biggest city, as well as the most developed. Its natural harbour at the mouth of the Kelani River was a magnet for successive traders and conquerors - initially the Arab merchants, then Portuguese, Dutch and British imperialists.
Originally named Kolomthota, Colombo was the main seaport of Kotte, the country's 15th and 16th century capital. Known to Arab traders as Kalamba, the city attracted the rapacious Portuguese as early as 1505 and became the bastion of their rule for almost 150 years. Surprisingly little remains to attest to this era, apart from a scattering of Portuguese surnames in the telephone directory and a handful of Roman Catholic churches and seminaries depicting their architecture.
The central area of the city is still known as Fort, but the remnants of the colonial battlements have long since been demolished, or incorporated in newer buildings. There are more mementoes of the British period, including the neo-Classical old parliament building, the Victorian-era President's House (still often called 'Queen's House'), and the grandly mercantile brick facade of Cargill's, a splendid 19th-century department store that has changed little since the 19th-century heyday of Sri Lanka's British tea planters.



Colombo Sri Lanka

We had earlier plans to visit Badulla, Nuwara Elliya and Kandy the plan which we had to shelve for the time being because of the new requirement of searching the details of stone inscription at Anuradhpura or nay other detail available. In the night Prof Yashanjli had invited the researcher to dinner and she was to pick me up from the hotel. Dinner was arranged in a most picturesque place of Colombo. She exchanged her memories at Delhi where she had done her PhD at Jawahal Lal Univeristy. Her two sons were in school and were eager to choose careers. Since they were from CBSE they could not get into the local university being still underage. The researcher suggested them to try for IITs and RECs in India. Foreign Private University was playing havoc with the education system in Sri Lanks. Indian Universities and Colleges can take the benefit and attract Sri Lankan students to India. Her husband a high official was an exrtremely nice and knowlegable person full of decorum and courtesy. He impressed the researcher in discussions. We held discussions about history, culture, environment, rivers water, biology, ecology and India-Sri Lanka relationship.
It turned out to be quite late when the researcher in bed. After having put the camera video camera, mobile and computer on charge the researcher retreated to the bed.
Early morning we were to go the headquarters of Archeology Department and meet the directors and experts in inscriptions of stones. Thereafter we had planned tto go to the national library and also the university libraries. On our agenda was to visit the museum and archeology libraries at Colombo to find if any redcords were available about Guru Nanak's visit to Kotte. We were to visit Kotte as well. We moved through heavy traffic at a slow pace as everyone was trying to rush to his office. We enjoyed the scenic beauty around and the researcher was shown the key locations of Colombo.
The researcher did not purposely discuss about Guru Nanak's travels to Sri Lanka because he felt that there was a strong under current among Sinhalese against India after Tamil Elam crisis and lot of attraction towards Chinese. Chinese were found dominating the major construction works in Sri Lanka specially the Colombo harbor area where we were located. Indian government must be very careful while dealing with them. Since India and Sri Lanka have close ancestry and the religions; Buddhism and Hinduism are ipcommon to both; both originated in India. The type of destruction caused to the religious places of the two relgions by the Dutch to spread Christianity has not gone out of their memory as yet. Even Dharmsals of the Sikhs were the casulaity of that period. The continuous neglect of Sikh religious pklaces as described by Gyani Gian Singh and Dr Kohli do not exist as a result.
Visit to Archeological Department:
We were in the Department of Archeology of Sri Lankan government by 9 AM. Once we entered we found the department to be having some function and all the staff was found in sporting mood. As we went to the Inscription Department, the staff present did not have any clue about it. The researcher requested for the director archives. In turn he was led to Dr Senarath Dissanayaka Director General of Archaeology of Sri Lanka. He was very kinbd to discuss. Givng the details of all the museums, the researcher especially pointed out the improper upkeep of inscriptions at Anuradhapura. He too felt comncerned and promised to take care of such valuabe asset and would visit their soon and see the things for himself. He also told me to consult the director dealing with inscriptions. We discussed the problems of Anuradhapura museum and requested him to show the records of inscription especially other than in Sinhala script. He showed me the old records of M 25, M 98 and M111. M 25 and M 98 had been well explained. The researcher took the photograph of M 98 and its meanings as given in their records.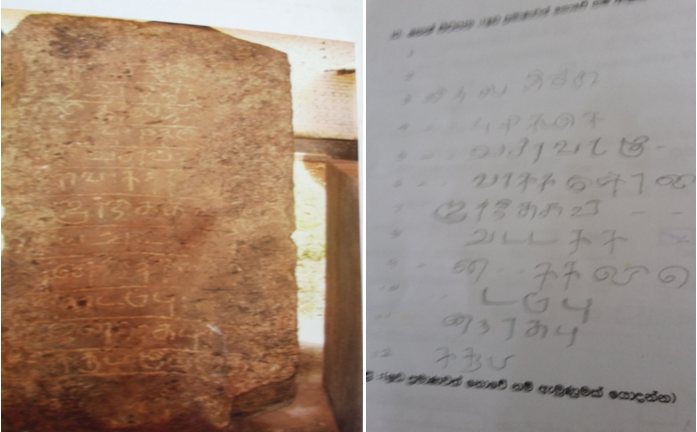 The inscription record of M111 showed no interpretation. The phot they showed was also newly taken. There was nothing to show about Guru's visit and meeting the king. It appeared that the records were removed by someone earlier.
Later he told me of four volumes of inscription recordings on stone in all the museums and their meaning and symbolism explained. I went through each volume taking considerable time to search if there was any other inscription having any record of Guru Nanak's visit. Though records existed about all the inscriptions except M 111, no other inscription was found to be having any record of Guru Nanak's visit to Sri Lanka. Only M 111 was the one about whom the records did not exist and the photo showed it obliterated! The proof recorded by Dr Saddhamangala Karunaratna of Sri Lanka about the Sanskrit writing on the order of King Dharam Parakarambahu XI in the fifteenth year of his becoming king (1493+15=1508) thus has to be accepted as the final answer
According to this documentation Guru Nanak's (mentioned as Jnankacharya) visit to Jayvardhana from a village in the vicinity of Samantapattana (Sammanturai) and his meeting the king, expounded his doctrine to Parkarambahu and requested the monarch to embrace it has to be accepted as the fundamental fact. As per this document, Parakarambahu promised to embrace Nanakacharya's creed if the later defeated in debate Dharamkirtistthavira, who was Sanghraja, or Sanghraja-Designate. Debate was organised at Jayvardhanpura in front of the royal palace on Supreme Personal deity and an Eternal Soul in which Nanakacharya (Guru Nanak) was winner. The Guru asked the king to keep the promise of accepting his doctrine. The king, however, backed out and asked for another debate. This debate was manipulated and rigged by e Brahmins.[98]
Visit to National Library and library of Archeological Department
To find some more details we planned to visit National library, State Museum and National Archeology Library all in Colombo. National Library was close by. We did not have the chance of having breakfast hence chose the canteen of the Library for this. Rice and Dal was the staple diet with which we had to be contented with. Duminda had arranged visitor cards from his friend who worked nearby. We went to the concerned officer present and requested him to give all material on Guru Nanak. He fed the name in the computer but found no book on Guru Nanak! We wanted to get books on Sri Lanka history of 16th century. Only a few books were available. Out of these de Silva, KM (2005), A History of Sri Lanka was quoted as the most authoritative. It however had very scanty record bout the History of Sri Lanka. There was no mention of Guru Nanak anywhere. The researcher searched all the history books of the period for two consecutive days and was shocked to find that there was no mention of Shivnabh or Guru Nanak in any of the books.
One Tamil professor told him that the material in the libraries has been scanned and nothing is being shown which showed the dominance of Sri Lanka. This was specially done during the campaign for Tamil Elam. The racks for papers had no Indian paper or journal and were littered with Chinese journals and papers. It was alarming to see this change and sudden love for the Chinese and exclusion of India material due to an internal conflict where India had played a positive role. The researcher was also to research some material on my student's research which he was able to get. Even after visiting the libraries in the University and the Museum nothing could be traced about Shivnabh or Guru Nanak. Even visiting Kotte did not bring any proof of Guru Nanak's visit
The lack of material on Guru Nanak was probably due to wanton destruction by the Dutch/Portuguese of religious places of other religions to erect churches and to the long conflict in Sri Lanka. Not only the Sri Lankan Tamils had to bear the brunt but also the history and literature of the period suffered which turned out to be one sided.
Since the researcher was to meet Dr Bajwa who was to return from India that day, he contacted Dr. Chawla to know the where abouts. Dr Chawla mentioned of Dr Bajwa's return having postponed and invited me for the dinner. In the evening while at Dr. Chawla's house the researcher was briefed about Guru Nanak Sewa trust which was planning to construct one Gurdwara at Kurkalmadam and another at Colombo for the Sikh visitors from India. They were facing financial problems but doing their best to complete these two projects within next 3-4years. The researcher gave the details of his experiences in Sri Lanka, he was quite enthusiastic about it. He asked me write the material about Guru Nanak's visit to Sri Lanka which he was eager to print and distribute among the visitors.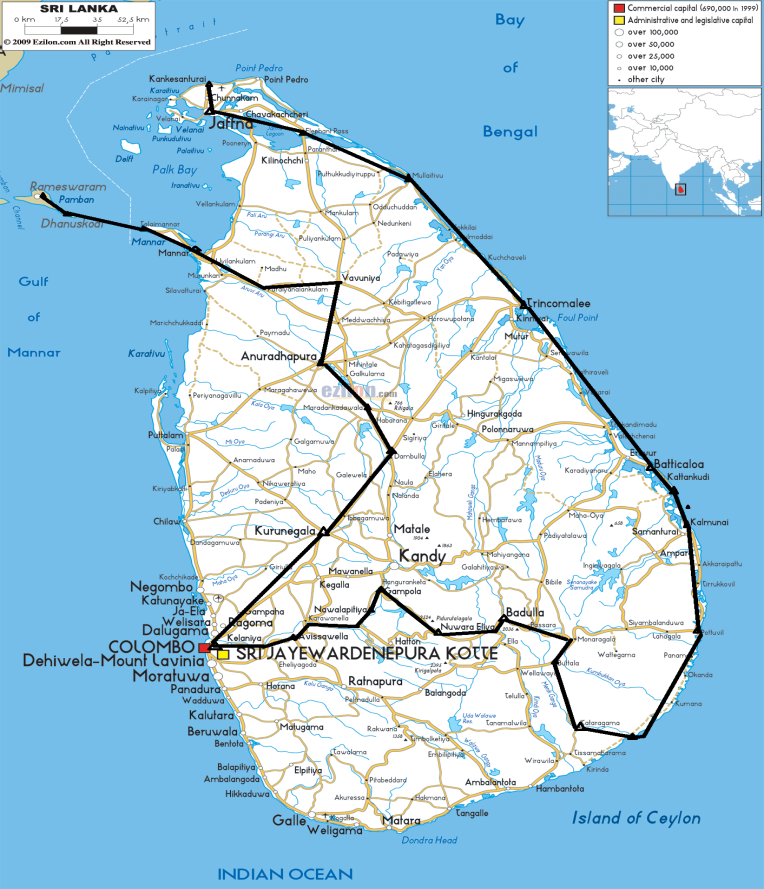 From the available evidence the researcher could only say that the route of the visit of Guru Nanak to Sri Lanka was Jaffna, Trincomalee, Batticaloa Kurukalmadam, Katargama, Badulla, Nuwara Eliya, Adm's Peak, Sitwaka, Kotte, Anuradhapuram and Manar before returning to India. The map of this route is given above. Guru Nanak visited Sri Lanka in 1511-1512, stayed at Kurukalmadam, held discussions with the king who accepted to become his follower; dhrmasals existed at Batticoloa, Katargama, Sitwaka and Kotte which became casualty to the turmoil during Dutch and Tamil Elam conflict. During the visit of the researcher to Kotte, he did not find any dharamsal connected to Guru Nanak's visit. It probably got lost in the rubbles of time as has happened to other monuments relating to Guru Nanak, Sri Ram, Sitaji, Hanuman and Ravan in Sri Lanka. New Gurdwaras are being constructed to revive the history.
---------------------------------
Related Articles:

http://www.sikhnet.com/news/footprints-guru-nanaks-travels-sri-lanka-part-i-iv
http://www.sikhnet.com/news/footprints-guru-nanaks-travels-sri-lanka-part-ii-iv
http://www.sikhnet.com/news/footprints-guru-nanaks-travels-sri-lanka-part-iii-iv
http://www.sikhnet.com/news/footprints-guru-nanak-visiting-brahmkund-arunachal-pradesh