Fishers - Gurinder Singh recently announced plans to run for City Council of Fishers by officially filling on Wednesday, February 6th.
"An interest in public policy based on my past experiences along with the desire to give back to my community are among the prevailing factors as to my decision to run for office," Singh said. "The community of Fishers has been a wonderful place to live, work, and raise our family. I want to be a part of giving back through public service."
Singh, a resident of the Fishers community for over a decade, is a prominent business leader, entrepreneur, and philanthropist who has worked with public service leaders and organizations across the state and nation.
Asked why he decided now was the time to run for council, Singh responded, "I have met many trailblazers who have made a difference in the lives of others through their work in public service. My experience in business operations and the ability to bring a new voice to the table as we strive for forward-thinking visions and goals for the community will be an asset for Fishers."
Singh desires to invest in the very community that provided him with the same opportunities which have contributed to his success as a community leader. "I desire to invest my time in Fishers - working towards collaborating with others as we address the fast-paced growth of our community and inspiring others to get involved with the community, as well," Singh continued.
Singh, along with his wife, Gagan, of 18 wonderful years have raised their two children, Vishu and Ajay, here in Fishers since 2009. Singh is the president and CEO of SikhsMEDIA as well as a member of several boards and commissions within the city and state.
"My values center on the growth of our community and the voice of our community," Singh reiterated. "I value Fishers and look forward to the opportunity to put Fishers first."
For more information or interview opportunities, contact:
[email protected]
(317) 922-6865
8500 E116th Street, #210, Fishers, Indiana 46038
SinghForCouncil.com
 
Gurinder Singh ~ Bio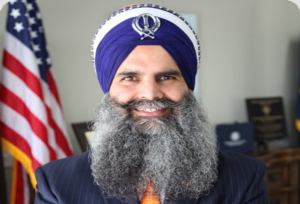 Gurinder Singh is the founder and current chairman of SikhsPAC and SikhsMEDIA. He is a successful entrepreneur, philanthropist, and a vocal leader at the state and national level. Gurinder Singh continues to give back to the community by serving as a board member or director of numerous organizations and institutions. He is also extensively involved in raising awareness of diversity, inclusion, and educational charities. Gurinder Singh holds a bachelor's degree in Economics and Geography from the University of Punjab, India.
.....more