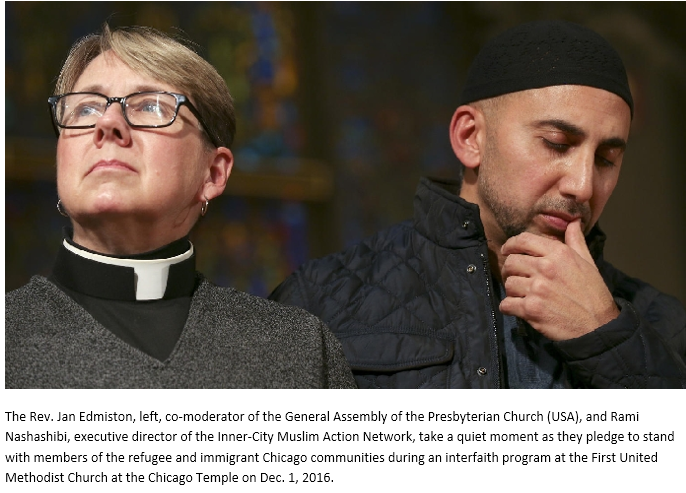 aith leaders from different religions and backgrounds stood arm-in-arm Thursday evening inside a Loop church to pledge their support for Chicagoland's unauthorized immigrant community and to denounce what they say is "divisive anti-immigrant rhetoric" stemming from the 2016 presidential campaign.
December 1, 2016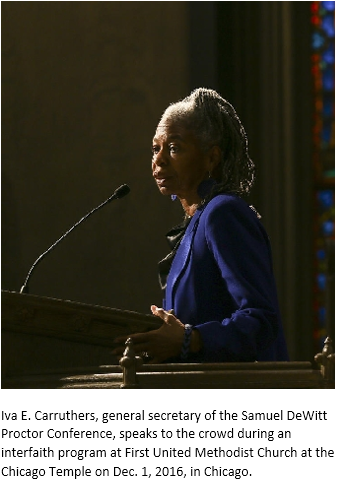 About 40 leaders addressed a packed audience during the candlelit interfaith gathering at First United Methodist Church of Chicago on Clark and Washington Streets.
Christian, Jewish, Muslim, and Sikh faith leaders stood together to pray, sing and preach messages of love and solidarity for unauthorized immigrants who say they face uncertainty in the wake of president-elect Donald Trump's victory.
Trump vowed during his campaign to block federal funding to sanctuary cities like Chicago, ramp up deportations, increase prison sentences for those who re-enter the country and build a wall along the Mexican border.
One of the speakers Erendira Rendon, director of partnerships at the Resurrection Project in Chicago, said the event was organized to show the community that religious leaders will always stand with immigrants regardless of which administration is in power.
A recipient of President Barack Obama's Deferred Action for Childhood Arrivals (DACA) program, Rendon said it was "beautiful" to see people pledge to stand with her and the greater unauthorized immigrant community.
DACA offers some legal protection to about 742,000 people who were brought to the U.S. as children and stayed here illegally and some who found relief through it now fear Trump will rescind the executive order that created DACA. Faith leaders gather for immigrant community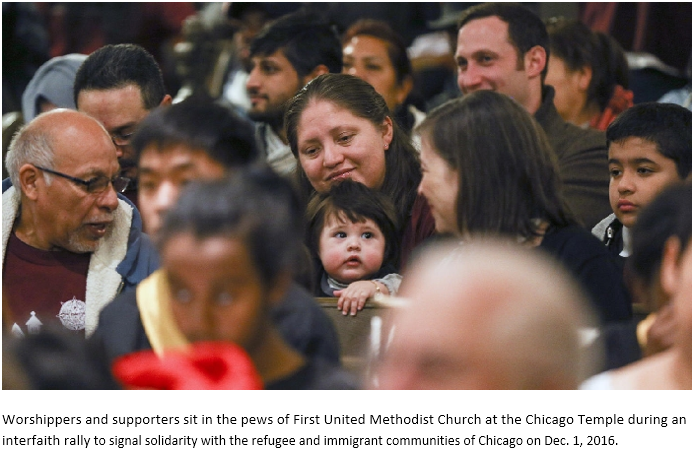 "In order for me to continue organizing undocumented folks, I also need to go through a process of healing," she said. "So this is for me, a process to go through with our faith leaders."
Near the end of the vigil, Father Brendan Curran of the Dominican University invited all faith leaders to join him onstage and lock arms while chanting: "We are protected by faith."
Curran, speaking in both English and Spanish, said he is committed to ensuring Illinois is a safe and welcoming place for all people.
"We commit to providing protection and safe space for immigrants, Muslims and all peoples,'' Curran said. "We pledge to stand with you, always," he said. Copyright © 2016, Chicago Tribune
Post script: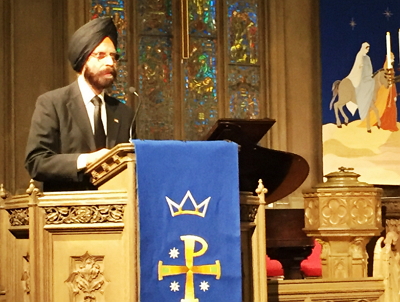 Rajinder Singh Mago represented the Sikh Religious Society based in Palatine Illinois, a suburb of Chicago.
Reflecting on the message of Guru Nanak, the founder of Sikh faith, Rajinder Singh Mago said,"Let our actions be guided by seeing the Divine in all of humanity, irrespective of what they look like from the outside, how they dress-up, how they speak, where they come from, and how they worship," and let us pledge to practice: "Tere Bhanne Sarbat Da Bhala - which means that O' God, by Thy Will and Blessings let there be wellness and prosperity for all beings," Mago added while addressing the audience.