Washington: March 14 - Washington based environmental organization EcoSikh has announced the plantation of 400 forests in India and other parts of the world. This announcement was made as part of the celebration of the Sikh Environment Day (SED) on March 14. On this occasion, EcoSikh planted a forest of 1150 trees in Ireland and of 500 trees in Derbyshire, UK. In addition, a forest of 250 trees was planted in Surrey, Canada.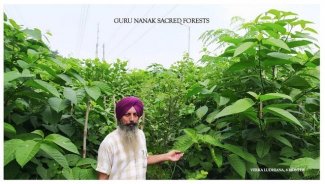 These forests of are called 'Guru Nanak Sacred Forests' named after the founder of the Sikh faith and this campaign started in 2019 when Sikhs celebrated his 550th birth-anniversary. A report of last 36 months giving details of all the locations and kinds of trees planted in these forests has been released internationally. 
Dr. Rajwant Singh (USA), EcoSikh Founder and Global President stated, "The Sacred Forest project has become a community based initiative and many hundreds have joined this massive grass roots campaign. This certainly a solid step to mitigate the effects of climate change. It is so exciting to report 400 surviving and thriving forests. We are thrilled that we have completed a milestone on this auspicious occasion."
He added, "Today our forests are greening the barren land and provide habitat to several varieties of native birds and pollinators."
Every year hundreds of Sikh institutions and Gurdwaras all across the world celebrate SED by taking step to reduce carbon footprints and to save water and energy. EcoSikh released tool kit for the community to take action on SED which includes organic langar, nature walk, switching to LED bulbs and solar panels.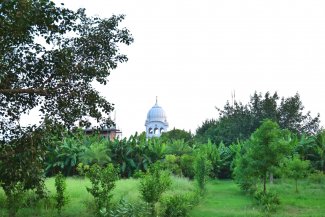 Since 2019, EcoSikh has planted forests in many states across in India which includes, Punjab, Haryana, Rajasthan, Delhi, Maharashtra, Gujarat and in Jammu. Each forests has 550 trees of native species.  This movement has gone global in recent weeks. These forests are planted following the Japanese Miyawaki methodology and 95% of trees planted are surviving and thriving. These self-sustaining forests planted densely are geo-tagged and are visible on Google maps all across Punjab and elsewhere. 
Pavneet Singh, Head of Operations in India, said "EcoSikh has conserved 60+ native and rare plant species of Punjab and others area in India and the demand is growing to create more more forests."
He added, "The good news is that many of the birds and other diverse life forms enriching the soil and surrounding areas are returning to these rich green patches." 
"As a not-for-profit, EcoSikh has been trying to make forest creation affordable for all. We have opened a new segment of Industrial forests under Corporate Social Responsibility (CSR), wherein the big production and corporate houses can reduce their carbon footprint hugely with affordable price and minimum land investment." Added Ms. Supreet Kaur, EcoSikh India President. 
Charan Singh, Convener of Sacred Forests project said, "The strategy to fight climate change should not only be focused on emissions reduction, we need to remove carbon from the atmosphere. Sacred Forests are carbon sinks and will help us stay below 1.5 degree by reducing the temperature in those areas. EcoSikh is ready to work with many faith communities to spread this movement."
Ravneet Singh, EcoSikh's Global Project Manager, said, "There is a huge grass roots response from the community all across Canada and EcoSikh Canada is inundated by requests from Gurdwaras and youth groups to participate in environmental work. Waterloo community organized a major green program with children and youth on SED."
EcoSikh has built its own plant nursery at Sajjan Precision Castings, Sahnewal, Punjab, India, and it has over 25 trained forest makers who travel all across India for projects. 
Afforestt Director, Shubhendu Sharma and EcoSikh team has also launched forest-making video tutorial to educate masses in Punjabi, Hindi and English, all available on YouTube free of cost. These tutorials are helpful to anyone to get started in forest making. 
EcoSikh was founded in 2009 in collaboration with United Nations Development Program. Recently EcoSikh was invited by the White House, United Nations and the World Economic Forum.