Discussion with Dr. Kamalroop Singh at UC Davis
Vaheguru Ji Ka Khalsa Vaheguru Ji Fateh
On October 27th, Daas had the great fortune of meeting Dr. Kamalroop Singh Ji at University of California Davis.
As we walked into the lecture hall, we had expected that as most parcharks of our panth, Dr Sahib Ji would also show up late; but this was not the case at all. Upon entering in the room, Dr. Sahib Ji was seated and waiting for sangat and eager to start the discussion with our sangat.
Dr. Kamalroop Singh Ji did not shy at all from topics that need to be discussed in a college setting. Often these topics are considered "taboo" and many parcharks decide to ignore them. But Dr. Sahib did no such thing. Dr. Sahib opened up a dialogue amongst our sangat that allowed for solutions to be found against the social pressures felt in a college setting.
One of these solutions to help conquer our mind was the power of simiran. As our mind wanders, it is often full of negative thoughts. And as our mind wanders and these negative thoughts grow, these negative thoughts become reality. What seemed to be an endless cycle that most college students see as an unstoppable beast inside the mind, Dr. Kamalroop Singh Ji discussed methods of controlling the beast.
Such had lead of us to our discussion of the power of naam simiran.
After discussing with sangat the power of naam simiran, Dr. Sahib ji said 'but talk is talk.'
He then told everyone that we shall do naam simiran now. It was something unexpected. We often discuss the power of naam or we read the importance of simiran in gurbani, but how many of us do simiran on a daily bases. A different Aura developed in the room.
After the event was over a few members of sangat and daas discussed what we thought about the event.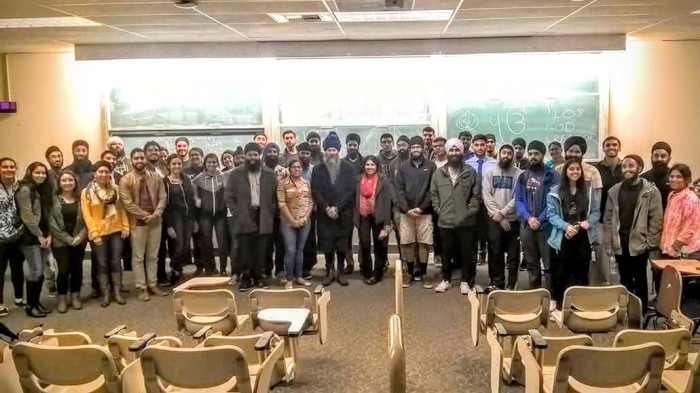 As Sikh in college we find a lot of day to day challenges in our Sikhi and we cling on to moments that inspire us and help us stay focused upon the path of Sikhi. Dr.Kamalroop Singh Ji had done a magnificent job of inspiring us.
Dr.Sahib Ji, brought with him not only gian but a practical sense of Sikhi. Rather than discussing numerous past events or debatable topics, we discussed methods to improve our own well-being today.
The most important thing that Dr.Kamalroop Singh Ji's presentation left us with was the desire to grow. To grow as humanitarians and have desire to progress in our own lives towards the path of Sikhi.
With Guru Sahib's Grace
Mohanvir Singh