Dhan Guru Nanak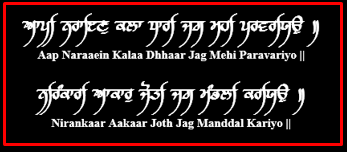 ("The Lord wielded His Power And Entered The World;
The Formless Lord Took Form And With His Light
He Illuminated The Realms Of The World")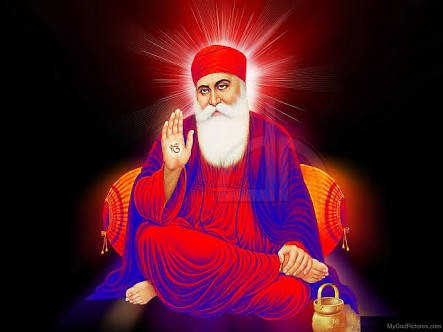 Guru Nanak Dev Is The First Guru Of The 'Sikhs', The Founder Of Sikh Religion Also Known As 'Gur-purshotam Avtar Of Kalyuga'. "Suni Ardas Datar Prabh, Gur Nanak Jag Mahay Pathaya" (Almighty Lord Listened To The Prayers And Send Guru Nanak To This World). Guru Nanak Dev Ji Was Born In 1469 At Tawandi Village. Now This Place Is Known As "Nankana Sahib" ( Now In Pakistan). Guru Ji's Mother was Mata Tripta Ji, Father Was Kalyan Das Mehta Also Known As Mehta Kalu And Elder Sister Was Bebe Nanki Ji. Guru Ji Travelled A lot Teaching The Message Of Oneness And Humanity. Although Each Word Of Guru Is His Own Soul But There Are Three Basic Principles Given By Guru Nanak Dev Ji :-

1. Naam Japo( Chant/Meditate On God's Name)
2. Kirat Karo( Earn By Honest Means)
3. Vandh Ke Chako( Share What You Earn)
 Life In Brief
Guru Nanak Dev Ji Was 5 Years Younger Than His Sister. His Father Was Patwari( Accountant) In The Village Of Talwandi. Guru Ji Was A Little Child When They Amazed Their Parents By Translating The Meaning Of Vedas. There Are So Many Miracles of Guru Ji's Life. At The Age Of 7 Guru Ji's Father Enrolled Guru Ji To The Village School, There They Asked His Teacher The Meaning Of 'One' But When He Failed To Answer, Guru Ji Enlightened Him With Divine Wisdom And Teached Him The Real Meaning Of One I.e Waheguru, The Supreme Energy Around Us.
Rai Bular Who Was Chief Of Talwandi Village And Devotee Of Child Nanak One Day Noticed That The Child Nanak Was Sleeping In Farm While His head was shaded from the harsh sunlight By Venomous Cobra. He Was The Second Devotee Of Guru Nanak Ji After Babe Nanki Ji Who Recognized Guru Nanak Dev Ji As "God On Earth" In Childhood.
Guru Ji's Father was curious About Guru Ji Because He Was Getting Older So They Gave Him Rs 20 And Said Go And Do Some Good Business With It. On Their Way To The City Guru Ji And Their Friend Bala Ji Saw Some Sadhus Were Sitting And They Were Very Hungry, Child Nanak Thought I Couldn't Find Better Deal Than This, So Guru Ji( A Compassionate Soul) Brought Food From Rs 20 And Feed Those Sadhus And Came Back Home Empty Hands, By Which Guru Ji's Father Became So Angry And Slapped On His Face. After Some Time Guru Nanak Dev Ji Moved To Her Sister's Place Where He Worked In Modi Khana For Several Years, Sometimes Guru Ji Got Stucked And Goes Into Deep Samadhi While Counting/Weighing Things In The Shop, 1,2,3......11,12,13,13,13...Tera Tera Tera. Sab Kich Tera(Every Thing Belongs To You) Because There Is Only Wall Between God And Us Is Ego. I/Me And You(Mera Aur Tera) Both Cannot Stay Together.
One Day Guru Ji Suddenly Disappeared In The Ravi River And Came Out Of It After 3 Days And Uttered Words Called Mool Mantra ( In Picture Below).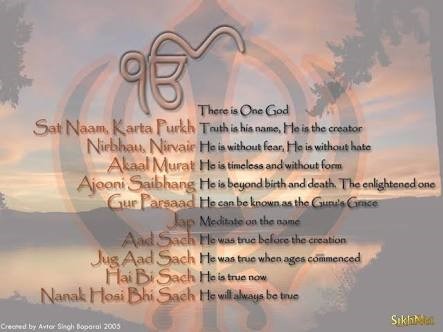 "Mool Mantra" Meaning Is Basic Teachings And It Is Found In Beginning Section Of Shri Guru Granth Sahib Ji.


Guru Nanak Dev Ji Got Married At The Age Of 17 With Mata Sulakhni Ji And Had Two Children Baba Lakshmi Chand And Baba Shri Chand. Baba Shri Chand Later Established Udasi Sect And Did Parchar Of Guru Nanak Dev Ji's Panth/Teachings. And After Preaching/Teaching/Enlightening/Emancipating The Whole World Guru Ji Merged Back With Divine Light In Year 1539.
  Talk With Sidhas Of Sumer Parbat
Guru Ji Travelled A lot. He Went To Mecca, Sri Lanka, Tibat, Chine, Russia, Europe, Mecca, Italy. He Is The Most Traveled Holy Person. Guru Ji Went To Sumer Parbat(Suber Mountain) To Teach Sidhas Who Renounced Everything And Became Monks. Their Ages Were 20-30 Times Than Of Guru Nanak Dev Ji. By Practicing "prana-Yam" They Stopped Their Breath And Some Sidhas/Yogis Were Like 1500 To 2000 Years Old. They Had Got All Spiritual Powers Like Ridhi/Sidhi. They Tried To Test Guru Ji By Flying High In The Sky, By Burning Them self In Fire, By Converting Whole River Into Dimonds And Rubies And In Many Ways They Tested Guru Ji. There Is Bani In Guru Granth Sahib Ji Named "Sidh Ghost" In Which Sidhas Are Asking Questions And Guru Ji Is Giving Answers To Them. And In This Bani One Of The Sidh Asked Guru Ji That Who Is Your Guru?. And This Is Lesson For Those who Still Thinks That Human Body/Flesh Is "Guru". Guru Ji Answered The Question, Who Is Your Guru?-:
"Pavan Aarambh Satgur Mat Wela;
Shabad Guru Surt Dhun Chela"
(From The Air Came The Beginning, This Is The Age Of True Guru's Teachings;
The Shabad Is The Guru, Upon Whom I Lovingly Focus My Consciousness, My Intellect Is Chela, The Disciple").
If God Is Sun, Then The Guru Is Its Rays. To Reach The Sun One Has To Listen to Shabad Deeply. Upanishadic rishis In Hinduism Also Says "Dharam Is Achieved By Listening". When We Say Some Mantra And Listens To It Deeply With Devotion, We Connect.
Guru Nanak Dev Ji Answered Each And Every Question Asked By Sidhas And Told Sidhas That You Renounced The World And Became Monks, Now Who Will Emancipate And save The Whole World. 84 Sidhas Got So Pleased With Guru Ji That They Humbly Fell At Their Feet, Bowed To Them And Said These Kind Words:-
"Sidh Bolan Subh Bachan, Dhan Nanak Teri Wadi Kamaii"
("Sidhas Says Humble Words, Dhan Nanak, You Glorious Glory Is Undescribeable")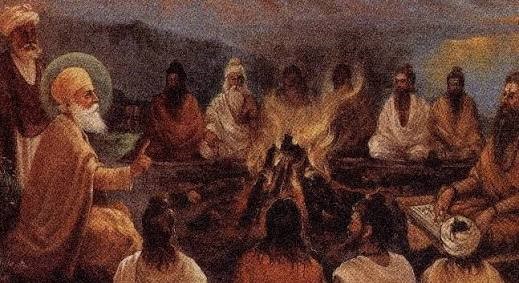 Guru Nanak With Sidhas Of Sumer-Parbat
Whereever Guru Ji Travelled They Teached Everyone To Be Good Person, Abandon Sinful Acts And Most Importantly Meditate On Gods Name. Once A Muslim Qazi Asked Guru Ji That You Say Every Religion Is Equal, They Why Don't You Come With Us And Do Navaz(Prayer) And They Took Guru Ji To Mosque. And They Started Doing Their Prayers But Guru Ji Didn't Take Part In Their Ritual. Later They Stand Up Said You Said You Will Pray With Us But You Lied. Guru Ji(The Searcher Of Inner-Self) Said Off course I Promised That I Will Pray But You Both Were Not Praying, One Was Selling Hourses And Another Guy Thinking Of Newly Born Calf Said Guru Ji. Your Consciousness/Mind Wasn't Present In The Prayer, So Tell Me With Whom I Pray, If You Pray Your Mind Should Be Present In That Moment Only But You Both Were Absent. This Way Guru Ji Enlightened Them.
Hindus And Muslims Both Asked Guru Ji That Whose Religion Is Superior, Guru Ji Said, Both Are Going To Be Suffer World After Because Without Good Deeds/Actions Both Will Cry. Guru Ji Said We All Are Equal, No Religion Is Big Or Small. We All Have Same Divine Light Inside Us. Guru Ji Always Condemned Empty Rituals And Gave Emphasis On Righteous Living, Respecting Women, Praising God, Respecting Elders, Humbleness, Sweetness.
As Guru Granth Sahib's Bani Says There Were Avatars For Different Yugs, Guru Nanak Dev Ji Is Avtar Of The Dark Age Of "Kalyuga".
"Satjug Teh Maneyo Chaleyo Bal Bavan Bhayo;
(In The Golden Age Of Sat-Yuga, you Were Pleased To Deceive Bal The King, In The Form Of Dwarf).

"Thetay Teh Maneyo Raam Raghubans Kahayeo";
( In The Silver Age Of Treta Yuga, You Were Called Ram Of Raghu Dynasty)

"Duapar Krisan Murar kans Kritarath Kiyo";
( In The Brass Age Of Dwapar Yuga, You Were Krishna, You Killed The Mur Demon And Saved Kans)

"Ugarsen Ko Raj, Abhay Bhagteh Jan Diyo";
(You Blessed Ugrasen With The Kingdom And You Blessed your Humble Devotees With Fearlessness)

"Kaljug Parman Nanak Gur Angad Amar Kahayo,
(In The Iron Age, The Dark Age Of Kali-yuga, You Were Known And Accepted As Guru Nanak, Guru Angad, Guru Amar Das)

"Shree Guru Raj Abhichal Atal Aad Purakh Furmayo"
(The Sovereign Rule Of The Great Guru Is Unchanging And Permanent, According The Command Of Primal Lord God)

Bless Me,
Jasmeet Singh
Editor's Note: This article was originally published on Nov. 15th 2016