This is perhaps the most prominent featuring of Sikhs from a popular Main Stream Media show in America to date. The Daily show with Trevor Noah last night aired a segment called "Confused Islamophobes Target American Sikhs". 
The feature has a humorous interview with Waris Ahluwalia, shows some of the lack of awareness in the American population as to who Sikhs are and briefly educates the audience on Sikh history and values. The segment emphasizes how Sikhs have stood strong with American and Sikh egalitarian values by not turning racial discrimination away from themselves and deflecting it towards Muslims. Daily Show correspondent asks a panel of Sikhs, "Why don't you just go, 'Hey! I'm not Muslim!'?" To which Simran Jeet responds, "It's just not an option for us to throw another community under the bus, even if it means things are harder for us, we believe it's the right thing to do." "We need to be better than that as Americans and that's what our Sikh values teach as well." added Narinder Singh. 
The audience applauded this.  
That applause is no small thing. Two decades ago it would have been difficult to imagine America cheering for Sikhs and Sikh values on a major TV program like The Daily Show.  
See the whole segment below:  
Thank you The Daily Show! And many thanks and congratulations to the Sikh Coalition and Waris Ahluwalia for all their work in showing America what Sikhs are all about!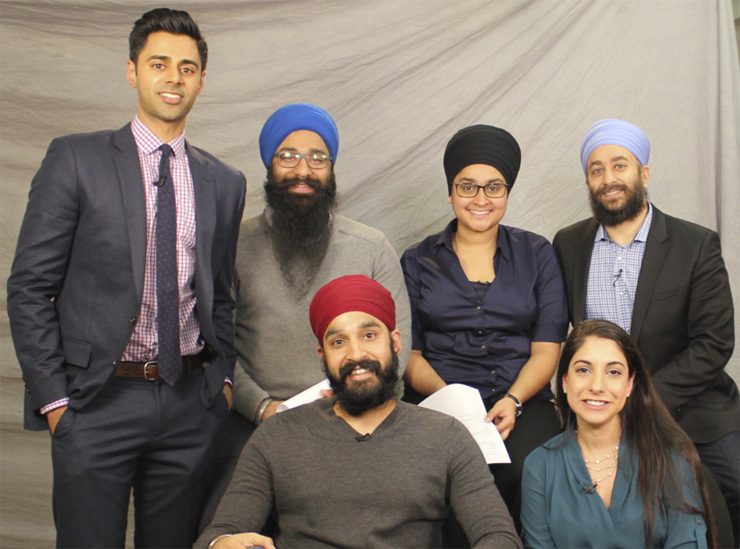 Top from Left to right: Hasan Minhaj, Sunmit Singh, Prabhujot Kaur (Junior Sikh Coalition Member), Narinder Singh (Sikh Coalition Board Member). Bottom: Simran Jeet (Sikh Coalition Senior Religious Fellow), Dilpreet Rai.