Boulder, Colo. – Colorado's first Sikh Student Association (SSA) hosted a Langar for the first time in Colorado on a college campus this past week in Boulder. Over 450 people attended the event and were a part of this historic moment for Colorado and for Sikhs. Reflecting the values of a traditional langar, all faiths and races were invited to sit together on the floor to share a simple, vegetarian meal in the Glenn Miller Ballroom of the University Memorial Center.
Langar is a 500 year-old anti­-segregation movement that reflects a core tenet of the Sikh faith—equality amongst all, regardless of background, education, gender, or race. Langar was formally institutionalized by Mata Khivi Ji in the 1500s. Through her efforts to consistently serve Langar to all in need of it, Mata Khivi Ji set precedence for Langar as an embodiment of humanitarian service and self ­sacrifice. She continued a revolution begun by Sikhism's founder, Guru Nanak, to fight against oppressive traditions embedded in society.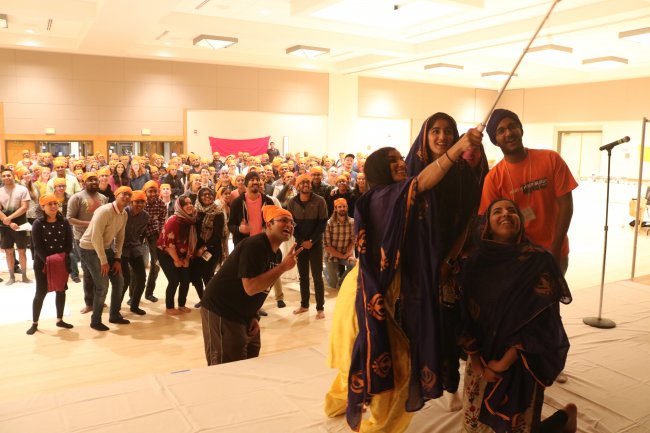 SSA Presidents Serene Singh and Dhwani Khatter explain, "We started off with just a few students, but now it feels like we have all of Colorado with us. We cannot wait for Sikh Week next semester."Singh states,
"Langar is an opportunity for the Colorado Sikh community to introduce professors, friends and neighbors to the Sikh way of life. It's also a way to remember the contributions Sikhs have made over our 130-year history in this nation. Sikh Americans represent the best of America and exemplify values like hard work, selfless service and ensuring the welfare of all."
Colonel Gurbhajan Singh was publicly recognized and celebrated at the event for being the very first turbaned Sikh man in the United States Army.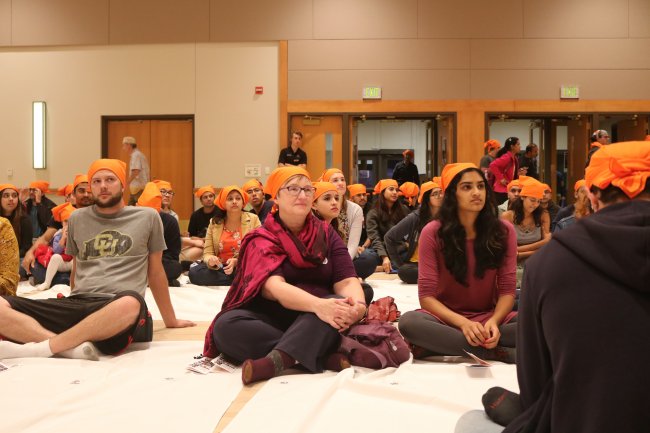 The event included kirtan performed by Simran Kaur Khalsa, a local Coloradan and turbaned Sikh woman. In addition to kirtan, CU's Langar featured gatka (Sikh martial arts) performance by Boulder Sikh resident Guru Raj Singh Khalsa, a turban-tying station for students to have a turban tied on them, and an education station for students to learn more about the Sikh faith, headed by Nitu Singh, an executive for Colorado Sikhs.
All attendees had a traditional Sikh experience at Langar, including a recitation of Ardaas, a Sikh prayer performed before serving food, and Sohaila, an evening prayer. Attendees were offered prasad, or sweets, and bandanas that were personalized with their names written in Gurmukhi.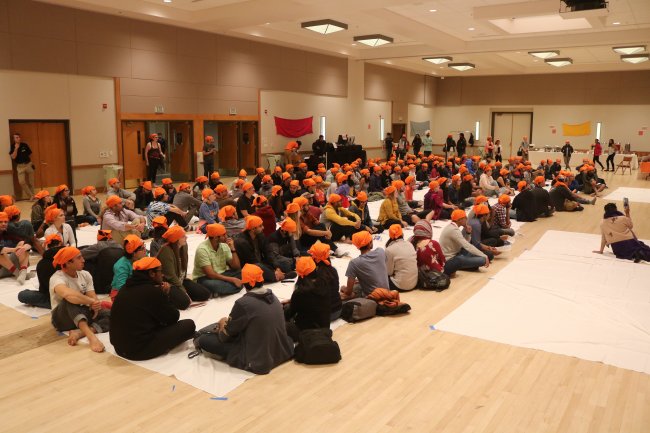 Naureen Singh, Co-Founder of the Sikh Student Association states, "It is an honor to share this tradition, which started as a revolution against oppressive traditions, with those who care so much about education and our future as Americans."
To learn more about Colorado's Sikh Student Association and how you can support future events, please email [email protected].