Congressional Sikh Caucus writes to Sec. Mike Pompeo for the safety of Afghan Sikhs
In light of the recent terrorist attacks in Afghanistan against the Sikhs and the dire situation they are currently in, UNITED SIKHS has been actively partnering in the campaign to protect the minorities in Afghanistan  with the American Sikh Caucus to move the issue of their safety and their migration to the forefront. Harpreet Singh Sandhu, Executive Director of the American Sikh Caucus Committee said that "UNITED SIKHS was the first human rights organization to reach out after the March 25th incident and we immediately swung into action to reach out to the members of the Congressional Sikh Caucus."  More congressional members are to follow and become co-signatories to the said letter. UNITED SIKHS has been the only Sikh organization with boots on the ground in Afghanistan since the terrorist attacks against the Kabul Gurdwara.  Our robust network and experience on the ground in such situations has allowed us to provide accurate information and a more comprehensive understanding to our lawmakers.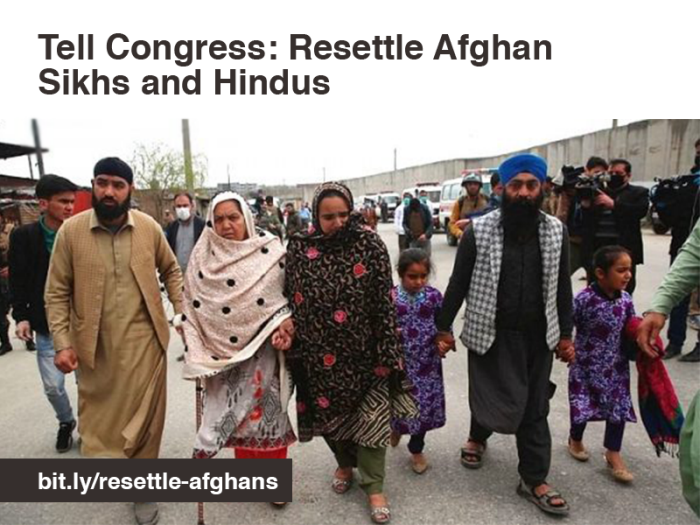 Through these efforts, 26 US members of Congress have signed a letter on May 4th, 2020, urging Secretary of State, Mike Pompeo, to take steps to ensure "safe and expeditious relocations of Sikhs and Hindus trapped in war-torn Afghanistan". Congressman John Garamendi, who is the co-chair of the American Sikh Caucus along with 25 members of Congress accurately described how minority communities are under an imminent threat from IS terrorists in Afghanistan.
The letter highlights the launching of the International Religious Freedom Alliance (IRF Alliance) by Sec. Pompeo earlier this year with the objective of fighting for international religious freedom for every human being. The Caucus appeals that "this is the time to demonstrate the administration's commitment to that principle by leading this alliance in coordinated, multilateral action to protect an endangered religious community". 
The letter also calls for including the vulnerable Afghan Sikhs and Hindus in the U.S. Refugee Admissions Program (USRAP) through Priority I embassy referrals allowing the Sikhs and Hindus to be safely relocated in the country by "this fiscal year". This program is a collaborative effort among different agencies and departments of the federal government and UNITED SIKHS is actively engaging with those departments for this to come into fruition.   
UNITED SIKHS Executive Director Jagdeep Singh said, "humanitarian crises such as the one recently endured by Afghan Sikhs should not be mistaken as someone else's problem. Left unchecked in any country, these types of massacres manifest themselves in other parts of the world".
We are thankful that  Members of Congress have flagged this matter to the current administration as it is a matter of life and death for Afghan Sikhs and Hindus. But the fight does not stop here, UNITED SIKHS will continue to provide immediate relief, assistance and advocate for minorities suffering in  Afghanistan and keep the global community updated.  
Pavan Kaur
Managing Staff Attorney - Washington, D.C.
UNITED SIKHS
(202) 810-97-65
www.unitedsikhs.org
Recognize The Human Race As One