Chicago: More than 30 members of the Sikh Religious Society, Palatine Illinois, a suburb of Chicago, helped feed the needy on Christmas Day December 25, 2018 at Salvation Army located at 825 North Christiana Ave in Chicago, Illinois, USA. The local Sikh community group from Chicagoland has been doing this "Langar Seva" (food service) at Salvation Army since 1992.
Hot meals (turkey, chicken, mashed potatoes, beans, stuffing, bread rolls, sweet potatoes and apple pie) for over 600 people, donated by the Sikh community were prepared at the Salvation Army kitchen. Sikh men donning their turbans, women and youth served the meals to the needy guests with great respect and kindness.
Sikh Community youth volunteers handed out cookies, bagels, cakes to the families after the meal at the exit door. Children were also given free toys donated by other charities. Volunteers from other faiths were also present there to serve.
"It gives us a great pleasure to serve the traditional meal on Christmas day to the underprivileged needy families, or homeless people longing to celebrate the joy of Christmas with dignity like anyone else," said Sarwan Singh Raju the Sikh coordinator.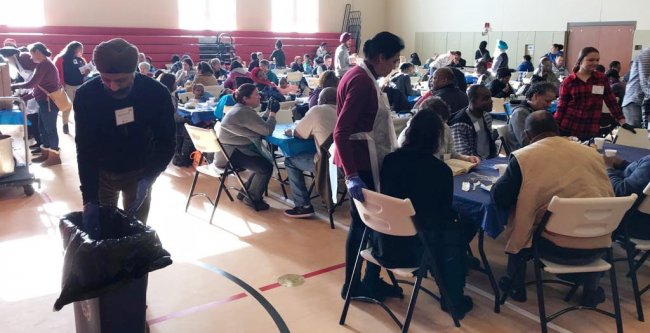 The tradition of Langar (free food) was started in the late fifteenth century by Guru Nanak, the founder of Sikh faith. Sharing (Wand Chhaknaa) is one of the "Three Golden Rules" of Sikhism.
The Sikh scripture Guru Granth Sahib teaches that:
"Aap gavaaye sevaa kare taa kichh paaye mann"     _ _ _ GGSJ Pg. 474

Selfless service develops a sense of humility. Surrendering one's ego brings respect in spiritual realm."

 "Nanak agai so milai je khate ghaale deye" . . . . .  . . .  GGSJ Pg. 472

 "Charity given out of earnings by honest means and hard work brings you rewards in the future, says Guru Nanak."
SurinderPal Singh Kalra a Senior Member of Sikh Religious Society collected donations from the members of Sikh Religious Society amounting to $1101.00 and handed over to Major Nancy Powers at the Salvation Army.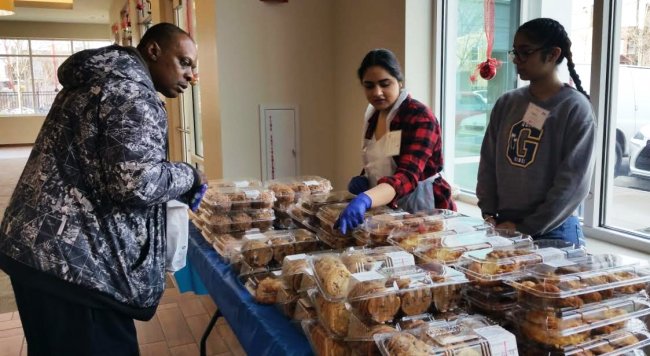 Major Powers thanked the Sikhs for their service and contributions, and expressed her desire to maintain cordial relationship with the Sikh Gurdwara Sahib in Palatine. She has visited the gurdwara several times and fondly remembers the love and respect shown to her by the Sikh community.
Amardeep Singh Chawla and Gurpreet Singh donated two van loads of food grocery items like bagels, breads, cookies, cakes, and canned foods etc. for the pantry to be used as needed. Amardeep Singh Chawla and his family had donated the same amount of food on Thanksgiving Day as well. Major Nancy Power especially thanked the families for their continued generosity, and said that many needy families do come to receive food from the pantry at this location.
Salvation Army provides drug de-addiction services at their new beautiful location and prepares the homeless for regular jobs and ultimately home ownership. They are located at 825 Christiana Ave in Chicago, Illinois, USA.