CHICAGO: The Punjabi Cultural Society of Chicago (PCS) (www.PCSChicago.org) participated in the 87th Chicago Thanksgiving Day Parade held on November 25, 2021, on State Street in the heart of downtown. Chicagoans were excited that the Thanksgiving parade was truly happening after last year's cancellation. People were glad to be back out and it all felt so normal following a pandemic that had put life on hold.
The parade featured hundreds of performers, marching bands, beloved mascots, balloons, equestrian performers, dancers, Teddy the Turkey and decorative floats, including that of Punjabi Cultural Society of Chicago.
The theme of the PCS float and its contingent was to "Thank the Farmers on this Thanksgiving Day" because they work so hard in the fields to grow food to feed the world. PCS participants worked the crowd and the spectators loved Punjabi Bhangra music blast and live Punjabi Dhol drum. Many clapped and screamed in ecstasy and danced Bhangra to enjoy the moment.
"PCS has been participating in this parade since 2005. It gives our community great exposure in the mainstream which is so important to create awareness about us. It also shows our commitment to celebrate the American festivals, in solidarity with our fellow Americans," said Parvinder Singh Nanua, the PCS president.
"With the pandemic still hovering around our heads, it was evident that the PCS team youth group worked meticulously to plan and execute PCS participation in this year's thanksgiving parade," said Rajinder Singh Mago.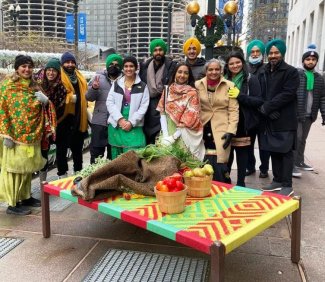 This parade is Chicago's longtime tradition, the premier holiday event, and the biggest parade in the City, one that takes a year to plan, and hundreds of people to help, thousands watch in person and millions see it on TV and Facebook live at home across the country.
The Parade canceled in 2020 made a remarkable return in 2021. Hundreds of performers, with decorated floats, and school marching bands, marched North from Ida B. Wells Street to Randolph Street, starting at 8 a.m. Groups representing myriad cultures found throughout the city showcased traditional colorful costumes, dance, music and togetherness. Then there was the man of the season himself, Santa Claus. Thousands of spectators standing on both sides of State Street in the holiday spirit cheered them on. It was a terrific turnout and even the weather held up for folks to enjoy.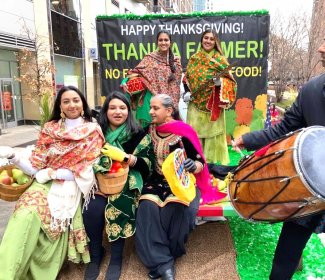 Everyone had their favorite moments at the parade of around 80 units. Marist High School's marching band kicked off the celebration. The Jesse White Tumblers did their amazing gymnastics performance. Star Wars storm troopers were out of this world. People put their fingers in their ears when a caravan of Chevrolet Corvettes passed by, revving their engines.
The parade was first launched in 1934 as the "Christmas Caravan," intended to cheer up city residents in the depths of the Great Depression and stimulate the economy. And the beloved tradition has carried on. It continues to raise spirits and has transformed into the large spectacle it is today.
PCS' Upcoming Events: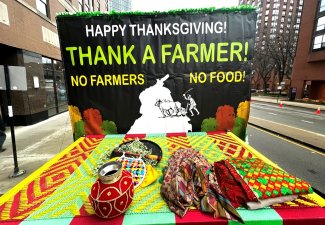 -        "Rangla Punjab 2022," Punjabi cultural variety program of music, songs, giddha and Bhangra dances to celebrate Vaisakhi festival slated on Saturday, April 16, 2022 at Hemmens Cultural Center, Elgin, Illinois. The venue is booked. Performance items coordinators and participants are requested to register their teams in December.
-        The 39th."Annual Asian American Coalition of Chicago Lunar New Year Dinner Banquet," is on Saturday, March 12, 2022 at Drury Lane Theater, Oakbrook Terrace, IL, hosted by the Malaysian American community of Chicago. PCS is an AACC partner, supporting and co-hosting AACC events. Dinner tickets are $100 each. PCS has reserved several tables for our community. Please save a date and book your tickets asap.
For more information please contact PCS.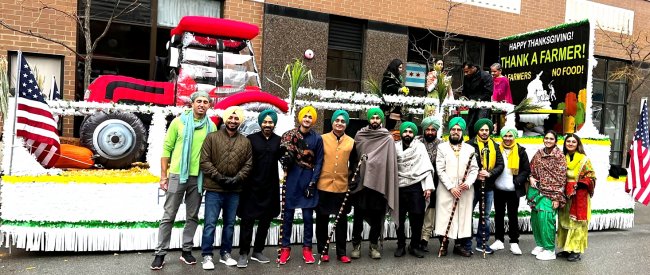 Punjabi Cultural Society of Chicago (PCS) is an all-volunteer nonprofit 501 (c)3 organization promoting education, good citizenship, community development, civic engagement, and preserving Punjabi culture, language, sports and performing arts among its community members and mainstream Americans in the Midwest and beyond. PCS caters to this need both by directly organizing events that bring community members together from all over the Midwest region, and by facilitating participation of its community members in mainstream activities.