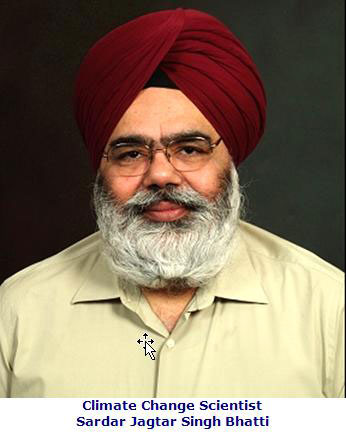 Ottawa, Canada (KP) - Respecting humanity and God's creation has always been a key message in the Sikh scripturesand one of the key responsibilities for Sikhs. Sardar Jagtar Singh Bhatti, an Amritdhari Sikh, has embodied this duty and his services have been duly recognized when he and his research team became the recipients of the coveted Nobel Peace prize for 2007 for their scientific study into global climate change. Sardar Jagtar Singh Bhatti, is a Carbon Cycling Modeling Scientist for the Canadian Forest Service.
 
Sardar Jagtar Singh was one of the scientists who took part in the Intergovernmental Panel on Climate Change (IPCC) Assessment Report.  Twenty-five scientists, including Sardar Jagtar Singh, were recently honored and recognized for their efforts on this 2007 report by Canada's Minister of Natural Resources, Mr. Gary Lunn, and Deputy Minister, Cassie Doyle.
 
The scientists worked with over 2400 expert reviewers and over 1200 authors from over 130 countries to produce the assessment report along with technical papers on a variety of climate change topics, including its effects and causes as well as projected future changes and impact.

The IPCC team shared the award with former United States Vice-President Al Gore, both were recognized by the Nobel Committee for "their efforts to build up and disseminate greater knowledge about man-made climate change, and lay the foundations for measures that are needed to counteract such change."
 
Panthic Weekly congratulates Sardar Jagtar Singh for this exemplary service to Humanity and Nature and for uplifting the image of the Sikh community on the global stage.