Baramulla or Varmul is known as the gate way of the Valley, was founded by Raja Bhimsina in 2306 BC and is located on the banks of river Jhelum. Forests and hills adorn its natural beauty. Varmul name is derived from the Sanskrit words VARAHA (Boar) and MULA (Place). Baramulla became an abode of Hindus, Muslims, Buddhists and Sikhs living in harmony from centuries and contributing to a rich composite culture. Famous Chinese traveller Hiuen Tsang, Moorcraft, Akbar,Guru Nanak Sahib, Emperor Jahangir, Saint Syed Janbaz Wali, Guru Hargobind Sahib, Guru Har Rai Sahib visited Baramulla. Baramulla comprises about 524 villages. There are some villages and Mohallas about 25 where Sikhs have resided since centuries. Gurdwara Chhevin (Chatti) Patshahi is the historic Gurdwara commemorating Guru Hargobind Sahib's visit. Gurudwara at  Kalimpura also associated with Guru Hargobind Sahib. According to new sources Guru Nanak Dev ji and Guru Har Rai Sahib also visited this site. 
GURDWARA CHHAVIEN PATSHAHI, BARAMULLA
 It is the fourth Gurdwara which commemorates Guru Hargobind's visit to Kashmir Valley. This Gurdwara is situated on the right bank of Jhelum River at the foot of rocky hill near Kot-Tirath and Varha Ganga (According to Brangish Rishi's book, Vitsatha Mohatam' the portion between Baramulla upto Khadnayar is known as Kot-Tirath). Gurdwara is 50 kms west of Srinagar.
Guru Ji rested for a long time here and preached the mission of Guru Nanak Sahib. Guru ji's graceful bearing and personality inspired the listeners profoundly. The famous stonecutters of Baramulla presented a beautifully designed Takht (stone cot) to King Jehangir. But King Jehangir presented Takht to Guru Hargobind Sahib, the owner of Akal Takht and the devotees took the blessings of the Guru. Guru ji stayed a few weeks in Baramulla and a number of
Devotees presented a Chinar sapling to Guru ji to plant it as a sign of their memory to this place. Guru ji planted the Chinar tree before proceeding towards Punjab via Uri. Later on, devotee Sikh of Guru ji, Bhai Daya Ram constructed a beautiful Tharra around the Takht on which Guru Sahib preached Guru Nanak's mission. After Bhai Daya Ram, Bhai Lal Chand and Bhai Jassa Singh performed the Sewa (service as active help to fellow beings occupy a Central place in the social ethics of Sikhs). Later on, Bhai Gurdial Singh performed the duties of Sewa and constructed a Kutia.
   Kashmir Governor S. Hari Singh Nalwa (1819-1821) came to this Gurdwara to offer prayers. He granted a Jagir of three villages namely Janbazpora, Nadihal and Vodhra to this gurdwara. S. Hari Singh Nalwa also brought S. Fateh Singh Bali to Varra Ganga, (Who was temporarily settled in Fatehgarh Sharri but actually belonged to Rawalpindi). S. Hari Singh Nalwa constructed a beautiful Gurdwara, near the Chinar tree. During the Sikh reign, this Gurdwara was known as 'Gurdwara Kot Tirath'. Maharaja Ranjit singh granted a Jagir of four villages and rupees three thousand per annum to this Gurdwara. Baron Charles Von Hugel, an illustrious Austrian traveller having a scientific bent of mind also visited this Gurdwara during the Maharaja Ranjit Singh reign. S. Gurdial Singh's handwritten copy of Guru Granth Sahib' is
still preserved in this Gurdwara. A number of sewadars later on performed the duties with devotional zeal.
During the time of Maharaja Partap Singh Dogra all the Jagris granted to this Gurdwara were confiscated. After some time, a splendour Gurdwara building was constructed by some devotee Sikhs.
Before 1947, Guru Ka Langar (sacred kitchen) and special boarding and lodging facilities were available for the needy students. No harm was meted to this Gurdwara, in 1947. Guru Nanak Bhawan and Guru Nanak Model School are run under the management of this Gurdwara. Guru Hargobind's birthday and other Gurpurbs are celebrated with zeal and enthusiasm. In 1985 C.E, the Tharra Sahib, near the Chinar tree was dismantled by a Karsewa Sant S. Harbans Singh of New Delhi. The historic Chinar tree has been uprooted and only 'Chinar Trunk' has been preserved near the Guru's well. He constructed a new splendous Gurdwara which is 45 feet long and 45 feet wide in stone. cement and iron, marble is also utilized in its construction. The Gurdwara is a two storeyed building having four arches on top, fifth one being bigger among the four on which silver coating is seen.
Langer hall, Residential quarters for the sevadars and pilgrims are constructed on one side of the shrine.
KHADNIYAR: 
This village is 4.5 kms from Baramulla District headquarters. Village is beautifully situated at the footsteps of a hill, on the right bank of river Jhelum. Total Sikh house of this village is about 22,having approximately Population about 119.
CHANDUSA: 
Chandusa village is 15 kms from district headquarters Baramulla. Village is situated on a high karewa clubbed with natural beauty. There are abou 22 Sikh families with approximately 120 population. 1947-Yaadghar Shaheedan, Chandusa is still preserved where 22 Sikhs achieved martyrdom during 1947 holocaust.The courageous work of Mai Ghuni Kaur is remembered by the community.
GOHAN:
 Gohan village is encircled by forests and has natural scenery. It is situated on a hilltop, visible from Baramulla, which is 11 kms from district headquarters. About 40 Sikh families reside, having approximately total population 180.
UPALNA:  
   This village is hardly 7 kms from Baramulla. Situated on a high steep hill. There are about 130 Sikh families having approximately 718 population. 
SINGHPURA KALAN :
Singhpura kalan is situated on a high mound, 10 kms from district headquarters Baramulla. There are about 132 Sikh families having approximately 982 population. Historic Gurdwara Thada Sahib, Guru Hargobind Sahib kalampura is located near this village.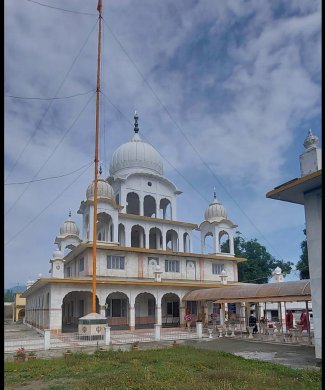 GURDWARA  THARRA SAHIB KALIMPURA (SINGHPORA)
  A beautiful Gurdwara 8 Kilometers from Baramulla Town on the mound top of Kalimpura (Singhpora) which is hardly one Kilometer from Baramulla-Srinagar national highway. Kalimpura's earlier name was Karanpura, a king of high caliber
once named this village after the name of his youngest queen Rani Karna Devi. The area around these villages is known as 'Karhun' which was coined by the king. This name is still familiar. Kalimpura was covered with scrub forests and a wide variety of flora and fauna in those days. According to Sikh Chronicles, while hunting nearby forests, Guru ji noticed a child wrapped in dirty clothes, lying near The bushes. He got down from his horse and picked up the child, who was crying and lying unattended. The sikh disciples, who were accompanying the Guru, called the child Kuthra (dirty) but Guru ji replied, he is always suthra (clean). Thus he set an example for his devotees. Due to the scarcity of water, at the supplication of masses, Guru ji put his lance nearby and on that place from underneath it a fountain of clear sweet water gushed forth, when devotees cleared the mud etc., they found a beautiful well under neath. But this Gurdwara gained prominence as a place of Pilgrimage after the visit of representatives of Chief Khalsa Diwan, Amritsar.
   A legend is familiar that one Muslim faqir Balol and his disciples met Guru Hargobind Sahib at this place. They were very much impressed by the divine knowledge of the Guru Sahib. When Guru ji left Kashmir, faqir Balol and his disciples lit a flame near this spot. (Much is shrouded in darkness and needs research). This spot was later on discovered by the Sikhs.
During the reign of Maharaja Ranjit Singh, a number of Sikhs came from Punjab to settle permanently in Kashmir. A number of Sikhs visited this shrine oftenly during the Sikh rule.A Thara (Platform) was raised 20 feet by 25 feet by S. Mutwal Singh Sahini and other devoted Sikhs . In those days, the Sikhs of village Singhpora celebrated Baisakhi day on this "Tharra'. It was only in 1928 C.E. reputed dignitaries and scholars of Chief Khalsa Diwan Amritsar namely Bhai Vir singh, S. Damodar Singh, S. Narinder Singh and others visited this place, constructed a beautiful Gurdwara on this place. Its architectural design resembles that of Punjab . Upto 1947 the Gurdwara Granthi was deputed by the Chief Khalsa Diwan. Gurdwara was completed on 13th April 1931. New Gurdwara Sahib was erected by Karsewa Babas and Sikh Sangat of the adjoining villages a few years ago.
KURSI: 
A small Sikh village having 21 Sikh families with approximately 56 population. Village is about 11 kms from district headquarters Baramulla. 
NAJIBHAT: 
It is inhabited by a high place of downward hills, which is adorned at a short distance from village Singhpura kalan. Total Sikh house holders are 31 having approximately 170 population. Baramulla is about 16 kms from the village. 
MIRANKUND (RAMKUND): 
According to revenue records the name of the village is Mirangund but Mahant Bachittar Singh of Nangali Sahib visited the village and changed it to Ramkund. Total Sikh house holders are about 28, having approximately Population 200. Baramulla is 11 kms from this village. 
SHARAKAWARA :
This village is located on a high mound and inhabited downward. Total Sikh house holders are about 26, having approximately 150 population. Village is 15 kms from district headquarters Baramulla. 
DARDPORA: 
This village is about 21 kms from district headquarters Baramulla, inhabited by down sleep, having 42 Sikh families with 210 population approximately. 
KANISPURA VILLAGE :
This village is situated on a steep hill, having 54 Sikh house holders with total Sikh Population 218. Distance from Baramulla is 7.5 km.
KANISPORA NH:
New colony kanispura, national highway existed having Sikh houses about 85, with 
Total Sikh Population 450. It is situated at a distance of 7 km from Baramulla.
There are small colonies and Mohallas, Where Sikhs reside along with other communities. These are:
SANGRI COLONY, KANLI BAGH: In this colony, Sikh householders are about 107 and Total Sikh Population approximately 470. Distance from Baramulla is 01 km.
GOBIND PURA, KANLI BAGH: It is situated at the footsteps of a small hilly tract. Sikh house holders are 75 and Total Sikh Population is approximately 90. Distance from Baramulla  is 1.5 km.
BAWALI, KANLI BAGH:
It is above the Gobind pura side on a semi-hilly tract. Sikh house holders are 30. The Total Sikh Population is approximately 200. Distance from Baramulla is 2 km from the main chowk.
CENTRAL KANLI BAGH:
It is hardly half a kilometre from Baramulla.
Sikh house holders are about 25 having approximately 125 Sikh Population .
KANLI BAGH, BABA RISHI: It is on a hilly tract hardly half a km from Baramulla. 
Total Sikh house families are 45, having Sikh Population 200.
DEWAN BAGH (JADEED): It is situated on the left bank of river Jhelum.
Sikh house holders are 55, with a Population of approximately 250 .
RAJGHAT:
Rajghat is on the right bank of river Jhelum at a half km distance from the D C office Baramulla. Gurdwara Chatti Patshahi is situated in Rajghat mohalla.
Sikh house holders are 12, having a total Population 60.
KANTH BAGH:
Kanth Bagh is 2 km from Baramulla having 
Sikh house holders 90, with approximately 400 people.
SINGH BAGH:
Singh bagh is situated at a distance of 3 km from Baramulla on the left side of river Jhelum. Sikh house holders are 125, having 
Population approximately 500.
SHERWANI COLONY:
This colony is at a distance of 4km from Baramulla Chowk. Sikh families are 250 .
Total Sikh Population is approximately 1050.
PATTAN:
Pattan is in between Baramulla and Srinagar on the main road. It's hardly 24 km from Baramulla. On the left of the road side, in the main market,opposite Police Station is Gurdwara Singh Sabha,Pattan. Today two Sikh families have a population strength approximately nine.
GULMARG:
Gulmarg is one of the most famous tourist spots of the world situated about 48 km from Srinagar. Due to the tireless efforts of Dr.Bhai Vir Singh,Principal Jodh Singh,S Harbans Singh Attari etc laid down the cornerstone of Gurdwara in 1922.Due to the unfavorable condition in Kashmir, this Gurdwara was also martyred by the incident of fire. Nowadays a new Gurudwara building and rooms for pilgrims constructed by kar sewa. Gurudwara Singh Sabha, Bhai Vir Singh Gulmarg is managed by GPC Baramulla. Only two Singhs reside performing duties of a granthi and a sewadar.
GURDWARA SINGH SAHIB, TANGMARG:
This Gurdwara was constructed recently by the karsewa wale babas with the help of Sikh Sangat of nearest villages. Gurdwara Nishan Sahib is seen from a distance. Two Singhs reside one Granthi Singh and one sewadar. Some rooms are also constructed for the pilgrims. This Gurdwara is on the left side of road leading to Gulmarg.
BIYAWA:
This village is near Tangmarg about 44 km from Baramulla. Sikh house holders are 39 with a Population of approximately 203.