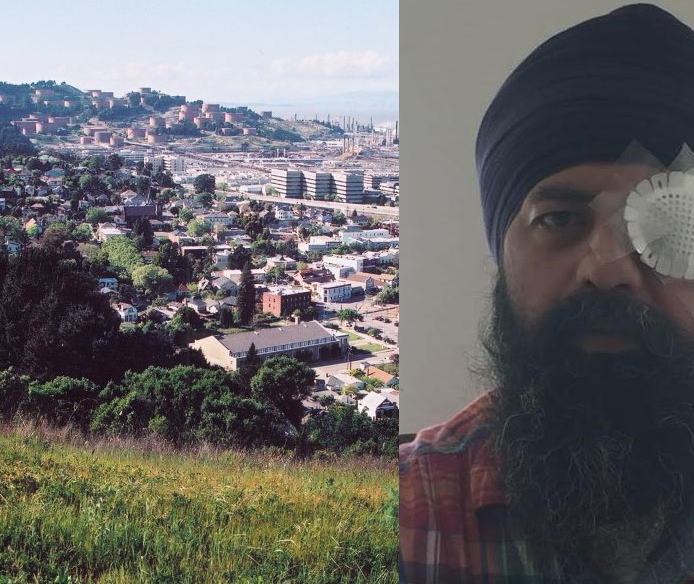 RICHMOND, Calif. (KGO) --
According to the Sikh Coalition, 41-year-old Maan Singh Khalsa was driving home from work at 9 p.m. on Sept. 25 when he was stopped at a red light near Hilltop Mall Drive in Richmond, half a mile from his home.
That's when a man in a white Ford F-150 reportedly threw a beer can at Khalsa's car. Khalsa says he rolled down his window and saw five or six white men in their late 20s or early 30s in the Ford.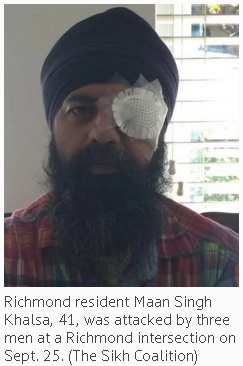 The men began swearing at him, and Khalsa called 911. Three men approached his car, attacking him through the open window, knocking off his Sikh turban and hitting him in the face, according to the Sikh Coalition.
Khalsa's assailants reportedly shouted "Cut his hair," yanked his head through the car window by the hair, and cut his hair with a knife. Sikhs do not cut their hair as a religious mandate.
The shouts are audible on the 911 call recording, according to the Sikh Coalition.
Khalsa needed stitches on the cuts on his fingers and hands. He also had a swollen black eye, and will have to get root canals due to dental damage sustained in the attack, according to the Sikh Coalition.
Two suspects have been arrested -- Chase Little and Dustin Albarado. A third assailant and two remaining accomplices have not been apprehended.


Khalsa is a U.S. citizen and has lived in Contra Costa County for seven years, according to the Sikh Coalition.
"No one should have to experience the fear of being targeted or attacked based on their identity or for practicing their religion," Richmond Mayor Tom Butt said in a statement.
"In Richmond, we cherish the various cultures and backgrounds that contribute to our great diversity. I know the people of Richmond will respond to this incident in any way they can to lend support and show solidarity with the Sikh community," Butt said.
Gurdwara Shaib, the Sikh house of worship in nearby El Sobrante, has a congregation of more than 5,000 members.
One in 10 Bay Area Sikhs surveyed in 2010 reported being the victim of a hate crime, and 68 percent of these were physical attacks, according to the Sikh Coalition.
Assault on Sikh man shocks, angers Richmond mayor

Richmond police say two men have been arrested in connection with an attack on a Sikh man that's been described as a violent hate crime.

------------------------------------------------------------------------------------------
RICHMOND, Calif. (AP) — The mayor of the San Francisco Bay Area city of Richmond is expressing his sympathies to the city's Sikh community following a brutal attack on a man last month.
The East Bay Times reports (http://bit.ly/2dWgd5r ) Richmond resident Maan Singh Khalsa was attacked by three men on Sept. 25. They cut off his religiously mandated unshorn hair and cut him at an intersection near Hilltop Mall Drive following a confrontation.
A Sikh civil rights organization, The Sikh Coalition, called last week for hate crime charges to be brought against two of the men who have been arrested. A third man remains at large, the newspaper reported.
Mayor Tom Butts says the assault left the Richmond community shocked and seeking justice for the 41-year-old Khalsa.
The case is being reviewed by the district attorney.