The Woyingi Blog

African American Women's Lives: Krishna Kaur (formerly Thelma Oliver)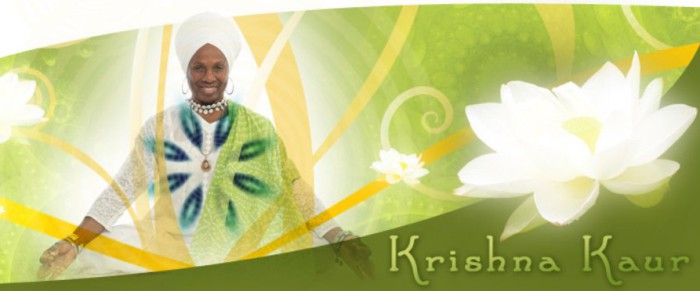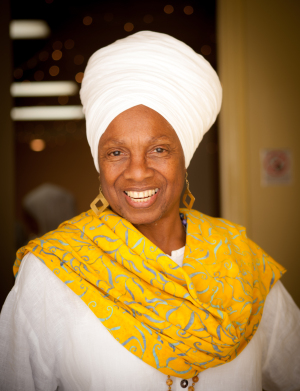 July 23, 2011: Thelma Oliver was a dancer and actress who in the mid to late 1960s was making her mark on Broadway and on US film history in director Sidney Lumet's film The Pawnbroker. Then she started studying yoga and became Krishna Kaur. This is her story.
Oliver was born in Los Angeles, California in 1941. Her father, Cappy Oliver, played trumpet with Lionel Hampton's band and her mother sang before settling down to raise five children. Oliver studied dance at the Jeni LeGon School and later majored in Drama and Theatre Arts at UCLA. Then in 1961 Oliver made the fateful decision to drop out of school and head East with the song and dance show Kicks and Company. However, the show was not a success and closed in Chicago after only four performances. Oliver found temporary work as a typist in New York and kept her Broadway dreams alive. Oliver's New York stage debut was off-Broadway in Jean Genet's The Blacks, where she starred as Virtue along with Lou Gossett Jr as Edgar She played the role of Virtue off and on for two years. She also had the opportunity to star in a one-woman show on CBS Repertory Theatre.
With her small role as "Ortiz' Girl" in Sidney Lumet's The Pawnbroker, Oliver, ended up making movie history in 1964. The Pawnbroker, based on the novel by Jewish American writer Edward Lewis Wallant, stars Rod Steiger as Sol Nazerman, a bitter pawnbroker in East Harlem who lost his family in the Holocaust. The film was scored by the legendary Quincy Jones.
Oliver's big break came when she landed the role of Helene opposite Gwen Verdon in the Broadway hit Sweet Charity. Oliver auditioned in 1965 for the role only five weeks after surgery to have a tumor removed. The character of Helene is a close friend of the show's main character Charity; both women work as "hostesses" in the Fan Dango taxi dancehall. Interestingly, the role of Helene is "non-racial", meaning that it is not specified that she is a Black character. In October 1966, Ebony Magazine published an article about Oliver entitled New Girl on Broadway. The magazine describes her performance as Helene as follows:
| | |
| --- | --- |
| | Thelma cavorts, smiles, sings, and dances her way through the show, always bubbling with a humourous philosophy that overshadows the sordidness of life. |
According to Oliver: "Sweet Charity has been good to me and has changed my life in a wonderful way." In the September 1966 edition of Jet Magazine, Oliver, when asked about the future of Black actors in the theatre states:
| | |
| --- | --- |
| | It is certain that as the role of the Negro changes in society, so much it change in the theatre. For the theatre is merely a reflection of society. I feel that the main enemy of the Negro in theatre is fear. Not his fear but the white man's fear-fear of losing the 'dollar'. Therefore, I believe the real future of the Negro in the theatre lies in the hands of Negro producers. Negro producers who will take a chance and exploit potentially great Negro talent. Not to just utilize the Negroes who have already been accepted as great, but all of the Negroes out here bubbling over with talent who haven't had a chance to express themselves. |
Oliver would go on to organize a production of Sweet Charity with eight inmates of New York's Women's House of Detention, after having only five hours of rehearsal. The women put on a performance of the show for adolescent inmates who were finishing their year at the institution in 1967. But Oliver's future would not lie with showbiz. In the Ebony Magazine article New Girl on Broadway, it mentions that Oliver studies yoga philosophy. In September 1975, Ebony Magazine published the article Yoga: Something for Everyone, which took a look at how various Black celebrities, including Herbie Hancock and Angela Davis, were embracing yoga and various other Eastern philosophies. This article focused on Thelma Oliver, who by then had changed her name to Krishna Kaur. Kaur, meaning "Princess" is the mandatory last name for female Sikhs after Amrit (Sikh Baptism).
Krishna Kaur studied yoga under the tutelage of Yogi Bhajan, a Sikh from India's Punjab who had established 3HO (Healthy, Happy, Holy Organization) in Los Angeles where he taught Kundalini Yoga. Many of Yogi Bhajan's American students, including African-Americans like Thelma Oliver, began to convert to Sikhism after observing with admiration the way of life of the Yogi. This would eventually lead to the development of the Sikh Dharma Movement. Yogi Bhajan particularly felt that yoga would be beneficial for African-Americans. In the 1975 Ebony article he says:
| | |
| --- | --- |
| | Outer help cannot help the handicapped and we've got to start admitting that the Black community is handicapped. My personal feeling is that the entire community should check it out. |
Krishna Kaur began running the Guru Ramdas Ashram (school) in central Los Angeles, teaching Kundalini Yoga. She also began doing work in the community, sharing the practice of yoga with inner-city students. In the 1975 Ebony article there is a striking picture on page 96 showing Krishna Kaur teaching yoga to students at South Central's John C. Fremont High School. In the article, Krishna Kaur rejects militant Black activism and states:
The revolution is really one of the mind. Blacks have got to realize where the power really is. The struggle is not on a physical level. It is on the level of the mind.
Krishna Kaur has continued her work bringing yoga to inner-city schools with the creation of the Yoga for Youth. Krishna Kaur describes the work of Yoga for Youth, as well as her own spiritual transformation in the following article posted on lifebyme:
My life changed during the late 60s, just as my career as a performing artist was about to take off. At that time, the Vietnam war was raging, the U.S. Civil Rights struggle had peaked, and more Third World and African Countries were gaining independence from European domination. I was excited about my growing fame in New York – I was in a big Broadway hit, a major film, and a one-woman TV show. However, something else was unfolding inside me at the same time.

I began to feel another calling, outside of the theater, a calling which pulled hard at my psyche. The internal voices continued to drown out my usual excitement about performing. After several months of internal struggle and fear, I learned how to slow down the incessant mental chatter so I could hear the voice in my heart telling me that my true purpose in life was to serve my people in a meaningful way. As Shakespeare wrote, "All the world's a stage." So I took my love of theater to the streets and began to teach yoga and meditation to kids on the playground, adults recovering from drug and alcohol addictions, gang members, and high school students throughout the Watts area in South Los Angeles.

Every day for the past 40 years, I've woken up excited to bring the art and science of Kundalini Yoga to people struggling to make sense out of life – good people, young people, people who have been discarded by mainstream society. They motivate me to get up every morning, enthusiastic about teaching, training, and nurturing them to experience who they really are. My work fulfills me. It gives me hope for the future of humanity and makes me optimistic about stepping into the challenges of these times.

Teaching urban youth through my non-profit Organization, YOGA for Youth, is the most gratifying part of my life. Our youth have every right to be healthy, happy, and productive in their lives. Yet many of them have inherited an environment that doesn't support such longings. By teaching and training other yoga teachers to reach this very special population, I help plant seeds of greatness that will feed this country and the world, for many generations. When I see the light come on in the eyes of a young person, I know their life will be changed forever. That is worth living for, and that is what keeps me getting up in the morning.
Krishna Kaur is now a world-renowned as a yoga teacher with over 40 years of experience. In 1998, she established the International Association of Black Yoga Teachers which aims to promote the practice of yoga within the Black diaspora, with a particular focus on its power for social transformation. Through the work of this association, she has begun projects in Africa educating locals as Kundalini Yoga teachers. A video of her work in Ghana in 2005 is available online (starting at 4:24 min) as well as a video of actor and Kundalini Yoga student Forest Whitaker sharing a message of support for Krishna Kaur's work.
In 2000, Krishna Kaur was interviewed for Yoga Journal. In the article Yoga in Black and White, Krishna Kaur addresses the challenge of making yoga relevant for Black people:
| | |
| --- | --- |
| | "How is yoga going to put food on my table or keep the police from going upside my head?" -these were the kind of questions we were constantly faced with when we first started reaching out to the black community in 1971. But we knew that yoga could help our young people see reality, live reality and find out where their power was, so that they were not always just reacting to their life situations. |
I find the remarkable journey of Krishna Kaur (formerly Thelma Oliver) fascinating and a great example of spiritual transformation.


Woyingi Blogger's Note: This post would not have been possible if I didn't decide to google "black sikh" one day because I was interested to know if there were any Black converts to the religion of Sikhism.
Further Reading:
New Girl on Broadway (Ebony Magazine, October 1966, p. 52) available online from Google Books
New York Beat (Jet Magazine, July 27th 1967, p.62) available from Google Books
Yoga: Something for Everyone (Ebony Magazine, September 1975, p. 96) available online from Google Books
Yoga in Black and White (Yoga Journal, September-October 2000, p. 105) available online from Google Books
Yoga for Youth by Krishna Kaur article available online
Krishna Kaur's Website
Yoga for Youth's Website
International Association of Black Yoga Teachers' Website
Video of Krishna Kaur's 2005 Trip to Ghana available online (starting at 4:24min)
Video of Forest Whitaker discussing Krishna Kaur's work available online
Video Interview (2009) with Krishna Kaur available online
Video Presentation Part 1 and Part 2 by Krishna Kaur about Yoga for Youth at the First Conference on Yoga for Health and Social Transformation available online
Editor's Note: This article has been edited from it's original version.