Panel – Global crisis in Leadership and lessons from the lives of the Gurus
Overview
A recent survey by the World Economic Forum found that 86 per cent of respondents believe there is a crisis in leadership across the World. Failure of leadership is visible in national politics, heightened international conflicts, the rise of tribalism, and several other ugly phenomena. Strongman tactics by leaders have eroded our trust. Apathy or helplessness has never been the Sikh response. Is there something we can do collectively or individually? Our multi-generational panel will discuss the current crisis in leadership and glean pointers from the lives and leadership of the Gurus to address the issues facing us.
Video of Panel Discussion

Panel Leader

Jessi Kaur is a TEDx speaker and has written three children's books that are used as diversity education and enrichment literature in several public schools in US and Canada. She is a frequent speaker at interfaith conferences including several times at the Parliament of World's Religions. She has featured in TV shows and award-winning documentaries. Her essays on spiritual and social issues have been published in on line and print journals. She Co-founded IIGS, is the founder of IGS Now a non- profit organization that spreads Oneness and has been on the board of Kaur Fou
ndation since its early years. She served two terms as the Fine Arts Commissioner for the city of Cupertino in California. Jessi taught English Literature at Delhi University before moving to the US. She is currently a Talent Acquisition Consultant to Silicon Valley companies.
Session 2 Chairperson: S. Pashaura Singh Dhillon
U.C. Santa Cruz Presentation
SGGS Conference 2018
Overview
Sarah Caldwell is a representative from the Humanities Division at UC Santa Cruz and is here today to express gratitude on behalf on the university for the community's support of the Sikh and Punjabi Studies program.
The Sikh and Punjabi Studies program has become a vibrant scholarly endeavor on campus, offering an Introduction to the Sikhs course, Punjabi language teaching, faculty research, and support of the Sikh Student Association activities.
The program is headed by Prof. Nirvikar Singh who is in Europe and unable to join. It was started in 2011 by the establishment of a chair funded by Hardit Singh Arora. Another round of funding to support the program was provided by the San Jose area Sikh Community.
Overcoming Haumai
Dr. Inder Mohan Singh
Abstract
Haumai is described in Gurbani as the biggest obstacle to spiritual progress. Haumai and Naam are declared as antagonists: haumai and Naam cannot dwell together in the heart at the same time. Haumai is often translated as ego. Pride or ahankar is the most common manifestation of haumai, however haumai is more than pride. In fact it is haumai that gives rise to the five vikars or sins, which include hankar (pride) besides kaam (lust), krodh (anger), lobh (greed) and moh (unhealthy attachment). We will look at what haumai is, the challenges it poses for the seeker on the path of Gurmat, and some ways to overcome haumai.
Video of Presentation
Body of Paper
Haumai deeragh rog hai – haumai is a terrible disease accsording to the Sri Guru Granth Sahib.
We will look at what haumai is, the challenges that haumai poses, and how we can try to treat and overcome this terrible disease of haumai.
Haumai appears thousands of times in the SGGS, as well as in many other related forms such as hau, mai meri, meri meri, aap, aapat, khudi (short examples)
.... more
About the Author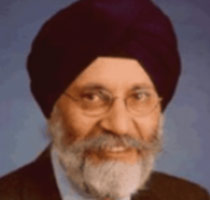 Dr. Inder M. Singh is the Chairman of Chardi Kalaa Foundation, and has served on the boards of several Sikh non profit organizations including SALDEF and Sikh Foundation.
He is the Chairmanof Lynx Software Technologies and was CEO until 2006. He founded Excelan, and served as its chairman, CEO and president.. He was a co-founder of Kalpana, one of Cisco's early acquisitions. Dr. Singh has served on the boards of several high-tech companies.. He holds Ph.D. and M.Phil. degrees in computer science from Yale University, an MSEE from Polytechnic Institute of New York, and B. Tech (Hons) in Electronics from IIT, Kharagpur.

I See God Inside of Everyone
S. Gurumustuk Singh
Abstract
I See God Inside of Everyone – Looking at the Guru's examples through stories from Sikh history, to help us see beyond each other's faults and differences
How do we keep ourselves from being judgmental and critical of others around us in our day to day encounters, and yet still be open and see the God in that person.
Video Of Presentation
About the Author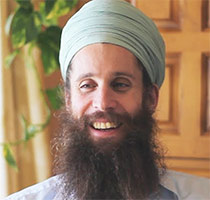 Gurumustuk Singh, known by many from his web blog nick name "MrSikhNet", started the SikhNet.com website in 1995 as a teenager out of high school during the beginnings of the world wide web. He also started the first and largest online matrimonial service for Sikhs (SikhMatrimonials.com) before any similar service like this existed for the Asian/Sikh community. Later introduced many other innovative and unique web services (Including SikhiWiki, Gurbani Media Center, The Karma Game, Audio Stories for Kids, Youth Online Film Festival), which continue to serve the Sikh community today. SikhNet (a non-profit organization based in Espanola, New Mexico) now in it's 18th year continues to serve, inspire, educate and inform over 20,000 unique visitors a day from all over the world. Gurumustuk lives with his wife, daughter, and son in Espanola, New Mexico and continues to develop the SikhNet website with the rest of the SikhNet team.
Session 3 Chairperson: S. Jagjot Singh
Disciple, student, scholar: the relationship of a Sikh with her Guru, Shri Guru Granth Sahib
Dr. Sangeeta Luthra
Abstract
Disciple, student, scholar: the relationship of a Sikh with her Guru, Shri Guru Granth Sahib
Overview
As a Sikh born and raised in the United States I have struggled with a sense of inadequacy with regard to my knowledge of Gurbani, Gurmukhi and Punjabi. While I was lucky to grow up in a home with 'babaji ki bir' and parents who modeled the importance of doing paath at home as well as within our small sangat in Pittsburgh, PA, my language skills have always been a source of insecurity. Over the last few years, I am trying to redefine my relationship with Shri Guru Granth Sahib (SGGS) and Gurbani, as a journey rather than a destination. In this spirit, I will explore how the Gurus through the SGGS encourage Sikhs to be disciple, student, and scholar. In my presentation, I will pose the following questions: What is the difference between these three identifications? How does SGGS allow us to experience all three as we engage its wealth of knowledge, reflection and insight? What tools do we have today to learn about and from the SGGS?
Video of Presentation
About the Author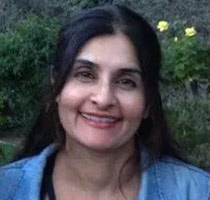 Dr. Sangeeta Luthra is an anthropologist and educator. She has taught classes in cultural anthropology, gender studies, and cultural studies. She has conducted research on women's empowerment and development with a special focus on non-governmental organizations in urban northern India. Her research interests are women's development and empowerment, feminist theory, cultural politics of development, and most recently Sikh American institution building in the post 9/11 period. Her writing on diasporic Sikhs has been featured in the academic journal Sikh Formations, and in online forms like SikhChic.com, Punjabi Beat Magazine, and Sikhpoint.com. She is a contributing writer and member of the editorial board of Her Name is Kaur: Sikh American women write about Love, Courage, and Faith. In addition to teaching and research Sangeeta is a volunteer in her community and in South Asian cultural associations.
Sangeeta lives in Los Altos, CA with her husband and two daughters.

Youth Speeches
Section 1
Video of Speeches
Sargundeep Singh – "Japji Sahib, Four Pauris of Manne"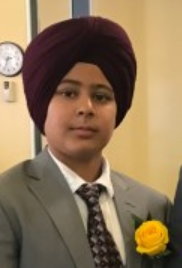 Sargundeep Singh is a 13 year old kid who is attached to Guru Ji and Gurbani. He has been learning Kirtan and how to play Tabla since he was 6 years old. At the age of 7, he started participating in Gurbani Kanth and Hemkunt Speech competition. He also enjoys playing basketball and learning Gatka. His hobbies include baking and reading. His goal is to become a cardiologist and to volunteer and help his community.
Tanvir Kaur Sandhu – "The Anand KarajTradition"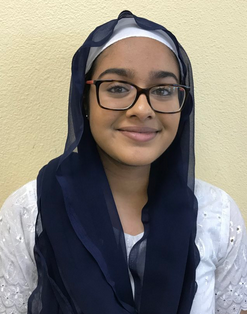 My name is Tanvir Kaur and I am a 17-year old student at University Preparatory Academy. I have been giving speeches at the Gurdwara since I was 7 years old and continue to enjoy it. Kirtan has also been one of my passions since I was 6 years old. I have come to learn how to play a multitude of instruments, including vaja, rebab, and dil ruba. I continue to learn about my Sikh Heritage every day and am tremendously proud of my roots.
 

Sahej Singh Basati – "What we learn from 4th pauri of Japu Ji Sahib"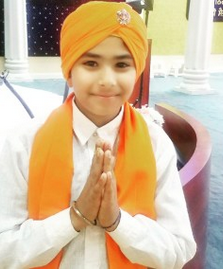 My name is Sahej Singh Basati. I was born on November 22, 2007. I got admitted to Guru Nanak Khalsa School, San Jose in August 2014. Now along with my regular school, I go to the Khalsa School every Sunday. Besides Punjabi language and Gurmat studies, I am also learning Tabla and since last three years, have been placed first in the Tabla competitions. I also participate in Hemkunt speech competition, Keertan darbar and Gurbani competitions. In 2017 my team in Keertan darbar was placed first in Sacramento. I have also been participating in the Kavi Darbar at the Sikh Gurdwara San Jose. I am glad that I am a student at the Guru Nanak Khalsa School San Jose.
Section 2
Video of Speeches
Geeta Kaur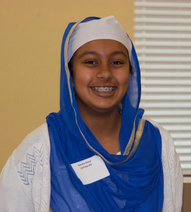 Geeta is a freshman at Monta Vista High School in Cupertino. She has been a regular participant in the Gurbani Contest for the many years. She enjoys playing the rabab, harmonium and violin as well as performing Kirtan. On Sundays, she helps teach Punjabi and Gurbani to young children at Guru Nanak Khalsa School at San Jose Gurdwara. In her spare time she loves reading fiction books.
Sania Kaur Bhella – The Akhand Paath Tradition.
Sania Kaur is a junior in high school and has been part of Khalsa School since she was 6 years old. She graduated from Khalsa School and has been teaching for the past 3 years. She has learned Kirtan in various raags as well as how to sing, play harmonium, and rabab. In addition she has actively participated in the International Hemkunt Speech and Kirtan Competitions. Being part of Khalsa School has brought her closer to Sikhi and her heritage.
Bisam bisam bisam hee bhaee hai: The Wonders of Wonder
Dr. Inderjit Kaur
Abstract
Bisam bisam bisam hee bhaee hai: The Wonders of Wonder
Overview
In this talk, I will reflect on the role of wonder in our everyday ethics. Drawing insights from Gurbani about the wonder of wonders, waheguru, and the wonders of wonder for waheguru, and supplementing this with scholarly inputs from disciplines such as cognitive sciences, I will discuss how wonder for waheguru can help us improve our everyday ethics.
Video of Presentation
About the Author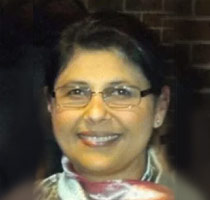 Dr. Inderjit N Kaur is a scholar of Gurbani kirtan, and assistant professor of musicology at the University of Michigan, Ann Arbor. She has published and presented widely for the academy as well as the community. She is currently working on an academic book on the historical, performative, and experiential aspects of sabad kirtan. She holds two doctoral degrees, both from the University of California, Berkeley – one in ethnomusicology and a prior one in economics. She has earned senior diplomas in North Indian classical music, and South Indian classical dance. Singing sabad kirtan has been an integral part of her whole life.
Session 4 Chairperson: S.Sarabjit Singh Sandhu
Maintaining the Legacy of the Sikh Way of Life
S Sat Santokh Singh Khalsa
Abstract
Within the Sikh Community, people frequently ask me how to raise their children to live exemplary lives like my daughter Snatam and my son Rishi, or some of my other children.
For many Sikhs, as is true for just about every other religion, there is little or no connection to the Rasa of the Dharma. One consequence of this, besides all too frequently leading lives that are bereft of meaning, is wide spread substance abuse within the community all around the world.
Inducing guilt or shame is not at all useful in addressing these issues, nor is expecting one's children to lead Dharmic lives, while not being an inspiring example by living such lives. I will discuss these issues and pose solutions; putting forward what is possible and achievable.
About the Author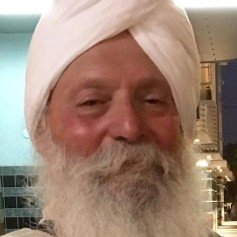 Sat Santokh Singh was appointed head minister of the Northern California 3HO Sikh Community by Yogi Bhajan in 1971, and is the senior Kundalini Yoga teacher in the San Francisco Bay Area. He has been leading Self Worth workshops all around the world, so that we can learn how to "drop the past" and realize that "happiness is our birthright". A former manager of the Grateful Dead, and founder of Rainforest Cereals, the first Fair Trade health food company in the United States.
 
The Purpose of Life
Dr.I. J. Singh
Abstract
Humanity's many religions largely share a common goal – to define the purpose of life. It is a critically essential concern that's not unique only to people of faith. Even atheists or agnostics, who straddle the border, share this primary defining human need. Hence, the human preoccupation with traits and values that make us what we are and define us. Underlying such imperatives is the fact that that our ability to survive and thrive depends on how we define the purpose of our existence. The human, no matter how imaginative and strong, remains vulnerable and dependent on collectives such as families, clans, religions and even nations. These essential collective entities evolve common languages, cultures, cuisine, music, values of interpersonal and communal behavior — the ingredients of a common ethos. Religions thus provide the unifying glue of a community. Why we are here? What is the purpose of life then becomes the primary question of a people. What values define our existence? And what exactly do we owe to our community that makes life possible?
This essay addresses some of these existential issues from the Sikh point of view with the goal of promoting an ongoing conversation.
Video of Presentation
Body of Paper
THE PURPOSE OF LIFE
I am minimally computer savvy, yet recently almost a hundred e-mails filled my inbox, each indulging in some micro-fine hair splitting on "The Purpose of Life." Some are book length papers on the question. And this entire bagful inundated my inbox in less than a few days.
These are Sikh sites, so they largely dissect the idea from the perspective of Sikhi. But sometimes they lean for comparison on other religious systems that surround us. Mine is a brief take today that should equally engage those who are religious-spiritual or simply spiritual minus any over-riding religious label. It may even apply to those who are agnostics or atheists.
....more
About the Author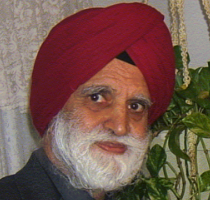 I.J. SINGH came to the United States in 1960 on a Murry & Leonie Guggenheim Foundation fellowship. He received a PhD in anatomical sciences from the University of Oregon Medical School (now Oregon Health Sciences University), and a DDS from Columbia University. He is a professor emeritus of anatomical sciences at New York University. He serves on the Editorial Advisory Boards of the Sikh Review (Calcutta) as well as Nishaan (New Delhi), and writes a regular internet column on Sikhi.
Dating? Some Guidelines from Gurbani for finding a life partner
Dr. Gurinder Pal Singh
Abstract
"Dating" as commonly understood is not a Punjabi concept. For Sikh families following Punjabi traditions, Dating is commonly misunderstood both by parents and the young Sikh boys and girls. This misunderstanding often leads to conflict and mistakes in finding the right life partner.
In this talk we will seek guidance from Gurbani about finding the life partner. We will define the purpose and process of Dating in the Sikh context. We will define the roles that both parents and children need to play to help the young find the right life partners. The talk should be of interest to both parents and young adults.
Video of Presentation
About the Author
Gurinder Pal Singh is Vice President of the Sikh Gurdwara San Jose Parbandhak Committee and also chairman of Education Committee at the Sikh Gurdwara San Jose. He is among the founding directors of Guru Nanak Khalsa School, San Jose and Chardi Kalaa Foundation. He is regional coordinator for Sri Hemkunt Foundation Keertan Darbar for the North Western region of USA.
He holds a Ph.D degree in Physics from Tata Institute of Fundamental Research, Mumbai, India and M.Sc in Physics (Gold medalist) from Punjabi University Patiala. He has worked as a scientist at Max Planck Institute in Stuttgart, Germany and IBM Almaden Research Center in San Jose, California. In 2013 he retired as Principle Engineer from HGST Company of Western Digital Corporation. He holds 13 patents and 36 publications in fields of Science and engineering. Presently he is a visiting professor at Physics Department, Panjab University, Chandigarh India.