Gurseerat Kaur, a second grade student from California, recently published her debut picture book, 'Bunty's Prank'. The story is part of an upcoming series developed by Rrooar Coding and Robotics Academy, entitled 'The Adventures of Daya and Daler'. Each book in the series, including Kaur's, revolves around the titular brother and sister, and is written in both English and Punjabi. 'Bunty's Prank' tells the story of Daya and Daler having their family camping trip interrupted by a talking monkey, Bunty. 
Before undertaking this project, Kaur had dabbled in short works of writing at school, but had never written a "real book." With support from her family and the instructors at Rrooar, she is now officially a published author. "I wasn't even sure I'd get to write a book in English, but now I have one in Punjabi, too," she said.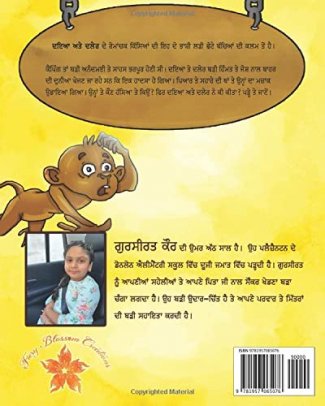 Gurseerat's sense of accomplishment for publishing in her mother tongue is exactly what the founding members of Rrooar had in mind when envisioning 'The Adventures of Daya and Daler'. According to the company, the series serves as a way for young Sikh authors to introduce characters that "look like them, talk like they talk, and feel like they do." In total, the series will contain seven titles, all to be published by Fiery Blossom Creations. Fiery Blossom specializes in literature written by and for children, and has established itself as a platform for diverse young storytellers wanting to share their cultures and passions with the world.  
Rrooar Founder and CEO, Gagan A. Kaur, felt a bilingual series such as this is necessary for the young generation of Sikhs. Gagan is a longtime volunteer at her local Khalsa school, and believes traditional Punjabi literature is not as accessible to younger Sikhs as it should be. One of her goals with this series was to give her children's generation literature which truly represents them. "Unless we do this [expand Punjabi literature]," Gagan warned, "we will lose the mother tongue, our culture, and our religion." 
Gurseerat and her family view Rrooar's series as a wonderful platform for their culture, and believe it will inspire other multilingual children to connect with their heritage as well. She highlighted the importance of keeping in touch with her roots by observing, "You might forget your other language if you only speak English all the time." Her family has had 'Bunty's Prank' placed in her elementary school's classroom libraries, and are planning to introduce it to her Khalsa school's library as well. This exposure should not only inspire other young Sikhs like Gurseerat, but positively contribute to mainstream culture by representing the community through art and literature. 
Rrooar's future plans for the series include distributing separate editions of entirely English and entirely Punjabi prints. Gagan hopes this will have the dual function of providing kid-friendly literature to Sikh children, as well as normalizing Sikh representation to larger communities.
The subsequent books in 'The Adventures of Daya and Daler' are slated for publication soon, and 'Bunty's Prank' is available for purchase now on Amazon. Gurseerat is hoping to continue her writing career with a "full chapter book" sometime in the future. Considering the heartwarming story she has already published, we can only excitedly await her next steps.
This story was authored by Mitchell Svantner