Dr. Martin Luther King, Jr. Celebrations at statehouse and monument circle in indianapolis
A Prayerful Reflection – Kanwal Prakash "KP" Singh
In the architecturally beautiful setting of the Indiana Statehouse Atrium, Indiana Governor Eric Holcomb presided over the 29th Annual Dr. Martin Luther King Jr. Holiday Celebration on January 16th. Among the hundreds of guests who attended were many young students, Indianapolis Mayor Joe Hogsett, State dignitaries, and Hoosier leaders and citizens.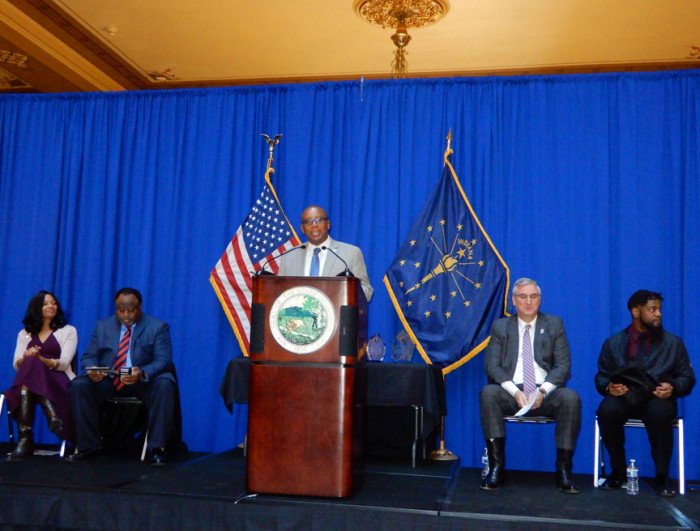 Beautiful tributes and building upon Dr. King's inspiring legacy highlighted the celebrations and festivities: A beautiful presentation of Dr. King's "I have a dream" speech by the young students of Building Block Academy; musical selections by the Northernaires of North Central High School; Awards presentations to several Hoosiers doing important work; The Keynote by entertainer Tony Styxx. Besides Governor Eric Holcomb, Tanya Bell, President and CEO of Black Expo; Gregory Wilson, Sr. Executive Director, Indiana Civil Rights Commission, and Commissioner Jena Bellezza spoke at the Celebration. Abdul-Hakim Shabazz served as Master of Ceremonies.
Laudable tributes on the life, work, and message of Dr. King beautifully elaborated on the theme: "Sharing the Life, Sharing the Legacy:" "Light can drive darkness, only love can do that;" "Dr. King was brave and bold … Dr. King represents one of the great American shoulder on which we stand - Gov. Eric Holcomb;" "Keep the Light, Keep your Light; Revolutionary work is a Marathon - Tony Styxx;" and "Give time, talent, treasures to bless others - John Thompson."
On January 15th, Dr. King's 91st birthday, there was a brief solemn Wreath Placing and Candle Light Ceremony at The Soldiers and Sailors Monument in Downtown Indianapolis. It was an honor to be invited to offer the Invocation and Benediction at this Ceremony organized by the Indiana Civil Rights Commission. Other events and Service Projects honoring Dr. King continue through Monday, the National King Holiday.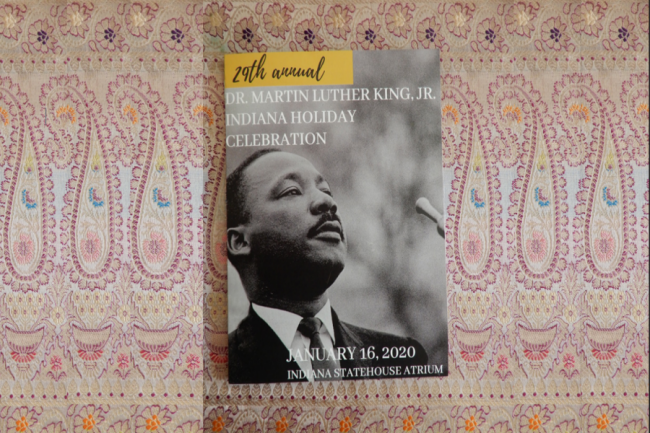 MARTIN LUTHER KING WREATH-LAYING CEREMONY
ON MONUMENT CIRCLE
Hoosiers gathered to remember and commemorate Rev. Dr. Martin Luther King at the Indiana Soldiers and Sailors Monument, in the heart of Downtown Indianapolis, on January 15, 2020 to celebrate Dr. King's incredible life and legacy. This was a joyful and solemn occasion to honor an American giant, a warrior for civil rights and human dignity, a champion of nonviolence and peace, and a venerable enlightened transformational figure who challenged us to advance President Abraham Lincoln's Emancipation Proclamation to further its true meaning and spirit for every American.
INVOCATION: KP Singh
Indianapolis, Indiana USA - January 15, 2019

Our Glorious Immaculate God, WaheguruJee (Wonderful Lord), Yahweh, Grandfather Spirit:

As your children, we have gathered to remember and celebrate one of your noble servants, Rev. Dr. Martin Luther King, Jr.

Thank you for blessing us with this venerable teacher, civil rights leader, and a Divinely-inspired visionary whose oratory could move mountains. Dr. King passionately spotlighted the unconscionable treatment of Your Children of color; he valiantly fought to win hopeful dreams for future generations.

Dr. King walked with us and inspired us; he awakened us and dared us to join the civil rights cause and other righteous struggles. Dr. King paid the ultimate price for us in his pursuit of our inalienable rights: justice, dignity, and equal opportunity for all Americans.

Dr. King challenged American leaders that it is long overdue to take the letter and promise of President Abraham Lincoln's Emancipation Proclamation of 1865 to a true and lasting emancipation, with a rightful place for the hopes and dreams of the suffering African Americans.

The world saw common cause in Dr. King's mission for those facing injustice, discrimination, and rampant unconscionable outrages across the human universe. Many joined and supported this just cause.  

Lord: We are grateful that today Dr. King's Light and Legacy shines bright in American hearts and now belongs to all humanity and to the ages.

Lord, help us to focus on the unfinished tasks and solemn promises of equal opportunity, fairness, and dignity of all Americans. May we rise above the stigmas of color of one's skin; disrespect for the sacred turban of a Sikh American, the Hijab of Muslim lady, the sacred Cross of a Christian, the Star of David of a Jewish friend; and end discrimination, hatred, and violence against cultures, faiths, lifestyles, cherished traditions, ethnicity, and the country of origin of our fellow Americans.

Lord, guide our hearts and energies to multiple our blessings as "One Nation under God with Liberty and Justice for all." Lord, inspire us to engage in solidarity with our eyes on our collective responsibility to the task of serving and building; and letting the freedom of thought and prayers ring across our family circles, neighborhoods, and Nations. May we together arrive at the mountaintops from where we can see a new long-awaited dawn: "Where the mind is without fear, and the head is held high - (Rabindranath Tagore)" and witness noble souls like Dr. King calling us to greatness!

Lord, with your loving Grace all around us: We have come a long way, and yet "…miles to go - (Robert Frost)" and overcome the many painful and divisive hurdles at our crossroads. Guide our pilgrimage to peaceful pursuits, innovative investments, and shared well-being. May tireless striving and a hopeful spirit be our living tribute to the legendry American visionaries - President Lincoln, President John F. Kennedy, Rev. Martin Luther King, Jr., and countless others who made our once undreamed-of moments possible! Amen.
------------------------------------------------------
BENEDICTION: KP Singh - January 15, 2020
God Almighty: With joyful pride
We heard the amazing testimony,
Honored legacy of Your noble servant
Rev. Dr. Martin Luther King, Jr.
As we depart from these ceremonies
Celebrating this admired global icon: 
May we invite his righteous vision,
Embrace its true meaning and spirit
Into our lives, faiths, and daily labors.
With Dr. King's amazing dream
Showing the way and daring us,
Focus on the all-important work:
A rightful place for every American
Being trusted partners in this promise.
Lord, guide our hearts and spirits:
To dedicate our lives and sights
In serving causes, making a difference;
Walking in humility, daring our spirit;
Discovering hopeful crossroads,
Shaping America's sacred promise:
"Life, Liberty, and the Pursuit of Happiness"
For all Americans without distinction.
May in abiding faith and trust, seek:
Higher Grace as our spirit-keystone,
Bridge shared visions and prayers, 
Ignite hopes and faiths into service;
Focus on the liberating emancipation,
Fulfill a long-awaiting promise, dream.
With wisdom, courage, and humanity:
Shoulder the work of beloved Dr. King, 
Other souls who carried heavy burdens,
Made sacrifices to redress the wrongs.
With their Legacy as our guiding Light,
Advance just rights, dignity, opportunity;
Resolve to carry the sacred Torch forward
As a crowning living tribute, an Amen
To all amazing lives, our timeless legacy.