Duncan, South Carolina: The 2017 International Sikh Youth Symposium under the aegis of the Sikh Youth Alliance of North America (SYANA) was held from Thursday, August 3 to Sunday, August 6, 2017 at the Nanak Darbar Gurdwara Sahib in Duncan, South Carolina with a Banquet and Special program in honor of the Regional Winners from 5:00 PM to 9:00 PM on Saturday, August 5, 2017 at Greenville Marriott hotel.
According to Sardar Kuldeep Singh, national convenor of the Symposium and SYANA, Sikh Youth Symposium (Symposium) has been run by SYANA since year 2000. The Symposium is an annual public speaking and debate competition held for the Sikh youth across the United States of America and Canada. The Symposium objective is to foster an environment in which Sikh youth can learn the skills of public speaking along with delving into Sikh history and philosophy. The Symposium provides youth with a platform to learn and reflect on many topics, starting from the basics of Sikhi to an in-depth study of Gurbani. It encourages youth to reconnect with the foundations and roots of Sikh faith.
The competition is open to children between the ages of 6 and 22 and has three levels of speeches--locals, regionals, and internationals. In all 14 regions, every year Sikh children across North America are encouraged to read their assigned books based on Sikh principles and history. Along with reading a book, kids are given the task to answer three challenging questions in order to construct their speech. The children are divided into five groups, on the basis of age, with the first four groups competing by the way of prepared speeches and the final group engaging in a stimulating debate focused on a yearly chosen topic. The competition aims to ensure that the next generation of Sikh leaders remains firmly connected to the basic principles of Sikh faith. This year the five age groups read the following books:
Group I: 06-08 yr. My Guru's Blessings Book 3 by Daljeet Singh Sidhu
Group II : 09-10 yr. My Guru's Blessings Book 4 by Daljeet Singh Sidhu
Group III: 11-13 yr. Khalsa Generals by Dr. Gurbaksh Singh
Group IV: 14-17 yr. Baba Banda Singh Bahadur by Sikh Missionary College
Group V: 16-22 yr. Asa Ki Vaar by Sikh Missionary College
On Thursday, August 3rd: This year's Symposium started with the arrival and registration of all the youth speakers, their families, judges, and convenors. In the evening, a special diwan was held and Convener's meeting took place in which various books proposed for the next two years discussed and finalized after careful considerations and deliberations.
On Friday, August 4th: Group I [ages 6-8] and Group II [ages 9-10] delivered speeches in front of the sangat and Judges in the morning and in the afternoon, Group III [ages 11-13] and Group IV [ages 14-17] spoke on their respective topics. On the same evening everyone enjoyed the special guided sightseeing tour of the City of Greenville and a visit to the Upcountry South Carolina Art & History Museum.
On Saturday, August 5th: Group V [ages 15-22] participated in a spirited debate on 'Asa Ki Var'. A total of 12 youth discussed Guru ji's message in Asa Ki Vaar and related issues for about 5 hours with questions and answers which also included opening statements, responses and closing statements. The moderator for the Fifth group was Dr Satpal Singh from Buffalo, who conducted and carried the discussion extremely well. The same evening a Banquet and a special program was held at the Greenville Marriott to honor the Sikh Youth Winners. The highlights of the program included honouring all of the youth speakers, a keynote speech by Harpreet Kaur and Manmeet Singh, a skit to promote Punjabi language, a historical play, and special dinner. Towards the end of the Banquet, in his closing remarks, Sardar Kuldeep Singh appealed to the audience to lead your life in accordance with the Panthic Rahit Maryada and prove yourselves worthy of the trust of the father of Sikh Nation, Guru Gobind Singh jee.

On Sunday, August 6th: The final closing diwan with Kirtan Darbar and prize distribution took place. Following were the results: Group I
Speech: 1st Place Award Winner - Vigaas Singh from Georgia/Alabama/ Florida Region
2nd Place Award Winner - Kirpal Singh from Boston/ Connecticut Region
3rd Place Award Winner - Gurjot Singh from New York/New Jersey Region
Group II
Speech: 1st Place Award Winner - Aneil Kaur from Ontario Region
2nd Place Award Winner - Bisan Kaur from Georgia/Alabama/ Florida Region
3rd Place Award Winner - Unnat Singh from New York/New Jersey Region
Group III
Speech: 1st Place Award Winner - Gurmehar Kaur from North Carlina/South Carolina Region
2nd Place Award Winner - Ruhani Kaur from Dallas Texas region
3rd Place Award Winner - Kiran Kaur from Boston/ Connecticut Region
Group IV
Speech: 1st Place Award Winner - Ravkiran Kaur from Dallas Texas Region
2nd Place Award Winner - Sahib Singh from Boston/ Connecticut Region
3rd Place Award Winner - Sukhmeet Kaur from Toronto Region
Group V
Debate: 1st Place Award Winner - Triman Singh from Ontario Region
2nd Place Award Winner - Ikonkar Kaur from Bakersfield Region
3rd Place Award Winner - Harchint Singh from Michigan Region
All of the speakers were awarded distinguished speaker plaques while first three position winners were given special First, Second and Third place awards. All the participants who spoke in Punjabi were also rewarded extra cash prize. All the Judges were honored by awarding them Siropas (robe of honor and appreciation).
Every morning families staying in the Greenville Marriott hotel performed Nitnem together and Youth keertan was held prior to beginning of the speeches. Dr Amarjeet Singh, regional Convenor of Buffalo region conducted Ardaas each day for the success of the youth. Sardarni Pritpal Kaur, convener of the Greenville Center managed the event very well with full support of the management of Nanak Darbar Gurdwara Sahib. Sardar Kuldeep Singh - national convener of the program oversaw the four-day event. The Sangat of Duncan Gurdwara worked with the utmost dedication to make the International symposium experience for all the participants and their families a memorable one.
"It was first time for me at International Sikh Youth Symposium and was a great experience, met so many new friends and learnt so many new things. Sikh Banquet was the best part and I liked sight seeing program also," Group I winner Vigas Singh revealed.
Group V winner Triman Singh said, "I feel blessed to have the opportunity to participate in discussion on Asa Ki Var Baani and related issues. May Guru Sahib bless all of us to stay connected by Baani and Sangat for our continuous growth to cut through all kinds of duality and become one with Waheguru."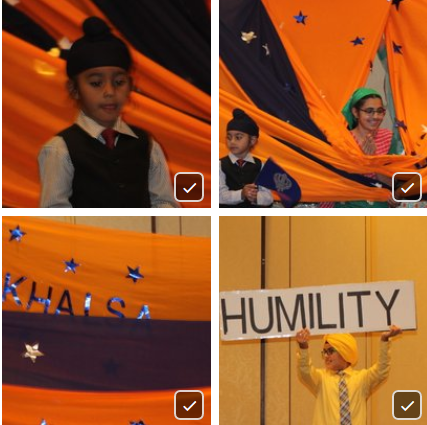 "The four-day symposium went really well and we feel so blessed to have the opportunity to get inspired from all youth speakers and for doing sewa of over 300 guest Sangat from all over North America," a local volunteer said.
Harjinder Singh, convenor of the Ontario Region remarked, "Everyone learned a lot and got inspired from all the speeches and Asa Ki Var discussion. Thank you to the event organizers, the sevadaars who prepared Langar every single day, the youth of Duncan Gurdwara who shared a contagious energy - this year's International SYS is something we will all cherish for the years to come."
"We are thankful to all the youth who participated at all the levels - local, regional and international in this year's Sikh Youth Symposium. Their determination to learn and grow as knowledgeable Sikhs and strong public speakers is highly appreciated. It is awe-inspiring to watch the growth of each and every child throughout the years. Along with the hard-work put in by the participants, we thank their parents and mentors who encouraged them to take part in this effort to keep the spirit of Sikhi alive and flourishing within our youth. Thank you again to everyone who put in their best efforts to make this year's symposium a resounding success and we look forward for future SYANA events", stated Sardar Kuldeep Singh.
The online links to the pictures and videos of this year's International Symposium are shared below so that we may all watch again, share with others and become inspired by the hardworking youth who took part this year.
 Video Day 1 - https://youtu.be/lEqwUKmq-Z4
 Audio Day 1 - https://youtu.be/4_gdeSl8b8o
 Video Day 2 - https://youtu.be/x70X0n0ziHA
 Video Day 3 - https://youtu.be/W6UAuDYdq6k
 Pictures ::      http://s86.photobucket.com/user/GNDDuncanSC/library/?sort=3&page=1
Related Links
https://en.wikipedia.org/wiki/Sikh_Youth_Symposium
http://www.cbc.ca/news/canada/windsor/2015-international-sikh-youth-symposium-in-windsor-this-weekend-1.3175069
http://www.baltimoresun.com/news/breaking/bal-sikh-gathering-in-baltimore-had-just-finished-when-news-of-shooting-at-wisconsin-temple-broke-20120805-story.html
Sincerely,
Kuldeep Singh
President, Sikh Youth Alliance of North America (SYANA)
Email: [email protected]