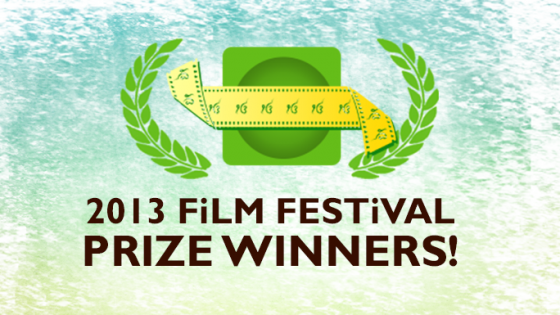 WHAT A FESTIVAL!
Who knew that interacting with people all over the world could be so much fun? This may sound redundant, but it's true: We are very impressed, thankful and inspired with all your films this year. A big THANK YOU to all the young directors who took the time to make such great efforts. The talent which is now emerging gives us all something to look forward to! 
Now the part we've all been waiting for.
 
 Winner of Drama (CRY) $1,000 goes to…
"Kaur - The Attire of Soul" 
Director: Jot Singh Baaz, age 23, from Jalandhar, Punjab, India.
- Simran Kaur shows how to live as a strong modern Sikh woman. In every field of life: career, family, and spiritual discipline. She is an inspiring example that will help all in understanding the true meaning of 'Kaur'!


First runner up
 "Roar of the Kaur" Director: Gunveen Singh, 28 years old, from Delhi, India.
- Rabjeet Kaur has faith and strength in her bones. When faced by crude challenges like harassment, how will she and her friends create a victory against corruption? Watch and learn world!

Second runner up
"Kaur - A True Identity" Director: Sarbjeet Singh, 24 years old, from Chandigarh, India.  
- At first, college girl Deep, finds her new female turbaned friend to be too orthodox. Slowly she sees the value and benefit of the Sikh form and lifestyle and becomes a KAUR.



Winner of Documentary (THINK) $1,000 goes to…
 "Am I Kaur?"
Director: Gurwinder Singh, age 26, from Chandigarh, India.
- This is the story of one girl's struggle being a turbaned woman in the modern world. She gains inspiration and insight after events lead her to take a deeper look at herself.


First runner up
"KES" Director: KayRay (Kiran Kaur), 23 year old, from Brampton, ON, Cananda.
- This film gives an up close, personal and very intimate message on hair. 'Kes' speaks directly to any woman with hair!

Second runner up
"Be Brave" Director: Sukhjit Kaur Khalsa, 19 years old, from Perth, WA, Australia.
- This short film gives a blast of inspiration by showing real Sikh women and how they overcame their challenges in life.

Winner of Comedy (LAUGH) $1,000 goes to...
 "Singh Vs. Singh Raksha Bandhan Special"
Directors: Raj Angad Singh and Gurkaran Singh, ages 21, from Jalandhar, Punjab, India.
- This film hosts an argument about the Rakhsha Bhandan festival and the misconceptions surrounding it.
Winner of the Junior category $500 goes to…
 "I Am Equal"
Directors: Simran Kaur, Jivan Kaur, and Gursimran Kaur, ages 16, from Windsor Ontario, Canada.
- These three young women have created a film that highlights the equality of women in the Sikh tradition, while discussing the challenges that Sikh women still face.

Winner of the Senior category (non-cash award) is a tie between…
"Karizmaa of Kaur"
Director: Ravneet Kaur, from Mumbai, Maharastra, India. 
- Going against the stereotype that Sikh women can only do nitnem and household chores, the heroine of this film wears her turban, runs a multi-national company and is a successful wife and mother of two.
AND
"Kauronation"
Director: Gagandeep Kaur, from Bangalore, Karnataka, India
- This is the story of a Sikh girl who believes in the forces of equality, but has to undergo some soul searching before she realizes that a turban is like a lighthouse which announces that she is a Sikh.
Additional Awards
There were so many great films this year
that we also want to give the following films special recognition:
Animation Award
"Dhann Janni" by Hansjeet Duggal, age 23, from Jalandhar, Punjab, India
Bravery Award
"The Voice of the Silent Confessor" by Taranveer Singh, age 20, from Delhi, India.

Breaking Out of The Box Award
"Kaurcageous" by Narvir Singh, age 23, from Iver, Buckinghamshire, UK.
Heaven & Earth Award
"Turban Girl" by Sukhmanjot Singh, age 21, from Jalandhar, Punjab, India

Light in the Dark Award
"Bridge to the Soul" by Sharan Art, age 25, from Ludhiana, Punjab, India.
Poetry Slam Award
"Cancer Train" by KayRay (Kiran Kaur), age 23, from Brampton, Ontario, Canada.
Real Voices Award
"Kaur" by Rasna Kaur and Harnek Singh, ages 19, from Troy, MI, USA. 

Youngest Director Award
"The Inspirational Sister" by Charan Singh, age 11, from Canton, Michigan, USA.
There are more films!
Really great work went into all the films, if you haven't seen all this years films, you still have some tears left to shed! There is no rush anymore so enjoy all the films at your leisure, and do take the time to comment and give the directors your feedback. Watch them here:  www.sikhnet.com/filmfestival
To the budding filmmakers, aspiring actors, growing directors… you are an inspiration to us all. It is you who will speak to the next generation. It is you who will help shape heroes of the children. It is you who will break boundaries and bring insight. It is you who will create the future.Your voices are growing, your voices are important and your voices are being heard! Keep up, keep speaking. Let us hear you roar!
And thanks again to everyone who voted. We are already looking forward to next year's film festival!