/*-->*/
Other SikhNet Apps: Gurbani Media Center - Daily Hukamnama - SikhNet Audio Stories - SikhNet Mobile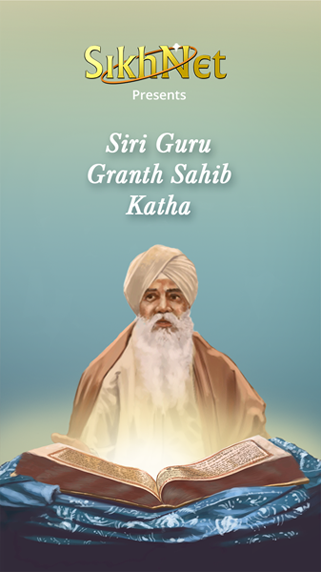 In the information age, there are millions of voices telling millions of stories, all trying to get our attention. Unfortunately, a lot of those voices are "noise" - trying to sell us something, talking about unimportant things, or just being gossipy. Wouldn't it be great to hear voices that uplift the spirit, give guidance and hope?
SikhNet.com, the world's premier Sikh website, has just released its latest app designed to do just that. The SikhNet Sri Guru Granth Sahib Katha App allows people to learn and understand the meaning of Gurbani from Siri Guru Granth Sahib using this easy to use audio book style app. Currently featuring over 600 hours of Gurbani Katha in Punjabi by Giani Thakur Singh and Giani Harbhajan Singh USA. With plans to add additional Katha audio to the app in later releases.
The app was developed with the generous support of Avtar Singh Dhamija, of Akal Engineers and Consultants, Ltd, Canada.
App Features:
Beautiful and easy to use interface

Download and listen to audio offline

Over 600 hours of Gurbani Katha

Resume playback of audio where you left off.

Create audio "bookmarks" for quick listening of favorite sections of audios.

Adjust play speed (slower/faster)

App layout optimized for all Apple devices (iPad, iPhone, iPod touch)
Other SikhNet mobile apps:
SikhNet is a non-profit educational organization that makes a person's spiritual journey relevant in the context of the modern world and the way people live now. Please help support SikhNet