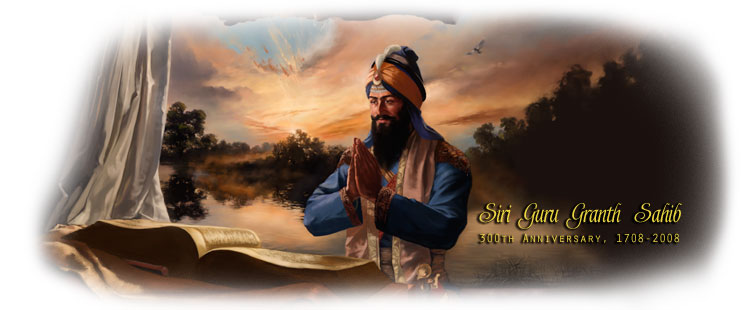 Introduction
To the 300 Saal Section

Videos
  Videos relating to Shabad Guru

Experience
Tools to bring the celebrations home

Stories
 Sakhis relating to Shabad Guru

Events
Celebrating the tercentennial 

Links
To other 300 saal resources 

Sounds from Hazur Sahib - An Audio Journal
As thousands of our brothers and sisters gather at Takhat Sachkand in Hazoor Sahib this week to celebrate the 300th anniversary of Guru Granth Sahib, SikhNet is receiving dozens of photos from SatSundri Kaur as well as daily audio reports from Ek Ong Kaar Kaur who are both there participating in the joyous events.

We humbly invite you to share in the joy of this timeless celebration through these unique photos and live audio reports.

"Broadcasting" live from Hazoor Sahib through SikhNet.com!

Report 1 - Arrival  (Oct 26th)
A detailed narration of the atmosphere of Hazur Sahib, and the feeling of arriving.

Report 2 - Thoughts (Oct 26th)
A deep reflection on Takhat Sachkhand, the trancendent presence of Guru Gobind Singh Ji and the miracle of Guru Granth Sahib Ji.

Report 3 - Ishnaan Seva (Oct 27th)
An exuberant live report on the Ishnaan Seva of the Takhat and the Weapons of Guru Gobind Singh.




Report 4 - Sounds (Oct 27th)
Various Sounds while walking around Nanded, Hazur Sahib. Sweeping, bands, chanting, seva, street sounds, etc.

Report 5 - Diwali (Oct 28th)
Thoughts and reflections related to Diwali and the various things that went on during the day in Nanded and Takhat Hazur Sahib.

Report 6 - Diwali Sounds (Oct 28th)
Walking in the streets of Nanded on Diwali. Hearing the sounds of Bagpipers player, sounds on the streets, Gatka on the Parkarma of Hazur Sahib, and Street Fireworks.

Report 7 - Hazur Sahib Celebrations (Oct 29th)
Ek Ong Kaar Kaur shares her thoughts about the celebrations going on in Nanded and her thoughts about the diversity of Sikhi.
Report 8 - Prime Minister Manmohan Singh Speech (Oct 30th)
In the huge kirtan darbar in Nanded:  Intro remarks by Ek Ong Kaar Kaur and then the full speech of Prime Minister Manmohan Singh. Ending with Kirtan by Chardikala Jatha.

Report 9 - Wrap up report and story (Nov 11th)
Followup and ending report on the events of the 300 anniversary in Hazur Sahib, along with personal thoughts by Ek Ong Kaar Kaur.