"I wanted to remind Sikhs around the world that 1984 is today, 1984 is everyday"
-Filmmaker Harpreet Kaur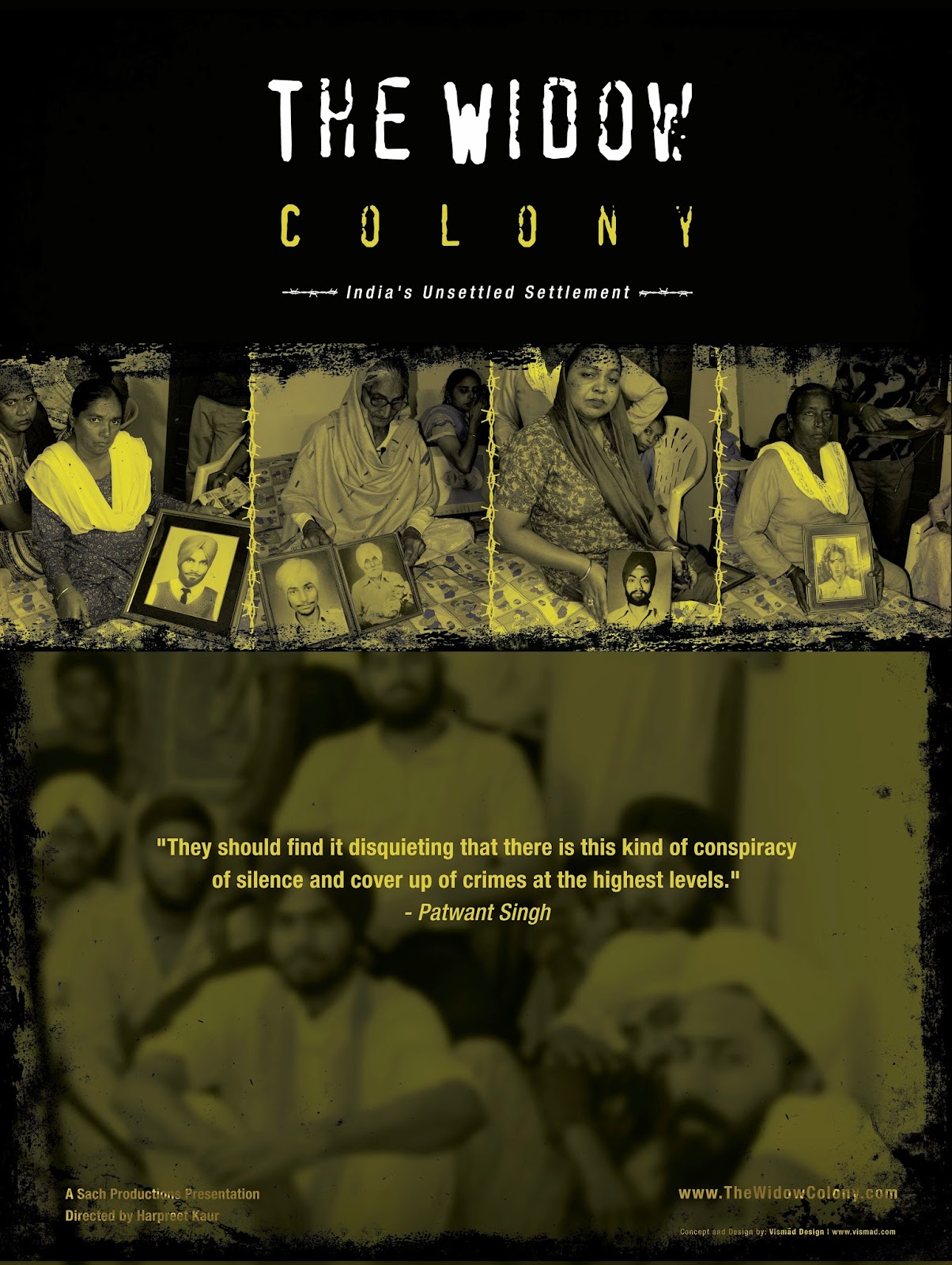 Friday, April 11, 2014: The 1984 Sikh massacre, one of the most shameful episodes in the history of democratic India, may have conveniently been forgotten by its perpetrators but it comes to haunt its victims even today. The survivors' battle for justice continues, almost 30 years after. Very few filmmakers have dared to touch this subject, for reasons obvious. The Widow Colony (2005) and Amu (2005) are the two most notable films on the subject.
We caught up with filmmaker, activist and the woman behind the award-winning documentary The Widow Colony, Harpreet Kaur. The film, which has been nominated at various international film festivals and won the Best Documentary and the Best Film Award overall at South Asian Int'l Film Festival 2006, is a staggeringly bold attempt at exposing the reality behind the mass Sikh killings of 1984. Here's a little background on the film.
(see below ~ Editor)
What drove you to make this film? What did you hope to achieve through this?
Dialogue. People need to start talking about what happened. This film is about the Sikh holocaust. It's about women heroes who have stood ground and continued to fight for justice for over 30 years now. This film is a reminder to those who already know about the massacre to realize that we're still at war. It's not over. These women have been in the battle field since the day of the massacre. They continue to go to court, to protest and everyday live 1984. As a Sikh woman I wanted to remind Sikhs around the world that 1984 is today, 1984 is everyday.
Through this film those who have never heard about the massacre will be educated. And those who have read about it or heard stories will have a better and honest understanding of what really happened.
Has it made a difference or helped you achieve what you'd set out to, with this film?
Dr. Martin Luther King summed it up beautifully when he said injustice anywhere in the world is a threat to justice everywhere. The Widow Colony is an important educational tool because human suffering is universal. Creating that dialogue and awareness in the mainstream has helped people better understand what really happened in 1984. This film unveils how a State-sponsored massacre by the world's largest democracy was portrayed as a 'religious riot.' It's the misleading notions and propaganda that have lead to a lot of hatred and brutal violence in the world. Lack of education has made it easier for one community to provoke another to kill. Therefore it becomes crucial for people around the world to not only embrace each other's differences, but to know their history and this film becomes a tool to create that dialogue. The film has been successful in making viewers aware of the current situation of the survivors. Many individuals and organizations have made the effort to go visit the colony (Tilak Vihar) after watching the documentary.
It's obviously a controversial subject. Did you have any apprehensions while filming it?
It really does take a lot of strength to go out and make a film like this and I honestly don't know how it all came together because the whole experience has been surreal. From the point that I decided to make this film, I got tremendous amount of strength and inspiration from these widows. When I read their testimonies it drove me to pick up my camera and when I met these women and heard their stories it gave me a reason bigger than what my life was worth, to bring this film out to the world. I became fearless. I also felt that the media was not doing justice to the issue. I knew that a documentary about the survivors, their stories needed to come out. This would do justice to the issue and for the first time give the survivors an opportunity to share their stories with the world.
The documentary must have been an emotional journey for you. Tell us about the experience. Did you face any hurdles while filming it?
I remember this one time when a widow furiously and bluntly said, "So many people have interviewed us on camera and we have no idea if our stories are ever even told. What are you going to do differently?" She was referring to news reports. I told her that I was making a documentary, not a short news clip and that this film would be shown to the non-Sikh community too. I assured them that their voices would be heard beyond the walls of Tilak Vihar (The Widow Colony). Her statement caught me off guard. I wasn't expecting them to question me. But I was glad she put me on the spot. When things got tough and I felt I wouldn't be able to pull off this film the widow's question resonated in my head and I knew I had a promise to fulfill. When the film was premiered in India I had invited the widows that were in the film to attend the screening. They were thankful and felt that for the first time someone had been able to do justice in sharing their stories.
For most, I will never forget the priceless gift these women have given me. They took me in their arms and embraced me. God knows I felt their pain because I carry it with me. It's not something I can describe but it's changed my life.